404
God At Work Within Us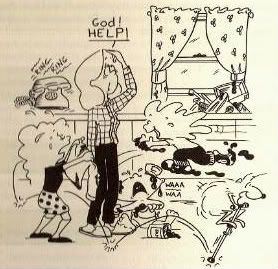 How can I disciple my children when my own faith is a little shaky and when I don't know enough about the Faith to disciple anyone? (Part 3)
Please bear with me. This entry will be a little longer than most however I sincerely believe that the scriptural principle that you are about to read about is probably the most essential for Christian parents to understand!
Working hard to please God
When I first became a Christian I was so excited. I wanted to know everything, do everything right and experience God in everyway that was possible. I went to every church service and prayer meeting I could get to. I read every Christian book I could find and spent as much of my day every day that I could reading my Bible and on my knees praying. Every minute of the day I was a church service waiting to happen.
The problem was I was exhausted. I did not seem to be getting closer to God and I was still struggling with sin. Something was wrong and I assumed it was that I was not doing enough and so I started working even harder at pleasing God.
One day at work there were no customers so I sat down to read a book called the 'The Two Covenants' by Andrew Murray. He was explaining the difference between the two covenants, or the terms of the agreement that God had with the Israelites (the Old) and that we have with God through Jesus' death and resurrection (the New).
The tale of two Covenants
The terms of the old, summed up were, (God speaking) "You do your part (obey me, keep the law) and then I will do my part (bless you, protect you, guide you etc.). Jeremiah sums it up well in Jeremiah 11:2 – 5.
Jeremiah also spoke about the New Agreement (Covenant) that was coming and what its terms would be.
"The time is coming," declares the Lord, "when I will make a new covenant with the house of Israel and with the house of Judah.  It will not be like the covenant I made with their forefathers when I took them by the hand to lead them out of Egypt, because they broke my covenant, though I was a husband to them," declares the Lord.  "This is the covenant I will make with the house of Israel after that time," declares the Lord. "I will put my law in their minds and write it on their hearts. I will be their God, and they will be my people. (Jeremiah 31:31 – 33)
The prophet Ezekiel also wrote about the terms of the new deal.
I will sprinkle clean water on you, and you will be clean; I will cleanse you from all your impurities and from all your idols. I will give you a new heart and put a new spirit in you; I will remove from you your heart of stone and give you a heart of flesh. And I will put my Spirit in you and move you to follow my decrees and be careful to keep my laws. (Ezekiel 36:25 – 27)
So in the Old Covenant God said that he would do his part if the Israelites did their part. In the New Covenant God says, I will do my part and I will change your heart, put my Spirit in you and move you (or cause you, KJV) to obey. In other words here is the New Agreement; God says, "I will do my part and I will do your part!" Now that is an awesome deal!
A life changing moment
As I was reading I was trying my best to understand but I wasn't quite getting it. Then the author took me to Philippians 2:12, 13.
Therefore, my dear friends, as you have always obeyed–not only in my presence, but now much more in my absence–continue to work out your salvation with fear and trembling, for it is God who works in you to will and to act according to his good purpose.
Verse 12 I could relate to. I was working hard at my salvation, but I was not prepared for the next verse. Verse 13 says that God is working in you causing you to want to (motivation, heart's desire) and causing you to do (obey and walk in) his good purpose or will.
In other words we can charge ahead and grow in our Faith because we know that God is working inside us causing us to desire him and his ways and causing us to become all he created us to be.
In that moment, while reading that verse, it sunk in and my heart screamed "It's not Rick at work within Rick!" and I was changed forever. I stopped thinking that God had got me saved and set me down in his Kingdom and said, "We got him in now let's see how he does." I started looking to God and trusting him to work in me, grow me and change me; and the process not only got less stressful but it started to work.
The Gospel
Read Romans 1:15 – 17. The Gospel or the Good News is not just that we get into God's Kingdom. These verses state that the Gospel is the power of God for the salvation of everyone who believes. But it also says that in the Gospel a righteousness from God is revealed, a righteousness that is by faith from first to last.
Here is the Gospel message; through Christ's death our sins are forgiven, we become God's children and the same Gospel and power of God that got us saved works in us and grows and changes us so that we, by God's love and grace, can become all God created us to be. The Gospel is God's transforming power from first to last. Through Jesus' death we are declared righteous and then we are made righteous, neither by our strength but both by the grace of God and the power of his Spirit.
Read 1 Corinthians 1:18 and 1 Peter 2:1 – 3. We are saved but we are also being saved. We are saved but we are also to grow in our salvation.
Philippians 1:6 tells us that God who began the good work in us will continue his work until it is finished.
In 2 Corinthians 3:18 Paul says that as the Spirit of the Lord works within us, we become more and more like him and reflect his glory more and more.
I had the idea that once I was saved I needed to earn God's pleasure in my own strength. I was so wrong. Some go to the other extreme and think that they are saved so they are safe to live in their sin and/or not to grow as Christians because God understands their weaknesses and problems. That is also wrong! Yes, God understands our sin and weaknesses that is why he sent his Son to die for us and set us free.
The New Covenant is that God will do His part and He will do our part in us but He does not take over our wills. We must allow Him to teach and transform us and work cooperatively with Him in the process. If you have signed up for the Gospel you have signed up for heaven but you have also signed up for transformation into Christ's image. That is the New Deal!
Parenting in the New Deal
So what does this all have to do with parenting? God taught me this before I became a parent, so my prayer when I was about to become a dad was "God, please work in me and teach me and cause me to be the best parent I can be."
As people who are living by faith, in the Gospel (the power of God to transform), growing in our salvation by God's mighty grace we can trust God to help us do (and do well) everything that he has called us to do.
I did not successfully parent three wonderful kids who love God and serve Him because I am smart or because I read clever books by great child psychologists. Nor did I write all the books I wrote about parenting because I'm a good writer and/or clever dad.
I did all of the above by trusting God to teach me, change me, grow me and help me be the dad He wanted me to be. I am an ordinary guy who is no different than any other guy. I have made a ton of mistakes and I am not perfect, but what God's power and grace has taught me and done through me has carried the day.
So who gets the credit? Like Paul said if we are saved (and being saved/transformed) by faith in his grace we can not boast, the glory goes to God. HE DID HIS PARENTING PART AND CAUSED ME TO DO MINE!
The take-away
So the take-away here is simple. No matter where you are at or how you have been parenting, stop and ask God to help you, teach you and transform you step by step into the parent he wants you to be.
If you have been working yourself to death to be the best parent ever, to please your kids, your spouse and God and you are exhausting yourself and not seeing the fruit you would like, then stop doing it by yourself and start letting God's Spirit and grace (the power of the Gospel) take over inside of you. God wants to show you his love, help you, empower you, teach you and help you parent in a way that will have the greatest impact and fruit.
If you find yourself on the other end of the spectrum where you have given up because you have no confidence in your ability or you just think that parenting the way you do it is fine and it will get everyone through, you need to stop and pray as well.
If you are a Christian then giving in to low self-esteem, mediocrity and/or failure is not part of the Deal. Jesus died for you and there is nothing that can keep you from tapping into God's power and grace and becoming the best parent you can possibly be. Trust me, if God can do it in me he can do it in anyone.
Pray now and ask God to start working in you and helping you to be the parent that He knows that you can be.
Based on experience, I can anticipate the questioned whirring around your brain, "What does that look like? How do I let God transform me into a great parent?"
Here is the good news. Put him in charge of your transformation and He will take the responsibility for teaching you what that looks like and for making sure that it happens.
Also, as you read through the information in this site you will read examples of how he has helped others, which is not only encouraging but it helps us to form a general expectation of how God works in our lives.
Whatever you do, do not just sit back and wait. Move forward expecting God to help you. Do it calling out to Him and trusting that He is at work inside you. Do not give up and you will start to see him at work.
For help with teaching your children about their Faith, we recommend Teaching Your Child to Pray.
-
-
-
(RICK OSBORNE / Christian Author, Speaker & Dad – your source for Christian Parenting advice)