How Do I Get Started Parenting God's Way?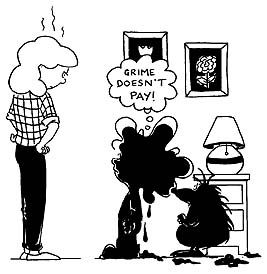 Now that you know that God never intended us to parent without his help, that he is the third parent, that he has promised to work in you and cause you to be the parent He wants you to be, that He is working in your children as you trust Him and that He will even help you trust Him, you should be ready to move forward.
God has given you everything you need to get the job done. Nothing can prevent you from parenting God's way; negative examples, bad experiences, lack of know-how, big mistakes you have made, the mistakes of others involved, NOTHING!
I am not saying that you should pretend that problems and pain do not exist. I am just saying that God is bigger than all of that and none of it can hold you back unless you let it.
Now all you need to do is start moving. Here are my suggestions for starting this obstacle course. First pray and let God know that you are on board for transformation. Ask him to cause you to be all that he has created you to be and more specifically to help you be a great Christian parent. Now do not stop praying that! Every time you run into a problem, fall into a bad habit, make a mistake, or just need help and wisdom for moving forward go to God. Transformation does not happen overnight—it is a lifetime thing.
Ask for forgiveness if needed and then ask for help. Learn to pray right in the thick of things. You do not need to be on your knees in a dark room to pray. Some of the most heart felt parenting pleas I have prayed and some of the most helpful parenting insights I have received have been offered and received in the moment.
When its appropriate sit your children down and let them know what you have decided. If necessary ask them to forgive you for past behavior as a parent and ask them for their patience while you begin to let God help you be a better parent.
This works well in that it lets your children know that the past is behind. It also involves them in the process, which can be very helpful. No one knows better how well or not so well we parent then our kids. Their insights can be helpful and God will often use our kids to help us learn. Also, seeing you trusting God to help you change is the first step in you teaching that they need to trust God to help them grow and be all that God has created them to be.
Next, realize that God also meant for you to be supported by others. Although God is fully capable of teaching you and working in you without any other help, that is not the only way he teaches us.
In the beginning he said that it was not good for man to be alone. He was not just talking about marriage there although that was the start. Marriage led to family and family led to community.
Romans 12:2 teaches that part of our spiritual transformation in Christ takes place by us renewing our minds. We do that by learning the way God views every aspect of life and allowing the Spirit of God to transform the way we think. We learn God's way of thinking by reading and studying the Bible and by listening to others teach it.
Ephesians 4:11–16 shows us that we are to grow in the knowledge of our faith in order to mature and one of the ways we do that is by listening to those that God has called to teach.
That is what we are all about. This site has been set up and will continue to grow as a resource for parents to help you learn what God says about Christian parenting and how the Christian family should function and to equip you with everything you need to raise your children in the training and instruction of the Lord.
We feel that God has called us to come along side Christian parents and help them learn all they can so that they can experience God's transformation in their parenting, in their homes and ultimately witness God transforming power at work within their children.
If you feel this site has been helpful and/or can be helpful keep clicking back. Make a commitment to yourself to receive and read the blogs and come here to find the help and encouragement that you need.
Larry Burkett once told me that when he felt that God was calling him to teach Christians what the Bible said about money he felt ill equipped. Someone encouraged and challenged him by saying that if anyone was to consistently spend time studying and/or learning anything for a minimum of 10 minutes a day (often that 10 minutes leads to more) that they would eventually master the topic or discipline. He went on to say that perhaps, with this kind of consistency, a person could end up becoming the best in the world in their area of study.
Larry Burkett put the daily consistency idea to work along with trusting God. At the time he told me this story he was widely recognized as the world's foremost expert in what the Bible taught about finances.
Keep coming back even 10 minutes a day, with God's help that can lead to better parenting, a more peaceful home, cooperative children and the realization of God's call and plan for your family.
For help with teaching your children about their Faith, we recommend, The Singing Bible.
-
-
-
-
-
(RICK OSBORNE / Christian Author, Speaker & Dad – your source for Christian Parenting advice)