What does the Bible say about sibling rivalry and how can I get my kids to get along? (Part 2)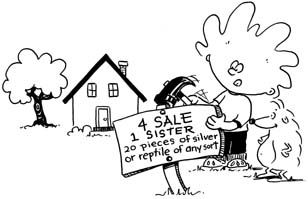 If anyone says, "I love God," yet hates his brother, he is a liar. For anyone who does not love his brother, whom he has seen, cannot love God, whom he has not seen. (1 John 4: 20)
Years ago while I was reading through the Bible book of 1 John, I suddenly saw how this verse was relevant for parenting and my family life.
The Apostle John states that if you do not love your Christian brother you do not love God. Why? Simple, it's easier to love someone that you can see than it is to love God who you cannot see.
The principle involved is that we all must walk before we run, the simple before the difficult.
So I called a family meeting and explained this verse and then applied the principle to our family.
If we cannot love (get along with, share, talk nicely etc.) with our brothers and sisters who we live with and are closest to, it is not likely that we are able to properly love anyone outside our home.
We think we can but we can't. Siblings tend to think that they do not get along with their brothers and sisters because their siblings are just stupid or difficult. The fact that they get along just fine with their friends seems to reinforce this idea.
Unfortunately they are missing a large piece of the logic puzzle. They do not live with their friends. The truth is, if they had to live with their friends they would start having the same problems with them that they are having with their siblings.
The same relational skills needed to run a successful sibling relationship and resolve family conflicts are the same ones needed to run great friendships.
God meant for the sibling relationship to be the test dummy for all other peer relationships.
This is how we prepare our children for successful friendships and even a successful marriage. If they learn and practice the relational skills needed to get along with their siblings, they will possess the basic skills for making a marriage work. Unfortunately, the reverse of this parenting advice is also true.
I went on to explain to my children that knowing how to love and get along with others would make their lives much more wonderful and they agreed that getting along feels better than fighting.
So I followed the family meeting up with a family commitment and a family motto.
In Proverbs 20:3 God says that it is an honor to avoid strife and that only fools quarrel. So we agreed and made a commitment that as a family we were going to get rid of strife (fighting, unkind words, complaining etc) and we were going to learn to get along.
We agreed that our motto would be, 'Our family is a loving family.'
The family meeting, when used to get everyone in agreement regarding your home values, is one of the most powerful Christian parenting, family tools I know. Here is the parenting tip, once life happens and things get difficult, you can remind everyone involved of the discussion and their agreement to it, quote the motto and move forward from there.
This whole process didn't take much longer than it would take to read a couple of Bible stories but it laid a strong foundation that we eventually built strife free sibling relationships on. Of course, laying this foundation was just the starting point, next came the instruction and training. We'll get started on the parenting skills needed for that in my next blog. (part 3)
For more practical day-to-day ideas for strengthening your family relationships and making your home a 'Home Sweet Home' we recommend the Christian resource, "The Seven Mistakes Parents of Toddlers Make"
-
-
-
-
(RICK OSBORNE / Christian Author, Speaker & Dad – your source for Christian Parenting advice)