What does the Bible say about sibling rivalry and how can I get my kids to get along? (Part 3)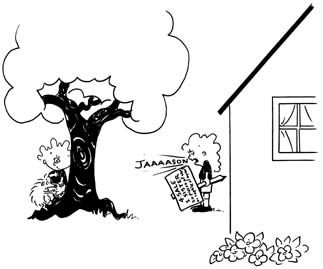 After we all agreed (in our family meeting) that one of our key home values was to leave strife behind, the Christian parenting work started.
Notice that on this parenting website we are not afraid to call parenting 'work.'
I have actually found something of a parenting skills paradox in the concept of parental work. Although what seems to be lazy parenting will get you nowhere, working hard at it will give you the time and peace to be lazy.
Let me explain. Armchair parenting is a parenting style that doesn't work; parenting is a participation sport. It is always tempting to stay seated in my favorite chair (or continue doing whatever I was doing) and fling instructions, commands and threats about the house aimed at one child, or many, (the all-in-one fling) but that is not effective parenting.
Our kids know that we're not coming and that they can get away with only partial compliance until we do. So we end up getting upset and having to get up anyway. However, now it's too late to be effective because the situation has moved from an, 'instruction and training' moment to a 'discipline' moment and no one has learned anything about resolving conflicts.
The often-used parental quote, "Don't make me come over there" is really quite a sad one. If we got up and went 'over there' at the first sign of trouble, we would avoid the aggravation, the need for discipline and gain the opportunity to teach and train our children.
Our children don't learn life skills by osmoses or by us practicing the armchair parenting fling command method. They learn when we instruct them and train them, and our presence is necessary for that.
I found the lazy parent's secret years ago; when I got up as soon as I started to see or hear the train derailing, the whole hands on process took less than half as much time as the 'sit still, fling, fling again, fling again, yell, get frustrated, finally get up and have to go over there anyway and discipline' method.
Here is another often-used parental quote that is really quite sad, "How many times do I have to tell you?" If you find yourself repeating it often, it means that you're flinging instead of 'going, instructing and training.' Once I started 'going', I found that I stopped having to repeat myself because I stopped just telling them what to do from on high and started to go and show them what to do.
The really BIG lazy parent payoff from this bit of parenting advice comes a little later. Once I had given my children hands on, in-the-moment instruction and training regarding an issue (say fighting over the remote) it was easier to deal with that issue the next time and eventually it was no longer a problem. The more 'going there' instantly I did, the better my kids understood how to get along and the less 'going there' I had to do. The result, kids who were learning wonderful relational skills, more peace and more time in my favorite chair.
So if you want the easy way to a peaceful family life and children that get along with each other, here is the parenting tip, make a decision to become a lazy parent. Don't fling and repeat, go and show and you're on your way to less sibling rivalry and the desired home sweet home.
Christian parenting is more than Sunday school, bedtime prayers and Bible stories, it is also teaching our children to love God and others. However, doing it God's way usually works out (in the long run) to be the shortcut.
In my next blog in this series we will start dealing with what we need to do once you're off the chair and moving.
For more practical day-to-day ideas for strengthening your family relationships and making your home a 'Home Sweet Home' we recommend the Christian resource, '"The Seven Mistakes Parents of Toddlers Make"
-
-
-
-
(RICK OSBORNE / Christian Author, Speaker & Dad – your source for Christian Parenting advice)