ChristianParentingDaily.com is now hosting Rick Osborne's "Christian Parenting" Blogs.
Christian Parenting Daily is a website dedicated to giving Christian parents the daily encouragement, support and help that they need. Their goal is to help you reach your goals; a peaceful happy home, strong family relationships and children who grow up loving and serving God.
They do that by providing fresh and engaging new content from trusted Christian authors, by scouring the web and finding awesome content and resources for you and your kids, by giving you Biblical and helpful commentary on our culture and current events (entertainment, news etc.) and by providing you with a supportive community atmosphere where you can be encouraged and help encourage others.
Click here to check out Rick's latest postings.
In addition to writing his weekly blogs at Christian Parenting Daily, Rick has also begun work on his next full length book 'Putting The "Sweet" Back In Home Sweet Home.' This book will focus on family strife issues like sibling rivalry, teenage rebellion, blended families and parental strife. It will walk families through the seven practical and Biblical steps for creating and maintaining a peaceful, loving home and strong growing relationships. Rick's books have sold close to ten million copies worldwide. The felt need for this book is great and we're looking forward to the positive impact that it will have on families. If you'd like to be put on our list to be notified when the book is made available, please email us and enter 'Book List Request' in the subject line.
Finally, Rick is continuing work on the first ever Sunday School program that will unite church and home in a Biblical partnership for the progressive and intentional spiritual and moral development of children. Stay tuned to this site for more news on the Partnering With Parents program.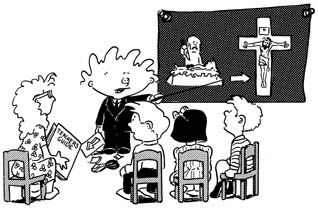 For those of you who read my blogs or my books, you know that I'm passionate about encouraging parents to apply themselves to learning how to parent. Parenting is not merely intuitive and it's not only bad parents who need parenting books and courses, it's all parents.
If you asked me to determine if a certain couple were great parents or not, I wouldn't look first at the results but at the efforts they were making to learn and grow in the art of parenting. If you know how to get the right information and effectively and humbly apply it, the results will eventually follow. If you think you're getting by but you're not learning, then you'll eventually come up against a problem that you don't know how to solve properly and that will mess up your results.
I advocate parenting books, classes and courses but actually those resources should be mere booster shots that come along and support God's original parent training program. When God spoke to Abraham and called him to teach his children after him to follow the Lord, in context (Genesis 18:18, 19), he wasn't talking about just Abraham's immediate children but generations of children. When God had Moses tell the Israelites to make sure that they taught their children to follow the Lord (Deuteronomy 6), again the context was that each generation pass it on to the next.
As an example of how to pass something from generation to generation, let's look at farming. For centuries, farmers have passed the farm down to their children. How does that happen successfully? What if one generation farmed and got the kids to help from time to time and then one day they just handed them the keys to everything and moved to Florida. Either the farm would be sold or it would probably go under. In order for the farm to be passed on successfully, the parents must not only farm well but also teach their children everything they know about farming as they grow up, gradually preparing them for the task. God's original parent training program is simply this, parents need to do everything they can to bring their children up well AND they need to all the while be teaching their children how to parent properly themselves.
That's why I say that parenting books and courses should be booster shots. It's our job as parents to teach our children how to do one of the most important tasks they'll ever undertake, raising children. Yes, we train by example but that's not enough. We need to understand what we teach our children and why we're teaching it to them. We need to understand the discipline, instruction and training process and explain it to our children as we go. For those of you who are feeling that this sounds daunting it's not, it actually makes the job easier. I'll explain how in my next blog.
For more practical and Biblical Christian Parenting ideas we recommend the Christian resource, "The Seven Mistakes Parents of Toddlers Make"
-
-
-
-
(RICK OSBORNE / Christian Author, Speaker & Dad – your source for Christian Parenting advice)
This is part 2 of the video of Richard Dawkins, an avowed atheist speaking about why he thinks children should not be indoctrinated in religion. I would love to read your comments on the videos and blogs.
The atheists accuse Christians of keeping their children cloistered away from other views and indoctrinating these young and impressionable minds as opposed to presenting them with a range of choices. Which they say is unfair to the children.
According to dictionary.com, the word 'indoctrination' means to instruct in a doctrine, principle, ideology etc. especially to imbue with a specific partisan or biased belief or point of view. It goes on to say that indoctrination involves teaching someone to accept doctrine uncritically and that a synonym for the word is brainwashing.
The attached video is of Richard Dawkins, an avowed atheist speaking about why he thinks children should not be indoctrinated in religion. I would love to read your comments on the videos and blogs. Part two will be attached to my next blog.
Recently, there has been a rash of books written by atheists vilifying religion and blaming it for the woes of this world. One best-selling book generated a wave of controversy because it suggested that efforts be made to eradicate religion. The author also takes aim at parents who teach their children religion, calling it a form of child abuse.
Here's the logic (as far as I can see it); there is no God, humankind invented God and created religion. Religion is destructive in that it polarizes people and therefore causes wars and all sorts of atrocities. The reason religion continues to thrive is that religious parents indoctrinate their children. Therefore, stop allowing the indoctrination of children and the world will become atheistic and wonderfully peaceful.
I recently started a FaceBook group called 1,000,000 'Christian Parents Raising Disciples For Christ.'
I was pleasantly surprised when young pre-parent people started to join the group. A few have joined because they wanted to voice their objection to being raised as a Christian. Needless to say, this has livened up the discussion area. One of the well-meaning, sincere questions posted, asked if raising our children as Christians is a type of brainwashing. My below blog is what I posted in reply to this question.
I agree with you that no one should 'force' his or her ideas or opinions on another person. Having said that, I have to ask you, did your parents force you to brush your teeth, go to bed at a certain time, go to school or eat your dinner?
A parent/child relationship is different than a friendship. Here's Wikipedia's summary definition of parenting; "Parenting is the process of raising and educating a child from birth, or before, until adulthood." The article goes on to break down the responsibilities of parents into categories. Here's what it states under the heading, 'Providing intellectual development.'
One of the criticisms leveled at bloggers, in the earlier days of weblogs, was that it seemed that bloggers blogged a lot about blogging.
I must admit that I've read many blogs about blogging but I think this is completely understandable. Carpenters love their tools and artists love their brushes. When people in the same discipline gather together, they tend to talk as much or more about their tools and techniques as they do about their latest project.
Blogging is relatively new and those embracing it are excited about learning from each other and getting better at it.
So to support my fellow bloggers and show my enthusiasm for this new and wonderful craft, this is my one blog about blogging.
Dr. Mark Holder, a psychology professor at The University of British Columbia, led a study to determine what factors have the greatest influence on a child's happiness. He and his team surveyed more than 300 children ages 9 to 12. The researchers also asked the parents and teachers of the children to rate their happiness.
The result? In Dr. Holder's own words, "The more spiritual the children were, the happier they were."
Perhaps you're thinking, "That's great. We take our children to church and read Bible stories to them". Yes, that is helpful but it's not what the survey was focused on. In fact, the Doctor said that religious activities such as going to church didn't seem to make a difference in a child's happiness level.
This little family road trip question has become so iconic, that it's become common fodder for comic routines and movie scripts. I would imagine that this travel question has been around as long as families have been traveling. It's probably a good thing that all of Noah's sons were full-grown, or Mr. and Mrs. Noah may have ended up sinking the boat.
Think about the Israelite's trek through the wilderness. After crossing the Red Sea, they got to the edge of the Promised Land quite quickly, but because they didn't trust God and refused to go in, God sent them on a forty-year road trip. The idea was that all of the adults who refused to believe, were to die before their children would be allowed in. Can you imagine the conversation, "Are we there yet? Am I dead yet?"
This is the seventh and final post in the series: "What does the Bible say about sibling rivalry and how can I get my kids to get along?"
We started out this sibling rivalry series by establishing that what the world says is normal in family relationships, is not what God wants for Christian families.
The world says that sibling rivalry, rebellious teenagers, kids and parents not getting along and family fighting are all part of normal family life.
However, Jesus himself said that the two greatest commands were to love God and to love others and that all of God's law is summed up in these two commands. Christian love is a foundation of our Faith and teaching it, is a core Christian parenting skill.