Dr. Mark Holder, a psychology professor at The University of British Columbia, led a study to determine what factors have the greatest influence on a child's happiness. He and his team surveyed more than 300 children ages 9 to 12. The researchers also asked the parents and teachers of the children to rate their happiness.
The result? In Dr. Holder's own words, "The more spiritual the children were, the happier they were."
Perhaps you're thinking, "That's great. We take our children to church and read Bible stories to them". Yes, that is helpful but it's not what the survey was focused on. In fact, the Doctor said that religious activities such as going to church didn't seem to make a difference in a child's happiness level.
In part one we talked about how God wants to have salvation and his blessing come to our families. In part two I would like to talk about God's calling on Christian families and how God wants to work through them.
Let's go back and take a closer look at the verses about why God called Abraham.
Abraham will surely become a great and powerful nation, and all nations on earth will be blessed through him. For I have chosen him, so that he will direct his children and his household after him to keep the way of the Lord by doing what is right and just, so that the Lord will bring about for Abraham what he has promised him." (Genesis 18:18, 19)
Let's look at all three parts of what the Lord said here. First he outlines his promise, Abraham is to become a great and powerful nation and (also) all the nations on the earth are to be blessed through him.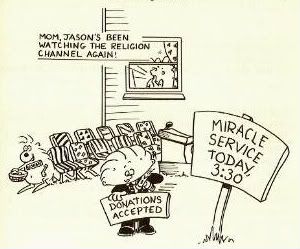 How can I disciple my children when my own faith is a little shaky and when I don't know enough about the Faith to disciple anyone? (Part 4)
We have set some great foundations in this category. We have established what Christian Parenting is. We have established that no matter where we are at personally we can get started and parent God's way because growing with our children is the way that works. We have seen that we can be confident in our calling to parent because God is the third parent. He loves our kids more than we can imagine and He is ready to do His part. He will not only do His part, but He has put his Spirit in us and He has promised to work inside us, change us, teach us and cause us to do our part. WOW!
As if that were not enough to get us excited, encouraged and ready to go, we have got one more essential part of the foundation to set in place.