THE 'ORIGINAL' SINGING BIBLE
The demand for this product has been huge and therefore I'm pleased to announce that this best-selling children's classic, The  Original Singing Bible, has been digitally remastered and is now available on CD and for digital downloads!
Over 50 songs and narration make for an exciting 160-minute ride through the Bible.
The Singing Bible has been called a, "Christian classic," "A must have for every Christian family" and "The best Bible song series for kids ever made.
This indispensable resource was designed to help kids learn God's Big Story from creation to Jesus second coming, to learn about their Bibles, the books of the Bible, the Good News, the key memory verses of the Bible and on and on the list goes. Children learn while they sing along and enjoy.
Here is a reoccurring comment we hear from parents, "Our Kids love it and want it played over and over again, which for once, is okay. Unlike some kids cds, it doesn't drive you crazy because the songs and music are so well done. We like it too."
Ideal for every member of any family with kids 2 – 10 years old.
This product in only available at www.christianparentingdaily.com. Click here to purchase this product.
This little family road trip question has become so iconic, that it's become common fodder for comic routines and movie scripts. I would imagine that this travel question has been around as long as families have been traveling. It's probably a good thing that all of Noah's sons were full-grown, or Mr. and Mrs. Noah may have ended up sinking the boat.
Think about the Israelite's trek through the wilderness. After crossing the Red Sea, they got to the edge of the Promised Land quite quickly, but because they didn't trust God and refused to go in, God sent them on a forty-year road trip. The idea was that all of the adults who refused to believe, were to die before their children would be allowed in. Can you imagine the conversation, "Are we there yet? Am I dead yet?"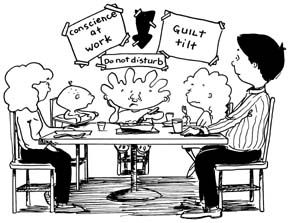 When my mother gave her life to Christ and started attending church every Sunday she had a husband, (my step dad) six children (ranging from toddler to adult) and a large extended family. She was understandably worried about how her new Faith would be viewed and if everyone would embrace it as well or reject it and her. She even started taking the youngest of my siblings to Sunday School on her own.
One evening not too long after her decision to live her life for Christ, no matter what the cost, she attended a Gospel dinner with a special Christian speaker. That speaker prayed for her and while he was praying, even though he did not know her or her situation, he said, "Don't worry, today salvation has come to your house."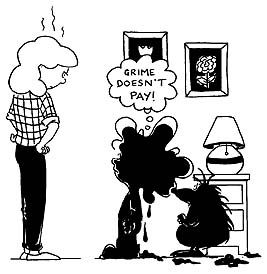 Now that you know that God never intended us to parent without his help, that he is the third parent, that he has promised to work in you and cause you to be the parent He wants you to be, that He is working in your children as you trust Him and that He will even help you trust Him, you should be ready to move forward.
God has given you everything you need to get the job done. Nothing can prevent you from parenting God's way; negative examples, bad experiences, lack of know-how, big mistakes you have made, the mistakes of others involved, NOTHING!
I am not saying that you should pretend that problems and pain do not exist. I am just saying that God is bigger than all of that and none of it can hold you back unless you let it.
Now all you need to do is start moving. Here are my suggestions for starting this obstacle course. First pray and let God know that you are on board for transformation. Ask him to cause you to be all that he has created you to be and more specifically to help you be a great Christian parent. Now do not stop praying that! Every time you run into a problem, fall into a bad habit, make a mistake, or just need help and wisdom for moving forward go to God. Transformation does not happen overnight—it is a lifetime thing.