Do you remember your parents telling you to not air your family's dirty laundry? It's a metaphor which apparently can be traced back to Napolean. The idea being that you shouldn't do laundry in public (eg hang clothes on a line to dry) that would reveal intimate details of your life and you also shouldn't tell others about the troubles and private things that happen in your family.
I remember hearing this saying when I was young and my Granny was still alive. I remember wondering why (if this saying were true as a fact as well as a metaphor) she would hang her unmentionables on our clothes line when she visited. Now I should mention that my Gran was a wonderful lady but she was a very large woman and her private garments would attract attention. However, for some reason she seemed oblivious to this fact.
I'm telling this story because I believe that somehow, somewhere along the way, we've adopted the idea that what happens behind closed family doors is no one's business but our own. Which has again somehow led to the idea that we are free to behave in ways in our homes that we would not act in public. Read more
This is the seventh and final post in the series: "What does the Bible say about sibling rivalry and how can I get my kids to get along?"
We started out this sibling rivalry series by establishing that what the world says is normal in family relationships, is not what God wants for Christian families.
The world says that sibling rivalry, rebellious teenagers, kids and parents not getting along and family fighting are all part of normal family life.
However, Jesus himself said that the two greatest commands were to love God and to love others and that all of God's law is summed up in these two commands. Christian love is a foundation of our Faith and teaching it, is a core Christian parenting skill.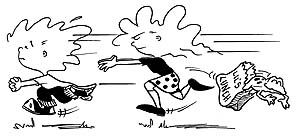 Can you imagine your home truly being a 'home sweet home'? What if everyone in our families always spoke gently and kindly to one another? What if everyone got along famously, loved and respected one another and enjoyed each other's company?
No sibling rivalry, no fighting, no arguing, no yelling, no unkind words, no whining, no complaining or blaming, can you imagine what that would be like?
Well, that family does not just exist in your imagination or in a Sunday school picture. Having your Christian home look and feel like that is not only possible, it is Biblical.
So how exactly can God use our Christian families (Christian parents and Christian children) to impact the world and bring God's blessing to the nations?
I believe he wants us to raise a generation of Christian kids that will do major damage to the gates of hell. Let me explain.
If Israel could become great and powerful by teaching their children to walk with God and keep the Old Covenant how much more can the Body of Christ grow and powerfully impact the nations, according to God's promise, if we were to teach our children to walk in the power and grace of the New Covenant.
Can you imagine if instead of losing our kids to the world we kept them all in the church. I'm not talking about just having more bodies to warm the pews. I'm talking about a generation that grows up learning God's Word, walking in relationship with God and growing in his grace. A generation that is excited about being used by God and about taking ground for the Kingdom of God. Like the generation of Israelites that took the Promised Land only each one of these would be under the New Covenant and filled with God's Spirit.
In part one we talked about how God wants to have salvation and his blessing come to our families. In part two I would like to talk about God's calling on Christian families and how God wants to work through them.
Let's go back and take a closer look at the verses about why God called Abraham.
Abraham will surely become a great and powerful nation, and all nations on earth will be blessed through him. For I have chosen him, so that he will direct his children and his household after him to keep the way of the Lord by doing what is right and just, so that the Lord will bring about for Abraham what he has promised him." (Genesis 18:18, 19)
Let's look at all three parts of what the Lord said here. First he outlines his promise, Abraham is to become a great and powerful nation and (also) all the nations on the earth are to be blessed through him.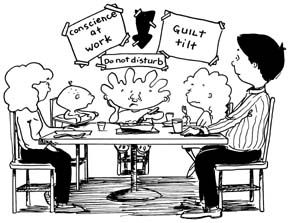 When my mother gave her life to Christ and started attending church every Sunday she had a husband, (my step dad) six children (ranging from toddler to adult) and a large extended family. She was understandably worried about how her new Faith would be viewed and if everyone would embrace it as well or reject it and her. She even started taking the youngest of my siblings to Sunday School on her own.
One evening not too long after her decision to live her life for Christ, no matter what the cost, she attended a Gospel dinner with a special Christian speaker. That speaker prayed for her and while he was praying, even though he did not know her or her situation, he said, "Don't worry, today salvation has come to your house."