To say that I had a lot of stuff on the go would have been a massive understatement. I was doing a major renovation on the home that I had just bought, I was trying to sub-divide part of the property and resell it, I was building my ministry/business for which I had several large publishing projects underway, I was the associate pastor of a new church that was growing like a weed and I had just become a new dad. You could say that I was starting to feel like I had perhaps bitten off more than I could chew. Over and above those pressures, I was also getting to know my banker quite well since I was dealing with a mortgage, a second mortgage for renovations and a small business loan and in order for everything to work out financially, I needed to meet my business and renovation deadlines and sell part of my property.
Now I had sincerely and thoroughly prayed about each item on the above list before moving forward and I thought I was trusting God to get me to the other side of my mini Red Sea adventure before the walls of water came crashing back down. However, without really noticing it, I had slipped into worry mode.
I was walking from one thing to the next and my mind was racing, worrying, and trying to figure out how all this could possibly work out when something happened that I had never experienced before or since. I heard God call my name, loudly. I can't tell you if I heard it outside of me or inside or both, but I do know the voice was stern but loving and I somehow knew beyond any doubt that it was God.
The call was so sudden and loud that all of my thoughts and my legs stopped abruptly at the same time. I was still and God had my complete attention. Here's what flashed through my mind in the next few seconds. "Did you give your whole life to God and entrust Him with it?" Of course the answer was, "Yes Lord". Then these words followed, "So are you saying (by my worrying and fretting) that God is not a good steward over the things He's been given charge of?"
Standing there stone still on the sidewalk of a semi busy street I did not literally go to my knees but I did in my heart. I instantly realized how much worrying and doubting that I was doing and I asked God to please forgive me and to help me keep my mind focused on Him, His promises, His love for me and His amazing ability. When I could get my feet moving again, I carried on calmly and from that moment on whenever I started to slip back into worry mode, I stopped in my tracks and reconnected with God.
Remember the Sunday morning chorus, "Be Still and Know That I Am God?" I loved the song and the verse (Psalms 46:10) but for years I (sadly) looked at in in a very poetic way; you know, as a beautiful thought without much practical application except for in a worship service. I was so wrong. When we start to worry and fret, our minds are anything but still and our trust in God is anything but active. When God stopped me, He made me still and He got me thinking about who He was, what he'd promised and what He was capable of doing. In other words, "Stop, still your mind, stop worrying and know that He is GOD, with all that, that means; He is capable, powerful, faithful, loving, all knowing, trustworthy, with you, for you, willing to help, your Father in Heaven."
In a nutshell, stop worrying about what could go wrong and start focusing on what God will do.
In preparation for this blog, I looked up the words 'be still' in the Bible and found it there seven times and each one shows us something wonderful about the practice of being still.
The first time the two word phrase is mentioned in the Bible Moses and the Israelites were caught between the Egyptian army and the Red Sea.
As Pharaoh approached, the Israelites looked up, and there were the Egyptians, marching after them. They were terrified and cried out to the Lord. They said to Moses, "Was it because there were no graves in Egypt that you brought us to the desert to die? What have you done to us by bringing us out of Egypt? Didn't we say to you in Egypt, 'Leave us alone; let us serve the Egyptians'? It would have been better for us to serve the Egyptians than to die in the desert!"
Moses answered the people, "Do not be afraid. Stand firm and you will see the deliverance the LORD will bring you today. The Egyptians you see today you will never see again. The LORD will fight for you; you need only to be still."
Then the LORD said to Moses, "Why are you crying out to me? Tell the Israelites to move on. Raise your staff and stretch out your hand over the sea to divide the water so that the Israelites can go through the sea on dry ground. (Exodus 14:10 – 16)
The Israelites were freaking out and Moses told them to be still and showed them who God was and what He was capable of. Are you between a rock and a hard place right now? Stop and be still, focus on God and His ability to help you instead of the problem's ability to harm you. God is greater than the problem.
The second time the phrase occurs was when Nehemiah and Ezra were reacquainting God's people with His law.
Then Nehemiah the governor, Ezra the priest and scribe, and the Levites who were instructing the people said to them all, "This day is sacred to the LORD your God. Do not mourn or weep." For all the people had been weeping as they listened to the words of the Law. Nehemiah said, "Go and enjoy choice food and sweet drinks, and send some to those who have nothing prepared. This day is sacred to our Lord. Do not grieve, for the joy of the LORD is your strength." The Levites calmed all the people, saying, "Be still, for this is a sacred day. Do not grieve." (Nehemiah 8:9 – 11)
Why were they weeping and mourning? Because they and their ancestors had not measured up to God's law and they were probably not sure that they could. Are you fretting because you feel like you haven't measured up to God's expectations and/or you feel like you can't. Be still and rejoice because the joy of the Lord is your strength. In other words, don't focus on your inability, focus on the fact that Jesus died for you because you couldn't do it on your own. He's promised to work His righteousness in you. It's the joy of knowing that the Lord died for you and will work in you and help you that is your strength.
The third mention is as wonderful.
Trust in the LORD and do good; dwell in the land and enjoy safe pasture.
Delight yourself in the LORD and he will give you the desires of your heart.
Commit your way to the Lord; trust in him and he will do this:
He will make your righteousness shine like the dawn, the justice of your cause like the noonday sun.
Be still before the LORD and wait patiently for him; do not fret when men succeed in their ways, when they carry out their wicked schemes. (Psalms 37:3 – 7)
When we are faithfully following and trusting God, He takes care of us, keeps us safe, gives us things to enjoy, gives us our heart's desires, guides us and works His righteousness in us. However, sometimes we lose hope because we don't see it happening the way we expected it to and we see others who don't do things God's way doing well and we see wickedness succeeding. The Word says be still, get your eyes on God and what He can do and wants to do in your life, and then wait patiently. His timing is perfect.
The fourth time 'be still' appears it carries a timely message.
Nations are in uproar, kingdoms fall; he lifts his voice, the earth melts.
The LORD Almighty is with us; the God of Jacob is our fortress. "Selah"
Come and see the works of the Lord, the desolations he has brought on the earth.
He makes wars cease to the ends of the earth; he breaks the bow and shatters the spear, he burns the shields with fire.
"Be still, and know that I am God; I will be exalted among the nations, I will be exalted in the earth."
The LORD Almighty is with us; the God of Jacob is our fortress. "Selah" (Psalms 46:6 – 11)
It's easy to get unsettled when looking at what's going on in the world, war, genocide, famine, natural disasters and global recession. However, God reminds us here that we should be still and know that He's in control. His plan for the nations is on track and He is Almighty and well able to care for us His children during tough times. Are you fretting because of what you're seeing in the news or because of the economy? Be still and know He is The Lord Almighty.
The next Biblical appearance reminds us of why we can be still.
For the day has come to destroy all the Philistines and to cut off all survivors who could help Tyre and Sidon. The LORD is about to destroy the Philistines, the remnant from the coasts of Caphtor.
Gaza will shave her head in mourning; Ashkelon will be silenced. O remnant on the plain, how long will you cut yourselves?
" 'Ah, sword of the Lord,' [ you cry,] 'how long till you rest? Return to your scabbard; cease and be still.'
But how can it rest when the LORD has commanded it, when he has ordered it to attack Ashkelon and the coast?" (Jeremiah 47:4 – 7)
We can be still because the sword of the Lord (His Word, His promise) is not. The Philistines in our lives (whatever plagues us and comes against us) are being pursued and taken care of by our Father in Heaven who cares for us. We can be still and know that He is God and He's at work!
Are you fretting because the world seems to be going to hell (literally) in a hand basket.
"Shout and be glad, O Daughter of Zion. For I am coming, and I will live among you," declares the Lord.
"Many nations will be joined with the LORD in that day and will become my people. I will live among you and you will know that the LORD Almighty has sent me to you.
The LORD will inherit Judah as his portion in the holy land and will again choose Jerusalem.
Be still before the Lord, all mankind, because he has roused himself from his holy dwelling." (Zechariah 2:10 – 12)
God's salvation plan is on track. HE IS GOD! Instead of worrying and complaining about the direction we see the world around us going in, we can be still and know that He's in control and with that confidence, get up and start doing our part to further His Kingdom.
Jesus knew the Old Testament back to front when he was here on earth. So although he doesn't say so, when he used the words 'be still' he knew the context. Here's the seventh and final Biblical use of these two wonderful words:
Jesus was in the stern, sleeping on a cushion. The disciples woke him and said to him, "Teacher, don't you care if we drown?" He got up, rebuked the wind and said to the waves, "Quiet! Be still!" Then the wind died down and it was completely calm. He said to his disciples, "Why are you so afraid? Do you still have no faith?" They were terrified and asked each other, "Who is this? Even the wind and the waves obey him!" (Mark 4:38 – 41)
The disciples found themselves in the middle of a storm and they were freaking out because they thought that they were going to die. They woke Jesus up and He told the wind and the waves to be still. Then he basically asked them why they had not been still. I find it interesting that the disciples were left asking, "Who is this?" Was Jesus saying to his disciples, "Be still and know that I am God"?
When we're not calm, the storm can overwhelm us. But when we're still and know that He is God, He overcomes the storm.
We can BE STILL (stop worrying and fretting) in the midst of the storm when personal troubles abound, when a global recession hits, when we don't think we can measure up or make it through, when we see the world around us taking the wrong course, because HE IS GOD! He is able, He is in control, His plan is on track and He loves us. As we trust Him, His promises and His efforts on our behalf, are never still.
The story I opened with happened long ago but I learned a valuable lesson that I've never forgotten. The basement suite was finished on time and the renters moved in and the publishing projects were all completed on time. Through a wonderful set of God arranged circumstances, the property was sub-divided and sold faster than I had imagined possible, the church kept growing and I was able to spend valuable time each day with my wonderful new daughter. Everything worked out perfectly and after my sidewalk encounter, I started to enjoy the process because I wasn't frantic with fretting.
As an added bonus, years later when I sold that house, I did the math and was amazed at Gods goodness. I added up every expense including mortgage payments, property taxes, renovation costs, maintenance etc. Then I added up the money in rent, the money from selling part of the property, the net proceeds of the sale etc. and it turned out that I not only lived in that home for free for six years, but I also made a large profit beyond that.
More importantly I learned that "be still and know that I am God" isn't just a wonderful poetic line from Psalms, but a life changing habit and constant reminder that Jesus is in my boat. Whenever I start to slip back into worry, I return to that still moment on the sidewalk, reconnect with God and move forward in peace knowing that He is God.
What are you fretting about right now? Use this moment to start develop the Bible's diagnosed habit for arresting worry, be still and know that He is God.
For help with teaching your children about their Faith, check out The Singing Bible.
-
-
-
-
-
(RICK OSBORNE / Christian Author, Speaker & Dad)
I urge, then, first of all, that requests, prayers, intercession and thanksgiving be made for everyone–for kings and all those in authority, that we may live peaceful and quiet lives in all godliness and holiness. This is good, and pleases God our Savior, who wants all men to be saved and to come to a knowledge of the truth. (1 Timothy 2:1 – 4, NIV)
Some may not be familiar with the actual verses above, but we've all been introduced to the idea that every Christian's prayer list should include the need for praying for our leaders. We even teach our children to pray for us, their teachers, our church leaders, and our political leaders around election time. On special political occasions, such as during an inauguration, we include these prayers in our family prayer times.
Nothing new, however, here's my challenge. Does the Bible tell us how we should pray or what we should pray and/or teach our children to pray? The standard prayer seems to be one of asking God to guide our leaders and give them wisdom to make the right decisions. Is that what Paul meant when he wrote the verse? Is there more to it? I taught the standard leader wisdom prayers to my own children. However, somewhere down inside I always thought that there must be more to it then that and it turns out that there is.
The point of this blog is to help you understand Biblically what to pray, and how to pray for our leaders so that you can not only do it, but also teach your children to do it. Whether you voted for President Barak Obama or not, we are all called to pray for him and as you'll see from reading this post, with good reason. At the end of the blog, I've included a sample prayer for the new president that you and your family can use as a guide. (Whether you live in the USA or not, Barak Obama's decisions will probably effect you. So pray for him and also the leaders of your country.)
Let's start with a basic rule for Bible study; Studying the Bible is like investing in real estate. The most important three things are location, location and location (context, context and context). For clarity of understanding, we must read each passage in its context which includes the intent of the author. In order to discover intent, we must know something about the person writing. One way that we do that is to familiarize ourselves with everything else that author wrote in the Bible. Another way is to know something about when and where the author lived and who he or she was.
Of course the most basic rule (the first 'location') is to read each verse in the context of its surrounding verses so lets do that first. In this case, Paul sums up why he tells us to pray for everyone everywhere and to pray for leaders in verse four; …for he (God) wants everyone to be saved and to understand the truth. (NLT)
In other words, the reason God wants us to pray for everyone everywhere, is so they'll be saved. He also wants us to pray for our leaders so that we have the peace and quiet we need to go about doing what he's called us to do, which is to grow his Kingdom and spread the gospel without opposition from (and perhaps even with support from) our leaders and government. Again, so everyone can be saved.
Ever notice that in the Lord's prayer, Jesus did not pray for leaders? Jesus wasn't giving us a prayer to pray, he was teaching us how to pray. When we pray for our leaders, our prayers must follow our Lord's example or template, so our prayer would fall under "Your Kingdom come, your will be done on earth as it is in heaven." We pray that our leaders work in agreement and not opposition to His Kingdom and His will.
Moving on to the second 'location' or context consideration, Paul wrote these verses when Nero was ruling Rome right around the time he started persecuting the church and doing everything he could to capture and kill Christians. Church history has it that not long after Paul wrote these verses, Nero falsely blamed the Christians and specifically Paul for burning Rome and had Paul put to death. Paul had a dream, he envisioned a time when the government would stop standing in God's way and Paul called the church to pray to that end.
Let's look at the verses in Timothy in the New Living Translation; I urge you, first of all to pray for all people. As you make your requests, plead for God's mercy upon them and give thanks. Pray this way for kings and all others who are in authority..
When I read these verses in the New Living Translation, something jumped out at me. Something that requires the next level of 'location' or context to understand.
Before Paul's conversion, he was a Pharisee and he had been thoroughly trained in the law under a well known teacher, Gamaliel. (Acts 22:3, Philippians 3:5) In other words, he knew God's Word and most everything he wrote in the New Testament was built on what he knew from the Old.
So was Paul thinking of any Old Testament passages and/or stories when he wrote these verses?" The words that jumped out at me were, "…plead for God's mercy on them…".
Take a look at these verses from Daniel's very well known prayer for Israel found in Daniel chapter nine.
So I turned to the Lord God and pleaded with him in prayer and petition, in fasting, and in sackcloth and ashes. I prayed to the LORD my God and confessed: "O Lord, the great and awesome God, who keeps his covenant of love with all who love him and obey his commands, we have sinned and done wrong. We have been wicked and have rebelled; we have turned away from your commands and laws. We have not listened to your servants the prophets, who spoke in your name to our kings, our princes and our fathers, and to all the people of the land. Lord, you are righteous, but this day we are covered with shame–the men of Judah and people of Jerusalem and all Israel, both near and far, in all the countries where you have scattered us because of our unfaithfulness to you. O Lord, we and our kings, our princes and our fathers are covered with shame because we have sinned against you. The Lord our God is merciful and forgiving, even though we have rebelled against him; (Daniel 9:4 – 9)
Daniel pleaded with God, Paul asks us to do the same. Daniel prayed for all Israelites everywhere, Paul placed the prayer in a New Testament context and instructed us to pray for everyone, everywhere. Daniel included Israel's Kings and leaders, Paul tells us to pray for our leaders. Daniel prayed for God's mercy, Paul said that we should plead for God's mercy.
It was natural for Paul to think of the time of the Babylonian captivity because although the Israelite's were at home in Israel when he wrote these verses, they were being occupied and ruled by a foreign king. The main thing that Paul changes is that he puts it all into a New Testament context. It's no longer about the Israelites and their leaders, but about all people everywhere and the leaders of all nations.
I believe that Daniel's powerful prayer was what Paul was jumping off of, but in order to discover more about what Paul was asking us to pray and why, we need to look a little further into what happened with the Babylonian and Persian kings when God's people prayed. Remember, in the new context that Paul put Daniel's prayer into, the leaders who need our prayer are no longer only Israel's leaders, but the leaders of the nations as they were in Daniel's time.
During the time of the exile, Daniel prayed and God moved on the heart of King Cyrus to agree to let the Israelites go home and rebuild the temple (Ezra 1). The King even paid for the materials. (Ezra 6:1 – 5) Then when the project was being opposed, King Darius (the same king who was involved in Daniel's lion den experience) ordered those in opposition to not only stop interfering, but also that all expenses were to be paid for by the royal treasury.
Years later when Nehemiah heard that the walls of Jerusalem were still not rebuilt, he prayed and asked God to grant him favor with King Artaxerxes. He got it. The king gave him permission to go and rebuild the walls. He also sent a small army with Nehemiah and agreed to supply the lumber for the project. (Nehemiah 1, 2)
Again, when the Jewish people faced complete destruction, God used Esther and her Uncle Mordecai with the fasting prayers of his people to turn the King's heart and God's people were rescued.
One comment by one of these kings paints a wonderful picture of what God does for leaders who cooperate with his plans. When Darius (lions den king) wrote a letter instructing everyone to support and not oppose the rebuilding of the temple, he wrote "…so that they may offer sacrifices pleasing to the God of heaven and pray for the well-being of the king (himself) and his sons." (Ezra 6:10) He knew Daniel and he knew that if he and his sons were to be blessed as kings, they needed to support the God of heaven's agenda.
Paul knew that in the New Testament era we're also building a temple and a spiritual Jerusalem, the Body of Christ, and our mandate is to love and reach everyone everywhere. For that to happen, we need to pray that our leaders understand what King Darius understood.
Praying that President Obama has the wisdom to make the country and economy run well is fine, but it's not what Paul was talking about. God wants us to come before his throne, focused on heaven with his Kingdom firmly placed as our number one priority and pray that God would have mercy on us and on President Obama, and cause him to make decisions in cooperation with God's plans, not man's.
Paul tells us to pray for mercy, because none of us deserve his grace, favor, salvation and/or an understanding of the truth. We receive it when we humble ourselves because he loves us. When we pray for God's mercy on President Obama, it isn't a reflection on the man, his Faith or his character. Paul didn't say to pray for God's mercy for only wicked Kings or leaders, he said to pray that way for all of them. It's by his mercy that he intervines and moves in a leader's life in a way that can change the course of history.
Also, you may think the world of who President Obama is as a leader and a man, or you might not think much of him at all, but whether he is or isn't great isn't what matters. The biggest changes for God's people and his plans came when his people prayed, sought his mercy, and trusted him for the outcome.
Below is a prayer that you and your family can use as a guide in your prayers for President Obama. The prayer is inspired by all that I believe Paul was referencing and thinking about when he wrote his instructions about praying for our leaders. May God have mercy on President Obama.
A Prayer For Obama
(Taken from Paul's words and inspired by the prayers and stories of Daniel, Nehemiah and Esther)
Father in heaven, we pray that your kingdom is strengthened and grows. That your will be done here on earth as it is in heaven. We thank you for your great love and wonderful plans for us all.
We ask that you would have mercy on the people of this country and around the world that don't know you, that you would forgive them, cause them to be saved and to come to the knowledge of the truth.
We pray also for our leaders and specifically today for President Barak Obama. Thank you for every wonderful thing that Barak Obama becoming president represents in the US. Please pour out your loving mercy on him and his family. Forgive them for any trespasses against you, draw them closer to yourself and help them to understand and walk in the full knowledge of the truth.
Please Father, have mercy on President Obama as a leader and cause him, for the sake of the US and the world, to cooperate with your agenda in everything he does as president. Let your Church and your Kingdom flourish under his leadership and help many to come to know you because of the mercy you pour out on his presidency.
Help us, your children, to live quiet and peaceful lives in all godliness and holiness under President Obama so that we can do your will freely in your vineyard; spreading your Word, reaching the unreached and demonstrating your love. Have mercy on us and forgive us for our slackness in this area. Help us to be more mindful of you and your eternal plans than we are on our needs for today.
Please send wise people from among your children, like you sent Daniel, Nehemiah, Mordecai and Esther, to help President Obama and counsel him in the things that you'd have him do. Guide and direct him and give the Church, your people, and your agenda, favor in his eyes.
Father, as President Obama obeys you and cooperates with your plans, bless him, his family and his presidency. If he sins against you in anyway, we plead for your mercy, forgive him and cause him to turn and support your Word and your work
We ask this sincerely in the name of Jesus Christ our Lord and Savior. We thank you for all that you've done for us and for hearing our prayers. You are a great God and a wonderful merciful Father and we love you!
Amen
Pray sincerely and trust confidently. God hears and moves on the prayers he asks us to ask.
For help with teaching your children about their Faith, check out Teaching Your Child How to Pray.
-
-
-
(RICK OSBORNE / Christian Author, Speaker & Dad)
Every Christmas, most of us get together with family and celebrate the birth of our Lord and Savior. Therefore, it's at this time of year when we're thinking of both family and Jesus at the same time. We can't help but think and pray about those in our families who do not know Jesus. Do you have members of your immediate or extended family that need to know Jesus? I was eighteen when I became a Christian. I celebrated Christmas for the first time shortly after that at nineteen. I was raised in a church that did not allow Christmas. My mother was led to the truth and accepted Jesus as her savior shortly after I had left home at eighteen.
When she started attending a Christian church every Sunday, her husband (my step dad), her six children (ranging from toddler to adult), many of her extended family, and the majority of her social circle were still attending the church she just left. A church that not only didn't celebrate Christmas but also didn't believe in the doctrine of salvation. A church that would tell its members to not have anything to do with anyone who left the church. She was understandably worried about how her new Faith would be viewed and if everyone would reject it and her.
One evening, not too long after her decision to live her life for Christ, no matter what the cost, she attended a Gospel banquet. The speaker prayed for her and while he was praying (even though he did not know her or her situation) said, "Don't worry, today salvation has come to your house."
How should a Christian vote? It seems to me that, with very few exceptions, there are Christians backing each and every political party and asking others to do so along side them. There are Christians who align themselves with an issue or issues instead of a party. They believe that these issues are important to their Faith and therefore more important then their allegiance to a certain politician or political group. The problem here is that Christians seem to differ greatly in their opinions about which issues should be seen as paramount and also on what the stand on these issues should be. To top it all off there are Christians who believe that we shouldn't get involved in politics at all. In short, Christians are all over the place regarding politics and how we should vote and in many cases are even opposing one another.
Please allow me to humbly throw my hat into the proverbial ring. However, instead of siding with any party or issue I would like to take a look at what God's Word says about our vote. There are no scriptures that deal directly with government as we know it, democracy, voting etc. but there are teachings about our response to and responsibilities towards governments that can be applied to our vote today.
Let's take a look at one of the primary New Testament portions of scripture that deals with church and government, 1 Timothy 2:1 – 4.
I urge, then, first of all, that requests, prayers, intercession and thanksgiving be made for everyone–for kings and all those in authority, that we may live peaceful and quiet lives in all godliness and holiness. This is good, and pleases God our Savior, who wants all men to be saved and to come to a knowledge of the truth. (1 Timothy 2:1 – 4)
I don't know about you but for years every time I read these verses or heard them preached the words "that we might live peaceful and quiet lives" always bothered me. Didn't Jesus tell us that we are not to put the things of this life first but to put God's Kingdom first? Didn't he tell us that one of the first things we are to pray about is for his Kingdom and also that his will would be done on Earth? Isn't it true that pretty much all of the New Testament writers and Jesus himself have called us to be witnesses for the Gospel and to endure persecution for doing so? Didn't Paul, who wrote the above words to Timothy (and us) teach that we are to FIGHT the good fight, run the race to win the heavenly prize, to boldly share our Faith and also to expect persecution?
Perhaps I was misunderstanding the intent of Paul's words to Timothy because the Bible does not contradict itself. The problem was that I wasn't trying to understand Paul's words in their context.
Please allow me to take the liberty of adding some commentary to Paul's word's so that I can get right to my point. Here's what I now believe Paul to be saying in these verses, my words in parenthesis:
I urge, then, first of all, that requests, prayers, intercession and thanksgiving be made for everyone (all people everywhere)–(Also) for kings and all those in authority, that we may live peaceful and quiet lives in all godliness and holiness (So that we can get on with growing in Christ, sharing the Gospel with everyone, and expanding God's Kingdom everywhere, as unimpeded by Kings and governments as possible.) This is good, and pleases God our Savior, who wants all men to be saved and to come to a knowledge of the truth. (And praying for authorities will help us accomplish this.)
When Paul penned these words the church was being persecuted everywhere. Nero was governing Rome and not too long after these words were written Nero put Paul to death. Paul was letting Timothy and the Church, then and now, know that we should pray for the gospel to be spread to everyone everywhere and that we should pray for the governments everywhere because doing so can help us get the job done. The Christians of that day easily understood Paul's words because they were attempting to follow the Gospel's mandates and they were being persecuted and stalled at every turn.
Our focus is to be on the spreading of the Gospel not a quiet and peaceful life. We need the governments to not oppose us and perhaps even cooperate with us so that we can use the resulting peace and quiet to get on with our calling.
So how does this relate to politics, democracies and our votes as Christians today? Well in my estimation understanding Paul's intent in these verses makes it simple. We are to stick with our Kingdom first purpose and pray for governments to not hinder us and perhaps even help us. Since in a democracy we have a say or a vote, our vote should mirror our purpose and prayer. Simply put we should vote for the person, party government etc who (after prayer and consideration) we believe is most likely to not hinder but to promote our God given purpose, to grow as Christians, to spread the Gospel and to expand God's Kingdom.
Any vote for any other purpose by a Christian, say for the economy, more tax breaks, more money in our pockets is a misguided vote for a peaceful and quiet life for the sake of personal comfort.
It's recorded six times in the Gospels that Jesus said that those who deny their lives for the sake of the Gospel will find their lives, but that those who put their lives first will lose them. Let your vote count, vote for those who will be more likely to support God's agenda for this planet.
I appreciate and welcome your comments.
For help with teaching your children about their Faith, check out The Singing Bible.
-
-
-
-
-
(RICK OSBORNE / Christian Author, Speaker & Dad)
In addition to writing his weekly blogs at Christian Parenting Daily, Rick has also begun work on his next full length book 'Putting The "Sweet" Back In Home Sweet Home.' This book will focus on family strife issues like sibling rivalry, teenage rebellion, blended families and parental strife. It will walk families through the seven practical and Biblical steps for creating and maintaining a peaceful, loving home and strong growing relationships. Rick's books have sold close to ten million copies worldwide. The felt need for this book is great and we're looking forward to the positive impact that it will have on families. If you'd like to be put on our list to be notified when the book is made available, please email us and enter 'Book List Request' in the subject line.
Finally, Rick is continuing work on the first ever Sunday School program that will unite church and home in a Biblical partnership for the progressive and intentional spiritual and moral development of children. Stay tuned to this site for more news on the Partnering With Parents program.
TALKING TO YOUR CHILDREN ABOUT GOD
A parent's practical guide to God, Bible stories, children and church, bedtime prayers, virtues, and other spiritual stuff.
This book answers over thirty how-to questions commonly asked by parents about everything Christian.
Questions like, "How can I show my children that the Bible is trustworthy?" and, "What can I tell my kids about Heaven?"
The text does not just stop with the answers but moves beyond and supplies easy tools for getting the job done.
This book is recommended for parents who want practical hands on help with the basics.
A great gift idea for new parents, for relatively new Christians with kids, or for those who are contemplating reconnecting with their Christian heritage now that they have kids.
I was flying into Chicago on United Airlines shortly after they had completed their new terminal. The captain welcomed us to Chicago and "The New Terminal of Tomorrow." He went on to explain that everyone who's tried to catch a connecting flight out of there understands why it's really called "The Terminal of Tomorrow" – because you might not get on your connecting flight till tomorrow!
I've often waited in the Chicago airport.  It's a very busy place and reminds me of my home: children's parties, sleepovers, friends coming and going, neighbors calling, extended family dropping by. And there are the departures. The car just doesn't stop. There are youth groups, lessons of all sorts, sports, school, church, errands to run, and children's friends to pick up or drive home. Sound familiar?  In the middle of all the flights in and out, once in a while I find a wonderful parenting moment with one of my fellow travelers.
The first time it happened, everyone had flown in and back out of "Osborne O'Hare," and only my son and I were left. During the next few hours he had his agenda, and I had mine. However, in the middle of that time the two of us needed to sit down and eat a meal. What followed started with me pointing out that it was cool that it was just the two of us guys.
Then we decided to have some guy food and talked about guy things, and we even used some guy table manners (intentional oxymoron). We laughed a lot and afterwards headed back to our own tasks. The meal needed to be prepared anyway, but the time we had was memorable. I now watch for "home alone" moments. My son and I have our "guy time" every time the Osborne Terminal clears out, and I have special dad-and-daughter meals whenever I find myself alone with one of them.

(RICK OSBORNE / Christian Author, Speaker & Dad – your source for Christian Parenting advice)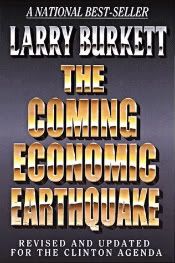 Listening to all the news about economy lately has got me thinking about an old friend. Anyone remember the best-seller, 'The Coming Economic Earthquake'? One Amazon review, written last month, says this about the book, "This book clearly outlines why the recession is here and it was written in 1991 predicting it."
I had the pleasure of knowing Larry Burkett and being able to call him my friend for several years before he left us to be with our Lord. He was a wonderful person, a faithful friend and an awesome man of God. He studied the Bible and understood perhaps better than anyone what God's Word says and teaches about money.
I met Larry shortly after he wrote 'The Coming Economic Earthquake' and although I didn't understand all of what he was saying about where the economy was going, we talked about something that was near to my heart. Him and his son Allen Burkett Jr. wanted to help parents teach their kids Biblical financial principles so that Christians and the Church in the generations to come could stand strong during tough times.
Larry showed me the conclusions of a nation wide survey that tested the financial IQ of high school seniors. The director of the report summed up the results by saying that our kids were graduating financially illiterate. He also shared with me statistics that showed that 85% of young couples who divorce site financial issues as the reason for their marital breakdown. That discussion led to Larry and I co-writing the book 'Financial Parenting.' I also went on to work with both Larry Sr. and Jr. to develop many resources that help parents teach their children financial principles.
The Bible tells us that as parents we are to bring our children up in the instruction of the Lord. The Bible doesn't just teach us about God, love and salvation. Moses, Solomon, Jesus, Paul and others were all used by God's Spirit to teach us about stewardship and proper money management. It's our job as parents to safeguard our children's future by intentionally bringing them up in these truths.
I don't know if the 'Economic Earthquake' as Larry saw it is here yet but I do know that if we want our kids to survive financially, now and in the future, we need to spend some time teaching them what God's Word says about money.
The Coming Economic Earthquake, Financial Parenting and the other resources we developed for kids have been selling well and helping families for years but perhaps they are even more relevant and more important now.
Although Larry Burkett is no longer with us, every book he wrote was based on God's Word and therefore timeless and very relevant today. I highly recommend the following books and any other's with my friend's name on them.
(RICK OSBORNE / Christian Author, Speaker & Dad – your source for Christian Parenting advice)
During the worship service in church we sang a song from Psalms 84. When I sang David's words, "better is one day in your courts than a thousand elsewhere," it struck me that David romanced God. He sang to him, he danced before him, he yearned to be in his presence, he wrote many psalms pouring out his heart and feelings towards him and he showed him his love with extravagant displays of adventurous obedience.
After having that thought, my mind jumped immediately to the same question that yours just did, "Can someone romance God? Isn't romance reserved as a wonderful dance between a man and a woman?" So I looked up the word romance. While it is true that the word romance has, for the most part, come to refer to the expression of love between lovers, its origin and breath of meaning reveals other possibilities of use for this powerful word. Read more
Do you remember your parents telling you to not air your family's dirty laundry? It's a metaphor which apparently can be traced back to Napolean. The idea being that you shouldn't do laundry in public (eg hang clothes on a line to dry) that would reveal intimate details of your life and you also shouldn't tell others about the troubles and private things that happen in your family.
I remember hearing this saying when I was young and my Granny was still alive. I remember wondering why (if this saying were true as a fact as well as a metaphor) she would hang her unmentionables on our clothes line when she visited. Now I should mention that my Gran was a wonderful lady but she was a very large woman and her private garments would attract attention. However, for some reason she seemed oblivious to this fact.
I'm telling this story because I believe that somehow, somewhere along the way, we've adopted the idea that what happens behind closed family doors is no one's business but our own. Which has again somehow led to the idea that we are free to behave in ways in our homes that we would not act in public. Read more