To say that I had a lot of stuff on the go would have been a massive understatement. I was doing a major renovation on the home that I had just bought, I was trying to sub-divide part of the property and resell it, I was building my ministry/business for which I had several large publishing projects underway, I was the associate pastor of a new church that was growing like a weed and I had just become a new dad. You could say that I was starting to feel like I had perhaps bitten off more than I could chew. Over and above those pressures, I was also getting to know my banker quite well since I was dealing with a mortgage, a second mortgage for renovations and a small business loan and in order for everything to work out financially, I needed to meet my business and renovation deadlines and sell part of my property.
Now I had sincerely and thoroughly prayed about each item on the above list before moving forward and I thought I was trusting God to get me to the other side of my mini Red Sea adventure before the walls of water came crashing back down. However, without really noticing it, I had slipped into worry mode.
I was walking from one thing to the next and my mind was racing, worrying, and trying to figure out how all this could possibly work out when something happened that I had never experienced before or since. I heard God call my name, loudly. I can't tell you if I heard it outside of me or inside or both, but I do know the voice was stern but loving and I somehow knew beyond any doubt that it was God.
The call was so sudden and loud that all of my thoughts and my legs stopped abruptly at the same time. I was still and God had my complete attention. Here's what flashed through my mind in the next few seconds. "Did you give your whole life to God and entrust Him with it?" Of course the answer was, "Yes Lord". Then these words followed, "So are you saying (by my worrying and fretting) that God is not a good steward over the things He's been given charge of?"
Standing there stone still on the sidewalk of a semi busy street I did not literally go to my knees but I did in my heart. I instantly realized how much worrying and doubting that I was doing and I asked God to please forgive me and to help me keep my mind focused on Him, His promises, His love for me and His amazing ability. When I could get my feet moving again, I carried on calmly and from that moment on whenever I started to slip back into worry mode, I stopped in my tracks and reconnected with God.
Remember the Sunday morning chorus, "Be Still and Know That I Am God?" I loved the song and the verse (Psalms 46:10) but for years I (sadly) looked at in in a very poetic way; you know, as a beautiful thought without much practical application except for in a worship service. I was so wrong. When we start to worry and fret, our minds are anything but still and our trust in God is anything but active. When God stopped me, He made me still and He got me thinking about who He was, what he'd promised and what He was capable of doing. In other words, "Stop, still your mind, stop worrying and know that He is GOD, with all that, that means; He is capable, powerful, faithful, loving, all knowing, trustworthy, with you, for you, willing to help, your Father in Heaven."
In a nutshell, stop worrying about what could go wrong and start focusing on what God will do.
In preparation for this blog, I looked up the words 'be still' in the Bible and found it there seven times and each one shows us something wonderful about the practice of being still.
The first time the two word phrase is mentioned in the Bible Moses and the Israelites were caught between the Egyptian army and the Red Sea.
As Pharaoh approached, the Israelites looked up, and there were the Egyptians, marching after them. They were terrified and cried out to the Lord. They said to Moses, "Was it because there were no graves in Egypt that you brought us to the desert to die? What have you done to us by bringing us out of Egypt? Didn't we say to you in Egypt, 'Leave us alone; let us serve the Egyptians'? It would have been better for us to serve the Egyptians than to die in the desert!"
Moses answered the people, "Do not be afraid. Stand firm and you will see the deliverance the LORD will bring you today. The Egyptians you see today you will never see again. The LORD will fight for you; you need only to be still."
Then the LORD said to Moses, "Why are you crying out to me? Tell the Israelites to move on. Raise your staff and stretch out your hand over the sea to divide the water so that the Israelites can go through the sea on dry ground. (Exodus 14:10 – 16)
The Israelites were freaking out and Moses told them to be still and showed them who God was and what He was capable of. Are you between a rock and a hard place right now? Stop and be still, focus on God and His ability to help you instead of the problem's ability to harm you. God is greater than the problem.
The second time the phrase occurs was when Nehemiah and Ezra were reacquainting God's people with His law.
Then Nehemiah the governor, Ezra the priest and scribe, and the Levites who were instructing the people said to them all, "This day is sacred to the LORD your God. Do not mourn or weep." For all the people had been weeping as they listened to the words of the Law. Nehemiah said, "Go and enjoy choice food and sweet drinks, and send some to those who have nothing prepared. This day is sacred to our Lord. Do not grieve, for the joy of the LORD is your strength." The Levites calmed all the people, saying, "Be still, for this is a sacred day. Do not grieve." (Nehemiah 8:9 – 11)
Why were they weeping and mourning? Because they and their ancestors had not measured up to God's law and they were probably not sure that they could. Are you fretting because you feel like you haven't measured up to God's expectations and/or you feel like you can't. Be still and rejoice because the joy of the Lord is your strength. In other words, don't focus on your inability, focus on the fact that Jesus died for you because you couldn't do it on your own. He's promised to work His righteousness in you. It's the joy of knowing that the Lord died for you and will work in you and help you that is your strength.
The third mention is as wonderful.
Trust in the LORD and do good; dwell in the land and enjoy safe pasture.
Delight yourself in the LORD and he will give you the desires of your heart.
Commit your way to the Lord; trust in him and he will do this:
He will make your righteousness shine like the dawn, the justice of your cause like the noonday sun.
Be still before the LORD and wait patiently for him; do not fret when men succeed in their ways, when they carry out their wicked schemes. (Psalms 37:3 – 7)
When we are faithfully following and trusting God, He takes care of us, keeps us safe, gives us things to enjoy, gives us our heart's desires, guides us and works His righteousness in us. However, sometimes we lose hope because we don't see it happening the way we expected it to and we see others who don't do things God's way doing well and we see wickedness succeeding. The Word says be still, get your eyes on God and what He can do and wants to do in your life, and then wait patiently. His timing is perfect.
The fourth time 'be still' appears it carries a timely message.
Nations are in uproar, kingdoms fall; he lifts his voice, the earth melts.
The LORD Almighty is with us; the God of Jacob is our fortress. "Selah"
Come and see the works of the Lord, the desolations he has brought on the earth.
He makes wars cease to the ends of the earth; he breaks the bow and shatters the spear, he burns the shields with fire.
"Be still, and know that I am God; I will be exalted among the nations, I will be exalted in the earth."
The LORD Almighty is with us; the God of Jacob is our fortress. "Selah" (Psalms 46:6 – 11)
It's easy to get unsettled when looking at what's going on in the world, war, genocide, famine, natural disasters and global recession. However, God reminds us here that we should be still and know that He's in control. His plan for the nations is on track and He is Almighty and well able to care for us His children during tough times. Are you fretting because of what you're seeing in the news or because of the economy? Be still and know He is The Lord Almighty.
The next Biblical appearance reminds us of why we can be still.
For the day has come to destroy all the Philistines and to cut off all survivors who could help Tyre and Sidon. The LORD is about to destroy the Philistines, the remnant from the coasts of Caphtor.
Gaza will shave her head in mourning; Ashkelon will be silenced. O remnant on the plain, how long will you cut yourselves?
" 'Ah, sword of the Lord,' [ you cry,] 'how long till you rest? Return to your scabbard; cease and be still.'
But how can it rest when the LORD has commanded it, when he has ordered it to attack Ashkelon and the coast?" (Jeremiah 47:4 – 7)
We can be still because the sword of the Lord (His Word, His promise) is not. The Philistines in our lives (whatever plagues us and comes against us) are being pursued and taken care of by our Father in Heaven who cares for us. We can be still and know that He is God and He's at work!
Are you fretting because the world seems to be going to hell (literally) in a hand basket.
"Shout and be glad, O Daughter of Zion. For I am coming, and I will live among you," declares the Lord.
"Many nations will be joined with the LORD in that day and will become my people. I will live among you and you will know that the LORD Almighty has sent me to you.
The LORD will inherit Judah as his portion in the holy land and will again choose Jerusalem.
Be still before the Lord, all mankind, because he has roused himself from his holy dwelling." (Zechariah 2:10 – 12)
God's salvation plan is on track. HE IS GOD! Instead of worrying and complaining about the direction we see the world around us going in, we can be still and know that He's in control and with that confidence, get up and start doing our part to further His Kingdom.
Jesus knew the Old Testament back to front when he was here on earth. So although he doesn't say so, when he used the words 'be still' he knew the context. Here's the seventh and final Biblical use of these two wonderful words:
Jesus was in the stern, sleeping on a cushion. The disciples woke him and said to him, "Teacher, don't you care if we drown?" He got up, rebuked the wind and said to the waves, "Quiet! Be still!" Then the wind died down and it was completely calm. He said to his disciples, "Why are you so afraid? Do you still have no faith?" They were terrified and asked each other, "Who is this? Even the wind and the waves obey him!" (Mark 4:38 – 41)
The disciples found themselves in the middle of a storm and they were freaking out because they thought that they were going to die. They woke Jesus up and He told the wind and the waves to be still. Then he basically asked them why they had not been still. I find it interesting that the disciples were left asking, "Who is this?" Was Jesus saying to his disciples, "Be still and know that I am God"?
When we're not calm, the storm can overwhelm us. But when we're still and know that He is God, He overcomes the storm.
We can BE STILL (stop worrying and fretting) in the midst of the storm when personal troubles abound, when a global recession hits, when we don't think we can measure up or make it through, when we see the world around us taking the wrong course, because HE IS GOD! He is able, He is in control, His plan is on track and He loves us. As we trust Him, His promises and His efforts on our behalf, are never still.
The story I opened with happened long ago but I learned a valuable lesson that I've never forgotten. The basement suite was finished on time and the renters moved in and the publishing projects were all completed on time. Through a wonderful set of God arranged circumstances, the property was sub-divided and sold faster than I had imagined possible, the church kept growing and I was able to spend valuable time each day with my wonderful new daughter. Everything worked out perfectly and after my sidewalk encounter, I started to enjoy the process because I wasn't frantic with fretting.
As an added bonus, years later when I sold that house, I did the math and was amazed at Gods goodness. I added up every expense including mortgage payments, property taxes, renovation costs, maintenance etc. Then I added up the money in rent, the money from selling part of the property, the net proceeds of the sale etc. and it turned out that I not only lived in that home for free for six years, but I also made a large profit beyond that.
More importantly I learned that "be still and know that I am God" isn't just a wonderful poetic line from Psalms, but a life changing habit and constant reminder that Jesus is in my boat. Whenever I start to slip back into worry, I return to that still moment on the sidewalk, reconnect with God and move forward in peace knowing that He is God.
What are you fretting about right now? Use this moment to start develop the Bible's diagnosed habit for arresting worry, be still and know that He is God.
For help with teaching your children about their Faith, check out The Singing Bible.
-
-
-
-
-
(RICK OSBORNE / Christian Author, Speaker & Dad)
I was flying into Chicago on United Airlines shortly after they had completed their new terminal. The captain welcomed us to Chicago and "The New Terminal of Tomorrow." He went on to explain that everyone who's tried to catch a connecting flight out of there understands why it's really called "The Terminal of Tomorrow" – because you might not get on your connecting flight till tomorrow!
I've often waited in the Chicago airport.  It's a very busy place and reminds me of my home: children's parties, sleepovers, friends coming and going, neighbors calling, extended family dropping by. And there are the departures. The car just doesn't stop. There are youth groups, lessons of all sorts, sports, school, church, errands to run, and children's friends to pick up or drive home. Sound familiar?  In the middle of all the flights in and out, once in a while I find a wonderful parenting moment with one of my fellow travelers.
The first time it happened, everyone had flown in and back out of "Osborne O'Hare," and only my son and I were left. During the next few hours he had his agenda, and I had mine. However, in the middle of that time the two of us needed to sit down and eat a meal. What followed started with me pointing out that it was cool that it was just the two of us guys.
Then we decided to have some guy food and talked about guy things, and we even used some guy table manners (intentional oxymoron). We laughed a lot and afterwards headed back to our own tasks. The meal needed to be prepared anyway, but the time we had was memorable. I now watch for "home alone" moments. My son and I have our "guy time" every time the Osborne Terminal clears out, and I have special dad-and-daughter meals whenever I find myself alone with one of them.

(RICK OSBORNE / Christian Author, Speaker & Dad – your source for Christian Parenting advice)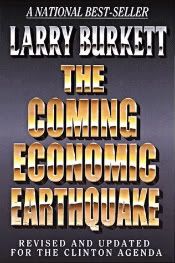 Listening to all the news about economy lately has got me thinking about an old friend. Anyone remember the best-seller, 'The Coming Economic Earthquake'? One Amazon review, written last month, says this about the book, "This book clearly outlines why the recession is here and it was written in 1991 predicting it."
I had the pleasure of knowing Larry Burkett and being able to call him my friend for several years before he left us to be with our Lord. He was a wonderful person, a faithful friend and an awesome man of God. He studied the Bible and understood perhaps better than anyone what God's Word says and teaches about money.
I met Larry shortly after he wrote 'The Coming Economic Earthquake' and although I didn't understand all of what he was saying about where the economy was going, we talked about something that was near to my heart. Him and his son Allen Burkett Jr. wanted to help parents teach their kids Biblical financial principles so that Christians and the Church in the generations to come could stand strong during tough times.
Larry showed me the conclusions of a nation wide survey that tested the financial IQ of high school seniors. The director of the report summed up the results by saying that our kids were graduating financially illiterate. He also shared with me statistics that showed that 85% of young couples who divorce site financial issues as the reason for their marital breakdown. That discussion led to Larry and I co-writing the book 'Financial Parenting.' I also went on to work with both Larry Sr. and Jr. to develop many resources that help parents teach their children financial principles.
The Bible tells us that as parents we are to bring our children up in the instruction of the Lord. The Bible doesn't just teach us about God, love and salvation. Moses, Solomon, Jesus, Paul and others were all used by God's Spirit to teach us about stewardship and proper money management. It's our job as parents to safeguard our children's future by intentionally bringing them up in these truths.
I don't know if the 'Economic Earthquake' as Larry saw it is here yet but I do know that if we want our kids to survive financially, now and in the future, we need to spend some time teaching them what God's Word says about money.
The Coming Economic Earthquake, Financial Parenting and the other resources we developed for kids have been selling well and helping families for years but perhaps they are even more relevant and more important now.
Although Larry Burkett is no longer with us, every book he wrote was based on God's Word and therefore timeless and very relevant today. I highly recommend the following books and any other's with my friend's name on them.
(RICK OSBORNE / Christian Author, Speaker & Dad – your source for Christian Parenting advice)
I'm not a fan of the Simpsons but I had to chuckle when I heard an ad for the show. Homer said, "Why do things that happen to stupid people keep happening to me?"
Very few of us would ever seriously ask that same question but how about if we tweaked it slightly, "Why do things that take place in stupid families keep on happening in mine?"
Isn't that kind of what we're asking when we get frustrated and throw out questions like, "Why must everything be a fight?" "Can't anyone clean up after themselves?" "Would it hurt anyone to help out a bit for a change?" "For once, could you please just get along?"
One day many years ago, a friend and fellow worker very politely pointed out that I had a bad habit of interrupting him pretty much whenever he spoke. I admitted I had the problem, apologized and told him that I was going to do something about it. In the days that followed, he politely reminded me time and time again. I responded the same way each time.
A week or two later my friend reached the end of his patience and said, "Every time I talk about this, you say that you're going to do something about it. Stop putting it off! Make a decision to change and do something about it now."
I stopped and prayed on the spot for God's help and I made a decision. Once the decision was made, I began paying attention and I put some effort into learning the skills I needed like really listening and following up with a question.
Albert Einstein once defined insanity as "doing the same thing over and over again and expecting different results.
I stopped interrupting however the biggest benefit of my friend's rebuke was that I later learned how to apply the change principle in my family. Let me give you a brief example.
Once our family was suffering from chronic tornado kitchen syndrome. At first I whined, I complained and I asked the 'Homer Simpson' style questions.
My wonderful wife pointed out that perhaps we needed to do something different if we wanted change. (Where had I heard that before?) After some prayer and thought, I taped a note to the kitchen counter and had a family meeting and the fun began. If a single thing was out of place after someone left the kitchen they were on kitchen duty until the next time someone was caught. For awhile everyone was catching everyone else and kitchen duty revolved frequently. Within a few weeks everyone was getting the hang of 'the game' and those caught were spending longer periods of time on kitchen duty which made it even more important not to mess up.
What needs to change in your family? Is it the way you communicate with each other, are the kids not helping out, is the sibling rivalry fierce, are you constantly cleaning up after everyone? Here's what you do, pick one thing that you want to change, pray about it and ask for wisdom. Now go looking for wisdom, search this site or other Christian parenting sites, Google the problem, read a parenting book, anything you need to do to find an idea or solution.
Proverbs 9 says that wisdom has prepared a huge banquet and she's yelling, "Come and get it." Finding the wisdom is very seldom difficult once you've decided on change. Now have a family meeting and get started.
What I found out was that small efforts at change can yield big results. A simple fun game in the kitchen led to everyone learning skills that began to spread to the rest of the house. My simple decision to stop interrupting people led me to better communication skills and therefore to better and stronger relationships.
The things that happen to stupid people happen to Homer Simpson and us not because we're stupid but because we keep doing the same things over and over again and that's stupid. And if we expect any change without changing, according to Einstein, that's insane. Start today and fight stupidity and insanity with a little change.
For more quick and easy parenting tips for bringing change to your family, we recommend the e-Book "The Seven Mistakes Parents of Toddlers Make"
-
-
-
-
(RICK OSBORNE / Christian Author, Speaker & Dad – your source for Christian Parenting advice)
During the worship service in church we sang a song from Psalms 84. When I sang David's words, "better is one day in your courts than a thousand elsewhere," it struck me that David romanced God. He sang to him, he danced before him, he yearned to be in his presence, he wrote many psalms pouring out his heart and feelings towards him and he showed him his love with extravagant displays of adventurous obedience.
After having that thought, my mind jumped immediately to the same question that yours just did, "Can someone romance God? Isn't romance reserved as a wonderful dance between a man and a woman?" So I looked up the word romance. While it is true that the word romance has, for the most part, come to refer to the expression of love between lovers, its origin and breath of meaning reveals other possibilities of use for this powerful word. Read more
Do you remember your parents telling you to not air your family's dirty laundry? It's a metaphor which apparently can be traced back to Napolean. The idea being that you shouldn't do laundry in public (eg hang clothes on a line to dry) that would reveal intimate details of your life and you also shouldn't tell others about the troubles and private things that happen in your family.
I remember hearing this saying when I was young and my Granny was still alive. I remember wondering why (if this saying were true as a fact as well as a metaphor) she would hang her unmentionables on our clothes line when she visited. Now I should mention that my Gran was a wonderful lady but she was a very large woman and her private garments would attract attention. However, for some reason she seemed oblivious to this fact.
I'm telling this story because I believe that somehow, somewhere along the way, we've adopted the idea that what happens behind closed family doors is no one's business but our own. Which has again somehow led to the idea that we are free to behave in ways in our homes that we would not act in public. Read more
In the very beginning of creation God announced that it wasn't good for man to be alone. That announcement led to the first marriage, the first family, the first friends and the first community.
God created us to function in and be blessed by relationships. Not only in relationships with others but also in a relationship with him.
Jesus stated that the two greatest commandments were to love God and also to love others. Since God is love and therefore void of selfishness, his two greatest commandments should carry with them the greatest secrets of an awesome life and they do. Having a wonderful growing relationship with God and wonderful growing relationships with others is truly the biggest key to an awesome life. Loving and being loved. Read more
HOW TO RAISE GREAT PARENTS
In my last post, we talked about how God's original parent training program was that one generation teach the next how to parent God's way. It's our job as parents to not only learn how to parent God's way and to do it effectively but also to teach our children how to be a parent while we are parenting them.
This sounds more daunting then it actually is. In reality, parenting while teaching to parent is the easiest and most effective way of parenting.
When we send our children to school, they go knowing that they need to go through the learning process and do well so that one day they'll graduate. They know because we tell them. From there we encourage them by telling them that great marks lead to better post secondary education options and those options can lead to better career opportunities etc. We keep them going by helping them to understand and to take on the goals as their own.
If our children think the only goal of parenting is for them to try and have fun and for us to try and stop them, they don't see the reward in the process and our task will be difficult. However, if we talk to them not only about the benefits to their life for doing things the right way, but also about how cooperating with the parenting process and learning how it works will help make them great parents, then they'll be able to see a bigger purpose and a greater reward. Read more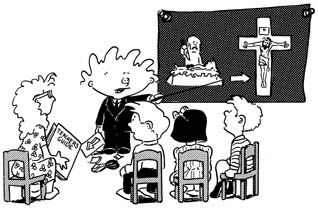 For those of you who read my blogs or my books, you know that I'm passionate about encouraging parents to apply themselves to learning how to parent. Parenting is not merely intuitive and it's not only bad parents who need parenting books and courses, it's all parents.
If you asked me to determine if a certain couple were great parents or not, I wouldn't look first at the results but at the efforts they were making to learn and grow in the art of parenting. If you know how to get the right information and effectively and humbly apply it, the results will eventually follow. If you think you're getting by but you're not learning, then you'll eventually come up against a problem that you don't know how to solve properly and that will mess up your results.
I advocate parenting books, classes and courses but actually those resources should be mere booster shots that come along and support God's original parent training program. When God spoke to Abraham and called him to teach his children after him to follow the Lord, in context (Genesis 18:18, 19), he wasn't talking about just Abraham's immediate children but generations of children. When God had Moses tell the Israelites to make sure that they taught their children to follow the Lord (Deuteronomy 6), again the context was that each generation pass it on to the next.
As an example of how to pass something from generation to generation, let's look at farming. For centuries, farmers have passed the farm down to their children. How does that happen successfully? What if one generation farmed and got the kids to help from time to time and then one day they just handed them the keys to everything and moved to Florida. Either the farm would be sold or it would probably go under. In order for the farm to be passed on successfully, the parents must not only farm well but also teach their children everything they know about farming as they grow up, gradually preparing them for the task. God's original parent training program is simply this, parents need to do everything they can to bring their children up well AND they need to all the while be teaching their children how to parent properly themselves.
That's why I say that parenting books and courses should be booster shots. It's our job as parents to teach our children how to do one of the most important tasks they'll ever undertake, raising children. Yes, we train by example but that's not enough. We need to understand what we teach our children and why we're teaching it to them. We need to understand the discipline, instruction and training process and explain it to our children as we go. For those of you who are feeling that this sounds daunting it's not, it actually makes the job easier. I'll explain how in my next blog.
For more practical and Biblical Christian Parenting ideas we recommend the Christian resource, "The Seven Mistakes Parents of Toddlers Make"
-
-
-
-
(RICK OSBORNE / Christian Author, Speaker & Dad – your source for Christian Parenting advice)
Throughout the Bible, children are considered to be a gift from God and a blessing to the parents who receive them.
Sons are a heritage from the LORD, children a reward from him. (Psalm 127:3)
Scripture contains many prayers and songs thanking God for the blessing of children, including those of Sarah, Hannah, and Mary. Mary had heard the stories of Sarah and Hannah and had learned that children are an awesome gift and a blessing.
Mary said: "My soul glorifies the Lord and my spirit rejoices in God my Savior." (Luke 1:46-47)

If you're waiting for the other shoe to drop, here it comes. Sometimes parenting can seem downright overwhelming. Children need constant care, training, and discipline, and none of us is perfectly up to the task. So at times we feel tempted to consider the gift of children as anything but a blessing. I once heard a mother say to her young teenager (in jest of course), "Watch it, buster! I brought you into this world and I can take you back out again!" That about sums up the way we sometimes feel, doesn't it?