THE 'ORIGINAL' SINGING BIBLE
The demand for this product has been huge and therefore I'm pleased to announce that this best-selling children's classic, The  Original Singing Bible, has been digitally remastered and is now available on CD and for digital downloads!
Over 50 songs and narration make for an exciting 160-minute ride through the Bible.
The Singing Bible has been called a, "Christian classic," "A must have for every Christian family" and "The best Bible song series for kids ever made.
This indispensable resource was designed to help kids learn God's Big Story from creation to Jesus second coming, to learn about their Bibles, the books of the Bible, the Good News, the key memory verses of the Bible and on and on the list goes. Children learn while they sing along and enjoy.
Here is a reoccurring comment we hear from parents, "Our Kids love it and want it played over and over again, which for once, is okay. Unlike some kids cds, it doesn't drive you crazy because the songs and music are so well done. We like it too."
Ideal for every member of any family with kids 2 – 10 years old.
This product in only available at www.christianparentingdaily.com. Click here to purchase this product.
PARENT'S GUIDE TO THE SPIRITUAL GROWTH OF CHILDREN
Helping your child develop a personal Faith
Gary Smalley (Author, speaker and founder of Smalley Relationship Center) says, "This book gives parents easy-to-use plans and ideas to help them pass on their Faith; this couldn't come at a better time for our children and culture."
Put together by Dr. John Trent, Rick Osborne and Kurt Bruner, this best-selling Guide from Focus On The Family is packed with information that will help you navigate your children spiritually from preplanning for parenthood right through to the early teens.
Highly recommended for parents who like to understand the process and develop an individual step-by-step plan that will work best for their family.  Buy Now
This is part 2 of the video of Richard Dawkins, an avowed atheist speaking about why he thinks children should not be indoctrinated in religion. I would love to read your comments on the videos and blogs.
The atheists accuse Christians of keeping their children cloistered away from other views and indoctrinating these young and impressionable minds as opposed to presenting them with a range of choices. Which they say is unfair to the children.
According to dictionary.com, the word 'indoctrination' means to instruct in a doctrine, principle, ideology etc. especially to imbue with a specific partisan or biased belief or point of view. It goes on to say that indoctrination involves teaching someone to accept doctrine uncritically and that a synonym for the word is brainwashing.
The attached video is of Richard Dawkins, an avowed atheist speaking about why he thinks children should not be indoctrinated in religion. I would love to read your comments on the videos and blogs. Part two will be attached to my next blog.
Recently, there has been a rash of books written by atheists vilifying religion and blaming it for the woes of this world. One best-selling book generated a wave of controversy because it suggested that efforts be made to eradicate religion. The author also takes aim at parents who teach their children religion, calling it a form of child abuse.
Here's the logic (as far as I can see it); there is no God, humankind invented God and created religion. Religion is destructive in that it polarizes people and therefore causes wars and all sorts of atrocities. The reason religion continues to thrive is that religious parents indoctrinate their children. Therefore, stop allowing the indoctrination of children and the world will become atheistic and wonderfully peaceful.
Dr. Mark Holder, a psychology professor at The University of British Columbia, led a study to determine what factors have the greatest influence on a child's happiness. He and his team surveyed more than 300 children ages 9 to 12. The researchers also asked the parents and teachers of the children to rate their happiness.
The result? In Dr. Holder's own words, "The more spiritual the children were, the happier they were."
Perhaps you're thinking, "That's great. We take our children to church and read Bible stories to them". Yes, that is helpful but it's not what the survey was focused on. In fact, the Doctor said that religious activities such as going to church didn't seem to make a difference in a child's happiness level.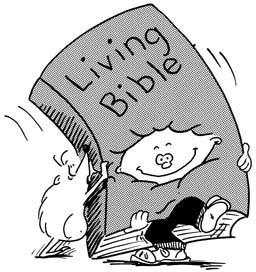 Before I make some suggestions, let me briefly blog about why getting the right Bible for your children in this age group is so incredibly important.
Once we are Christians, the foundation for building our relationship with God is regular time in the Bible and in prayer. Yet how many of us as adults, struggle with this?
My daughter was seventeen when she told me that her and several Christian friends were talking about their time with God and most of them said that they had a real struggle with it. My daughter went on to say that she had not realized that people struggled with this.
If our children are guided through the process of developing a relationship with God progressively, from sitting on our knee right up to doing it on their own, they establish a habit and a relationship that is easy to maintain and difficult to walk away from.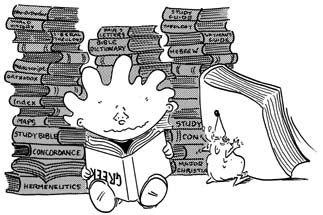 I probably get asked this question and ones like it more often than any other question.
When I first started developing Bibles for children it was in response to the frustration I experienced over the years when trying to find Bibles that I could use with my own children.
At first the publishers I went to with my ideas responded by telling me the market was already glutted with Bible Storybooks.
They were shocked to hear me tell them that unfortunately many of them are useless when it comes to teaching children the Bible.
Let me pass on to you what we should be looking for in a Bible for our kids and why.
I think the first thing we need to ask is what is God's purpose for the Bible. In a nutshell, the Bible reveals God's story and plan for humankind, it focuses on God's salvation plan and brings us to Jesus and it teaches us how to live as Christians.