There are many sports writers who write about Faith when a top athlete is both a contender and a Christian. So I thought that I, a Faith writer, should return the favor and write about sports for the same reason. Especially since I'm an avid football fan and I'll be watching the Super Bowl.
The outspoken Christian athlete that's getting all of the sports writers attention is the Arizona Cardinal's QB Kurt Warner who will be leading his team against the Pittsburgh Steelers in Super Bowl 43. When the Cardinals won the NFC playoff game, pretty much the first thing Kurt said in his interview was, "I want to thank my Lord and Savior Jesus Christ." Kurt Warner is quite vocal about his Faith. Once, when he appeared on Oprah, he was told that he had about three sentences. So he decided to use the second sentence to talk about Jesus, figuring that it would be harder for them to cut it out. They cut it out, anyway.
However, before talking about Mr. Warner any further, I would like to look at some other ways that we, the Body of Christ, have tried and are trying to use the Super Bowl (and other sporting events) to spread the Word. More specifically, I'd like to start a discussion about their effectiveness and what the Bible says about our efforts. Let me say in advance, I'm filing this post under 'Rick's rants' so be ready for it, and if you disagree, jump on in, your comments are welcome. : )
First let me address something that frankly doesn't make any sense to me at all, the John 3:16 signs. I've supplied a link to a video explaining how these signs became part of our pop culture. Briefly, a man named Rollen Stewart, aka 'The Rainbow Man' (because he wore a large multicolored wig) was the one who made the now famous sporting event sign famous. Rollen started out trying to make a name for himself by appearing on camera at sporting events dancing with his wig on. He preplanned his position and watch the game on a small portable TV so he'd know when to dance. He got a lot of press.
One night in a hotel room, he watched a televangelist and gave his life to Christ. Shortly after that, he started showing up with the John 3:16 sign with the same wig and strategy, but this time, his motivation was to promote the gospel with his few seconds of camera time. He appeared everywhere and again got a ton of exposure and the John 3:16 sign became an expected sight at sporting events.
Unfortunately, Rollen got banned from sporting events for his antics, and his gospel publicity stunt ideas started to get weird. His last one involved a gun and a kidnapping. He's currently serving three life sentences behind bars. Something that seemed like a good thing did not end well.
Something is happening at this year's Super Bowl that reminds me of Rollen's sign. This year's festivities are in Florida and one group of Christians have hired an aerial ad company to fly over the Super Bowl towing this message, 'The Super Bowl champion is Jesus'.
The Bible says, "How, then, can they call on the one they have not believed in? And how can they believe in the one of whom they have not heard? And how can they hear without someone preaching to them?" and, "Consequently, faith comes from hearing the message, and the message is heard through the word of Christ." (Romans 10:14, 17)
There was a time in our culture when there was prayer and Bible reading in schools and tent meetings on every corner. Maybe then, a scripture reference or short sign, might have reminded people of what they already knew and caused them to respond. However, we now live in a society where very few of the people who need the Gospel, know this scripture reference. Those who do, have no idea what it means and more specifically, what it should mean to them.
The gospel isn't a Bible verse or a slogan. It's the most incredible story ever told, and the message of God's grace and salvation. God meant for us to 'go' explain it and share it with our neighbors, not flash them a sign. I'm not saying that God can't use these signs in some way. However, expecting someone who needs to hear the Gospel to get saved, by seeing one of these signs, is kind of like trusting that you can get your teenager to pass his grade ten math exam, just by showing him the cover of the text book.
If you must flash a sign, then how about one that communicates part of God's message to everyone like 'Jesus loves you.' Also, what does 'The Super Bowl champion is Jesus' mean? If you must use a football metaphor in the message, how about 'You are Jesus' #1 draft choice'. Corny, but at least it communicates a small part of the Gospel message.
I probably have a few of you ready to comment already, but stick with me for a bit. Let's talk about players who feel that 'giving God the glory', for a win or a great play, is their responsibility and somehow makes a difference. Players will either use their words or their index fingers to point to heaven in order to fulfill this obligation.
There are many Bible verses in the New Testament that talk about giving God the glory. I'll list some of the key ones below so that you can do a study on your own. For now though, let me give you a brief summary of the concept. In John 9:24, the Pharisees confront a man who was born blind, yet healed by Jesus, and they tell him to 'Give God the Glory'. According to Easton's Bible Dictionary, at the time this phrase was an idiom that meant 'Confess your sins'. Or in other words, credit should be given to God for whatever is accomplished in you or through you because you're nothing but a sinner.
Essentially that sums up the New Testaments position on giving God the glory. We are saved by faith in His grace and we cannot boast because nothing we do or have done puts us in God's good books. It's what Jesus did and is doing through the Holy Spirit in us. So as we trust God to not only initially save us, but also to work in us and change us into the image of Christ, we give God the glory (credit) for initiating and completing the work. When we bear fruit as Christians, God gets the glory because others see what kind of people we have become and marvel at the change, and we point towards heaven to assign credit. (John 15:8, 2 Corinthians 3:18, 4:15, Philippians 1:11, Hebrews 13:21) Also, when we go through trouble and let God help us and guide us through it, that also brings glory to God. When we trust him to use the gifts he's given us to administer his grace, (which is ministering to others), then again he gets the credit for what is accomplished through us. (1 Peter 1:7, 4:10, 11) All of which, I'm sorry to say, have nothing to do with playing football.
Many years ago, I went to watch my younger brother play hockey. He was always good at sports. As he headed for the ice, I told him that I'd pray for him to do well. He turned on me and sternly said. "Don't! I want to do it, I want to try hard, work hard and get good." Wow! He set me on my heels. What he had understood was that if I prayed, God would do it for him, or through him. The Bible tells us "The glory of young men is their strength". ( Prov 20:29 ) God allows us the dignity and reward that comes from working hard at something and doing well at it. What I wanted to pray was that God would help my brother do his best, give him wisdom to learn more about hockey, that sort of thing. Christian NFL players don't make a great play because God did it. If that was the case, every play they executed would be great and only the Christian players would get the great plays. Also, God doing it for a player would be cheating, and God doesn't cheat.
These players are good, and even great, at what they do because they've worked hard, practiced hard and studied hard. They deserve credit for that. Do we tell our kids when they use their manners well, get an 'A' on an exam, or do well at a recital, "Give the Glory to God Junior"? I wonder what message our kids are getting when they see and hear players do that; perhaps 'You don't need to work hard, just believe', or 'You'll always be successful if you're a Christian.'
Now I know when some players point to the sky, it could just be a brief call out to say that God is good, but that's not what comes across to those who don't believe. It's alright to just say, "I had a good game, I'm on a good team and God is good!"
It seems to me that much of what we've already talked about doesn't help promote the Gospel. Often it hurts us because outsiders get the idea that we're religious nuts who don't know how to just be normal and enjoy a football game.
Having said that, here are some things I think do help. When players get seriously injured and you see other players go to one knee and sincerely start to pray for their fellow player, that sends a message of God's love. Have you noticed that the camera operators and production teams don't avoid these shots like they do the signs? Why? Because even the unbelievers see it as an act of caring and compassion, and not as a sound bite or camera shot meant to steel attention and promote a cause.
How about events like this year's 10th Annual Super Bowl Gospel Celebration? I've never been to one, but I think it would be great. The event clearly states what it's about and it's not only a chance for the Christian players to fellowship together, but a chance for them to say (by attending) what they believe.
Finally, I want to talk about what I believe is the most Biblical and powerful way that the Gospel is spread at the Super Bowl, and for that I come back to Kurt Warner as promised. If Kurt was like so many other professional sports players who just point at the sky or thank God after a win, his Faith would not be getting so much press.
It's who Kurt Warner is, and how he lives out his Faith, that is getting attention. Remember what the Bible says about God getting the glory. Here's a Christian man who puts family first, loves his wife and kids, attends church faithfully, has his own charity that helps disabled children (see video), he gives back and volunteers, uses his money to further the gospel and help others. When he struggles, he looks to Jesus for strength and help, and credits him for that strength. He isn't getting attention by what he says, he's getting attention because he's trusting God to make him into Christ's image, and people are marveling at who he is. So when he says his life is about Jesus, glory really does go to God.
How you play on the field (or how you do in any profession) may get you a podium, but it's how you behave and live your life in Christ that will give you the right to speak from that podium.
No matter what you think of the above methods, it seems to me that the most effective way to spread the Gospel in sports events such as the Super Bowl, is the same way it's done in every other area of life: by having Christians get involved and let their light shine through their work ethic, character, humility and generosity.
Enjoy, the Super Bowl, I know I'm going to. Go Kurt! Win or lose, you've already won!
For help with teaching your children about their Faith, check out The Singing Bible.
-
-
-
-
-
(RICK OSBORNE / Christian Author, Speaker & Dad)
Every Christmas, most of us get together with family and celebrate the birth of our Lord and Savior. Therefore, it's at this time of year when we're thinking of both family and Jesus at the same time. We can't help but think and pray about those in our families who do not know Jesus. Do you have members of your immediate or extended family that need to know Jesus? I was eighteen when I became a Christian. I celebrated Christmas for the first time shortly after that at nineteen. I was raised in a church that did not allow Christmas. My mother was led to the truth and accepted Jesus as her savior shortly after I had left home at eighteen.
When she started attending a Christian church every Sunday, her husband (my step dad), her six children (ranging from toddler to adult), many of her extended family, and the majority of her social circle were still attending the church she just left. A church that not only didn't celebrate Christmas but also didn't believe in the doctrine of salvation. A church that would tell its members to not have anything to do with anyone who left the church. She was understandably worried about how her new Faith would be viewed and if everyone would reject it and her.
One evening, not too long after her decision to live her life for Christ, no matter what the cost, she attended a Gospel banquet. The speaker prayed for her and while he was praying (even though he did not know her or her situation) said, "Don't worry, today salvation has come to your house."
How many times have you heard a sermon framed around Jesus' comments about the harvest? The ones I've heard usually come around to making the point that we should be involved in the harvest, tell everybody around us, all the time, about Jesus.
I'd like to ask you to read on as I look at this section of scripture more closely because I believe that it not only generally applies to all times, but it specifically applies to today as our world goes through a difficult financial time.
Matthew, Luke and John all record Jesus' words about the Lord of the Harvest, but they all put them in a slightly different context. It's likely that Jesus talked to his disciples about this more than once. I'd like to start with Matthew's account.
Jesus went through all the towns and villages, teaching in their synagogues, preaching the good news of the kingdom and healing every disease and sickness.
When he saw the crowds, he had compassion on them, because they were harassed and helpless, like sheep without a shepherd.
Then he said to his disciples, "The harvest is plentiful but the workers are few. Ask the Lord of the harvest, therefore, to send out workers into his harvest field." (Matthew 9:35 – 38)
Notice that before Jesus said that the harvest (of people) was plentiful, the scripture gives us a glimpse of what he was thinking and why he said what he did. He saw the crowds and their situation, that they were harassed and helpless, and he had compassion on them. Jesus said the harvest was plentiful because of the state that the people of his time were in.
Let's take a look at what the people who Jesus was looking at were going through. I'm not a historian but it doesn't take much research to come up with a general picture. Not only were the people of Palestine under the heel of the Roman Empire, they were also suffering financially for it. First of all, the reason why tax collectors were hated was because the Roman empire was taxing the people beyond their means to pay. Add on top of that the taxes that Herod was inflicting on the people and the burden was unbearable.
Next, let's look at loans and interest. The Jewish law limited interest by outlining when it could and could not be charged and how much could be charged. However, the Romans had no such laws and many of the Jewish people had left God's laws behind in favor of greater profits. Some accounts say that interest rates were as high as 50%.
Here's what was happening. The Romans demanded that their taxes be paid with money. Many of those who lived in this agrarian society didn't have money, so they had to borrow it. The only way they could borrow money was to take out a mortgage on their property. Between rising taxes and rising interest rates, the property owners would end up in foreclosure and lose their land. As the rich got more and more land through economies of scale and the use of slaves to work their vast farms, they prospered and sent more and more families off their lands. Because those foreclosed on had no trade and slave labor was so cheap, many became destitute.
The system made the rich, richer – and the poor, poorer. The poorer you got, the more you needed loans and the higher the rate of interest you were charged. So financial devastation started due to ill-advised loans at high interest rates resulting in foreclosures in a system that favored the rich. Sound familiar?
Jesus saw that many of the people who flocked to him were sick, oppressed, financially devastated and in bad need of God's love and intervention. That's when he concluded that the fields were ready for harvest. Remember, it's God's goodness that leads us to repentance. Jesus knew (as he outlined in the story of the prodigal son) that many people don't look up until they come to the end of their rope. When they do, God is there ready to show them his love (Jesus had compassion on them) and meet them where they are.
I believe that we are now in a time where again, the fields are getting white and ready for harvest. Although financial difficulties aren't pleasant, we as Christians know that if we trust God, he'll meet our needs. So should we be spending our time complaining about the times, or should we be praying that the Lord of the harvest send workers into the harvest?
In John 4, we find Jesus also talking about the harvest. He's just finished talking to the woman at the well and is waiting for her return. He probably knows that she's about to lead the whole village out to see him. The disciples offer him something to eat and he refuses saying, "My nourishment comes from doing the will of God, who sent me, and from finishing his work." Then he went on to talk about the harvest.
Was Jesus saying that when we're doing God's will, we don't need to eat? No, I believe that he was contrasting a physical harvest to a spiritual one and telling us that the spiritual one is of far greater importance. If we have to tighten our belts and learn to rely on God a little more for the sake of a spiritual harvest, it's well worth it.
I know I've blogged on for a bit, but stick with me a little further. If we are in, or going into a time of harvest as I believe, what do we need to do besides pray? Let me return to those sermons we hear so often on Jesus' words about the harvest.
It's pointed out to us that Jesus said 'pray for more workers', then he immediately sent the ones he was talking to out to work. The sermon's conclusion, when you pray, be willing to be sent. However, let's go a little deeper. Why would Jesus tell them to pray and then instruct them to go? Why not just send them? They probably didn't even have time to pray before he sent them.
I think Jesus did this as a reminder to them and to us that we are not in charge of the harvest. He is the Lord of the harvest and he is in charge of the times. He is the one who prepares the harvest and directs the workers. We are to pray that THE LORD SENDS workers into HIS harvest. That's the emphasis.
We of course can gear up to help the poor and reach out to the hurting. We've been given those basic tasks. But more importantly, we need to pray and ask the Lord to send the workers that he needs to send, to do what he knows needs to be done, to reach those he knows are ready, in this time. Then like the disciples, we need to wait on our instructions and see what he wants us to do. Don't worry about how you'll get by, he'll meet your needs. Don't worry about how you'll get it done, he empowered his disciples and sent them out with nothing, and don't worry about how he'll direct you. If you're open to his direction and praying about the harvest, he'll find a way to show you what to do. You may even already know.
And remember, as you go, the Gospel isn't about populating our churches. It's about God reaching out in love, wanting to adopt the lost and care for those who are hurting. We bring them to church so that they're close enough to receive God's love and help through us.
When he saw the crowds, he had compassion on them, because they were harassed and helpless, like sheep without a shepherd.
For help with teaching your children about their Faith, check out Teaching Your Child to Pray.
-
-
-
(RICK OSBORNE / Christian Author, Speaker & Dad)
The attached video is of Richard Dawkins, an avowed atheist speaking about why he thinks children should not be indoctrinated in religion. I would love to read your comments on the videos and blogs. Part two will be attached to my next blog.
Recently, there has been a rash of books written by atheists vilifying religion and blaming it for the woes of this world. One best-selling book generated a wave of controversy because it suggested that efforts be made to eradicate religion. The author also takes aim at parents who teach their children religion, calling it a form of child abuse.
Here's the logic (as far as I can see it); there is no God, humankind invented God and created religion. Religion is destructive in that it polarizes people and therefore causes wars and all sorts of atrocities. The reason religion continues to thrive is that religious parents indoctrinate their children. Therefore, stop allowing the indoctrination of children and the world will become atheistic and wonderfully peaceful.
One of the criticisms leveled at bloggers, in the earlier days of weblogs, was that it seemed that bloggers blogged a lot about blogging.
I must admit that I've read many blogs about blogging but I think this is completely understandable. Carpenters love their tools and artists love their brushes. When people in the same discipline gather together, they tend to talk as much or more about their tools and techniques as they do about their latest project.
Blogging is relatively new and those embracing it are excited about learning from each other and getting better at it.
So to support my fellow bloggers and show my enthusiasm for this new and wonderful craft, this is my one blog about blogging.
So how exactly can God use our Christian families (Christian parents and Christian children) to impact the world and bring God's blessing to the nations?
I believe he wants us to raise a generation of Christian kids that will do major damage to the gates of hell. Let me explain.
If Israel could become great and powerful by teaching their children to walk with God and keep the Old Covenant how much more can the Body of Christ grow and powerfully impact the nations, according to God's promise, if we were to teach our children to walk in the power and grace of the New Covenant.
Can you imagine if instead of losing our kids to the world we kept them all in the church. I'm not talking about just having more bodies to warm the pews. I'm talking about a generation that grows up learning God's Word, walking in relationship with God and growing in his grace. A generation that is excited about being used by God and about taking ground for the Kingdom of God. Like the generation of Israelites that took the Promised Land only each one of these would be under the New Covenant and filled with God's Spirit.
In part one we talked about how God wants to have salvation and his blessing come to our families. In part two I would like to talk about God's calling on Christian families and how God wants to work through them.
Let's go back and take a closer look at the verses about why God called Abraham.
Abraham will surely become a great and powerful nation, and all nations on earth will be blessed through him. For I have chosen him, so that he will direct his children and his household after him to keep the way of the Lord by doing what is right and just, so that the Lord will bring about for Abraham what he has promised him." (Genesis 18:18, 19)
Let's look at all three parts of what the Lord said here. First he outlines his promise, Abraham is to become a great and powerful nation and (also) all the nations on the earth are to be blessed through him.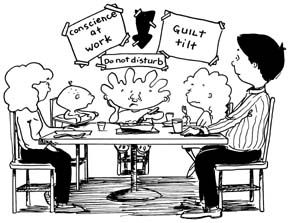 When my mother gave her life to Christ and started attending church every Sunday she had a husband, (my step dad) six children (ranging from toddler to adult) and a large extended family. She was understandably worried about how her new Faith would be viewed and if everyone would embrace it as well or reject it and her. She even started taking the youngest of my siblings to Sunday School on her own.
One evening not too long after her decision to live her life for Christ, no matter what the cost, she attended a Gospel dinner with a special Christian speaker. That speaker prayed for her and while he was praying, even though he did not know her or her situation, he said, "Don't worry, today salvation has come to your house."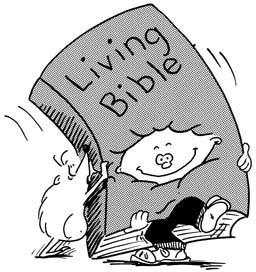 Before I make some suggestions, let me briefly blog about why getting the right Bible for your children in this age group is so incredibly important.
Once we are Christians, the foundation for building our relationship with God is regular time in the Bible and in prayer. Yet how many of us as adults, struggle with this?
My daughter was seventeen when she told me that her and several Christian friends were talking about their time with God and most of them said that they had a real struggle with it. My daughter went on to say that she had not realized that people struggled with this.
If our children are guided through the process of developing a relationship with God progressively, from sitting on our knee right up to doing it on their own, they establish a habit and a relationship that is easy to maintain and difficult to walk away from.