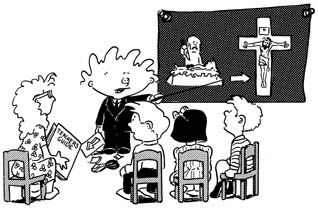 For those of you who read my blogs or my books, you know that I'm passionate about encouraging parents to apply themselves to learning how to parent. Parenting is not merely intuitive and it's not only bad parents who need parenting books and courses, it's all parents.
If you asked me to determine if a certain couple were great parents or not, I wouldn't look first at the results but at the efforts they were making to learn and grow in the art of parenting. If you know how to get the right information and effectively and humbly apply it, the results will eventually follow. If you think you're getting by but you're not learning, then you'll eventually come up against a problem that you don't know how to solve properly and that will mess up your results.
I advocate parenting books, classes and courses but actually those resources should be mere booster shots that come along and support God's original parent training program. When God spoke to Abraham and called him to teach his children after him to follow the Lord, in context (Genesis 18:18, 19), he wasn't talking about just Abraham's immediate children but generations of children. When God had Moses tell the Israelites to make sure that they taught their children to follow the Lord (Deuteronomy 6), again the context was that each generation pass it on to the next.
As an example of how to pass something from generation to generation, let's look at farming. For centuries, farmers have passed the farm down to their children. How does that happen successfully? What if one generation farmed and got the kids to help from time to time and then one day they just handed them the keys to everything and moved to Florida. Either the farm would be sold or it would probably go under. In order for the farm to be passed on successfully, the parents must not only farm well but also teach their children everything they know about farming as they grow up, gradually preparing them for the task. God's original parent training program is simply this, parents need to do everything they can to bring their children up well AND they need to all the while be teaching their children how to parent properly themselves.
That's why I say that parenting books and courses should be booster shots. It's our job as parents to teach our children how to do one of the most important tasks they'll ever undertake, raising children. Yes, we train by example but that's not enough. We need to understand what we teach our children and why we're teaching it to them. We need to understand the discipline, instruction and training process and explain it to our children as we go. For those of you who are feeling that this sounds daunting it's not, it actually makes the job easier. I'll explain how in my next blog.
For more practical and Biblical Christian Parenting ideas we recommend the Christian resource, "The Seven Mistakes Parents of Toddlers Make"
-
-
-
-
(RICK OSBORNE / Christian Author, Speaker & Dad – your source for Christian Parenting advice)
Dr. Mark Holder, a psychology professor at The University of British Columbia, led a study to determine what factors have the greatest influence on a child's happiness. He and his team surveyed more than 300 children ages 9 to 12. The researchers also asked the parents and teachers of the children to rate their happiness.
The result? In Dr. Holder's own words, "The more spiritual the children were, the happier they were."
Perhaps you're thinking, "That's great. We take our children to church and read Bible stories to them". Yes, that is helpful but it's not what the survey was focused on. In fact, the Doctor said that religious activities such as going to church didn't seem to make a difference in a child's happiness level.
This little family road trip question has become so iconic, that it's become common fodder for comic routines and movie scripts. I would imagine that this travel question has been around as long as families have been traveling. It's probably a good thing that all of Noah's sons were full-grown, or Mr. and Mrs. Noah may have ended up sinking the boat.
Think about the Israelite's trek through the wilderness. After crossing the Red Sea, they got to the edge of the Promised Land quite quickly, but because they didn't trust God and refused to go in, God sent them on a forty-year road trip. The idea was that all of the adults who refused to believe, were to die before their children would be allowed in. Can you imagine the conversation, "Are we there yet? Am I dead yet?"
So how exactly can God use our Christian families (Christian parents and Christian children) to impact the world and bring God's blessing to the nations?
I believe he wants us to raise a generation of Christian kids that will do major damage to the gates of hell. Let me explain.
If Israel could become great and powerful by teaching their children to walk with God and keep the Old Covenant how much more can the Body of Christ grow and powerfully impact the nations, according to God's promise, if we were to teach our children to walk in the power and grace of the New Covenant.
Can you imagine if instead of losing our kids to the world we kept them all in the church. I'm not talking about just having more bodies to warm the pews. I'm talking about a generation that grows up learning God's Word, walking in relationship with God and growing in his grace. A generation that is excited about being used by God and about taking ground for the Kingdom of God. Like the generation of Israelites that took the Promised Land only each one of these would be under the New Covenant and filled with God's Spirit.
In part one we talked about how God wants to have salvation and his blessing come to our families. In part two I would like to talk about God's calling on Christian families and how God wants to work through them.
Let's go back and take a closer look at the verses about why God called Abraham.
Abraham will surely become a great and powerful nation, and all nations on earth will be blessed through him. For I have chosen him, so that he will direct his children and his household after him to keep the way of the Lord by doing what is right and just, so that the Lord will bring about for Abraham what he has promised him." (Genesis 18:18, 19)
Let's look at all three parts of what the Lord said here. First he outlines his promise, Abraham is to become a great and powerful nation and (also) all the nations on the earth are to be blessed through him.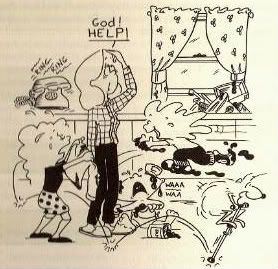 How can I disciple my children when my own faith is a little shaky and when I don't know enough about the Faith to disciple anyone? (Part 3)
Please bear with me. This entry will be a little longer than most however I sincerely believe that the scriptural principle that you are about to read about is probably the most essential for Christian parents to understand!
Working hard to please God
When I first became a Christian I was so excited. I wanted to know everything, do everything right and experience God in everyway that was possible. I went to every church service and prayer meeting I could get to. I read every Christian book I could find and spent as much of my day every day that I could reading my Bible and on my knees praying. Every minute of the day I was a church service waiting to happen.
How can I disciple my children when my own faith is a little shaky and when I don't know enough about the Faith to disciple anyone? (Part 1)
When I first dove into the Bible for help on parenting and teaching my children about God I came across a period in Israel's history that at first didn't make any sense.
The generation of Israelites that God called rebellious and stiff-necked (the ones who died in the wilderness because they were not allowed in the Promised Land) brought up a generation of children who served God and conquered Canaan.
Then that wonderful generation of God serving Israelites brought up a generation that turned their back on God and started serving idols.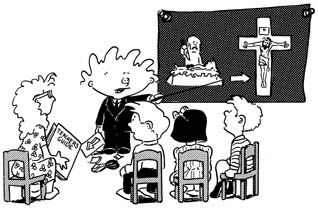 Simply put, NO. There is nowhere in the Bible that says that it is the churches responsibility to disciple our children.
The Bible, starting with what God spoke to Abraham (Genesis 18:19) carrying on through God's instructions to the Israelites (Deut. 6) and moving right up to Paul's directions to Christian parents (Eph. 6:4), unwaveringly gives the task of raising godly children to parents.
If you think about it logically, parents are the ONLY ones positioned to do the job successfully. There are three legs on the stool we call discipleship. Every Christian, in order to grow in their salvation, must grow in three areas. They must grow in their personal relationship with God (daily pray and reliance on God). They need to grow in their knowledge of God (instruction in God's word) and they need to grow in living it out.
The spiritual growth program for children is no different; they must be growing in all three of these areas daily. ("Bring them up in the training and instruction of the Lord." Eph. 6:4)