THE ONE YEAR BOOK OF FUN & ACTIVE DEVOTIONS FOR KIDS
This One Year devotional was specifically designed for parents of elementary school-age children who want their devotional time to be a little more interactive.
This resource gives you simple related activities that will help the kids stay focused and help make the lesson more memorable.
Each day's devotional also has an illustration, a reading and a key Bible verse.
This book is ideal for home-schoolers and/or families who like to have their Bible learning or devotions during the day or in the early evening. Buy Now
TEACHING YOUR CHILD HOW TO PRAY
What other Christian Leaders have said about this Christian classic says it all.
Teaching Your Child How to Pray is must reading for all parents who are concerned and burdened about the spiritual development of their children (Dr. Tony Evans)
Rick writes and teaches what he lives. I heartily recommend Rick's resources to every parent. Rick is one of God's gifts to parents. (Josh D. McDowell)
In a step by step approach, Rick Osborne lays out a plan for working with children that meets their needs from the beginning of their lives, but the plan is just as effective for someone starting the learning process with older children. (Dr. D. James Kennedy)
I'm happy to recommend this book by Rick Osborne, who is able to communicate this message to parents and guide them in teaching their children to pray. (Larry Burkett)
This is not just another boring 'how to' book. In Teaching Your Child How to Pray, Rick Osborne makes this important venture challenging and exciting for both parents and their children. (Tim Wildmon)
Rick Osborne has done a masterful job of bringing together important principles and outstanding guidelines in Teaching Your Child How to Pray. Combined with the reader's prayers, I believe the Lord will greatly use this book to revolutionize and strengthen the spiritual lives of their children, providing them a solid foundation from which, the Lord promises in His Word, they "will not depart". (Vonette Bright)
This book is not just recommended. According to many it is essential reading for every Christian parent.
TEACHING KIDS ABOUT GOD
This book is a reprint of one of the most important sections of the 'Parent's Guide To The Spiritual Development of Children. 'Teaching your kids about God' is recommended for parents who want to understand the different stages that their children grow through and how they learn and what they should be learning about their Faith in each stage (birth to early teen). It wonderfully shows you what to focus on at each different age and then shows you how to practically help your child learn those essentials.
I'm not a fan of the Simpsons but I had to chuckle when I heard an ad for the show. Homer said, "Why do things that happen to stupid people keep happening to me?"
Very few of us would ever seriously ask that same question but how about if we tweaked it slightly, "Why do things that take place in stupid families keep on happening in mine?"
Isn't that kind of what we're asking when we get frustrated and throw out questions like, "Why must everything be a fight?" "Can't anyone clean up after themselves?" "Would it hurt anyone to help out a bit for a change?" "For once, could you please just get along?"
One day many years ago, a friend and fellow worker very politely pointed out that I had a bad habit of interrupting him pretty much whenever he spoke. I admitted I had the problem, apologized and told him that I was going to do something about it. In the days that followed, he politely reminded me time and time again. I responded the same way each time.
A week or two later my friend reached the end of his patience and said, "Every time I talk about this, you say that you're going to do something about it. Stop putting it off! Make a decision to change and do something about it now."
I stopped and prayed on the spot for God's help and I made a decision. Once the decision was made, I began paying attention and I put some effort into learning the skills I needed like really listening and following up with a question.
Albert Einstein once defined insanity as "doing the same thing over and over again and expecting different results.
I stopped interrupting however the biggest benefit of my friend's rebuke was that I later learned how to apply the change principle in my family. Let me give you a brief example.
Once our family was suffering from chronic tornado kitchen syndrome. At first I whined, I complained and I asked the 'Homer Simpson' style questions.
My wonderful wife pointed out that perhaps we needed to do something different if we wanted change. (Where had I heard that before?) After some prayer and thought, I taped a note to the kitchen counter and had a family meeting and the fun began. If a single thing was out of place after someone left the kitchen they were on kitchen duty until the next time someone was caught. For awhile everyone was catching everyone else and kitchen duty revolved frequently. Within a few weeks everyone was getting the hang of 'the game' and those caught were spending longer periods of time on kitchen duty which made it even more important not to mess up.
What needs to change in your family? Is it the way you communicate with each other, are the kids not helping out, is the sibling rivalry fierce, are you constantly cleaning up after everyone? Here's what you do, pick one thing that you want to change, pray about it and ask for wisdom. Now go looking for wisdom, search this site or other Christian parenting sites, Google the problem, read a parenting book, anything you need to do to find an idea or solution.
Proverbs 9 says that wisdom has prepared a huge banquet and she's yelling, "Come and get it." Finding the wisdom is very seldom difficult once you've decided on change. Now have a family meeting and get started.
What I found out was that small efforts at change can yield big results. A simple fun game in the kitchen led to everyone learning skills that began to spread to the rest of the house. My simple decision to stop interrupting people led me to better communication skills and therefore to better and stronger relationships.
The things that happen to stupid people happen to Homer Simpson and us not because we're stupid but because we keep doing the same things over and over again and that's stupid. And if we expect any change without changing, according to Einstein, that's insane. Start today and fight stupidity and insanity with a little change.
For more quick and easy parenting tips for bringing change to your family, we recommend the e-Book "The Seven Mistakes Parents of Toddlers Make"
-
-
-
-
(RICK OSBORNE / Christian Author, Speaker & Dad – your source for Christian Parenting advice)
HOW TO RAISE GREAT PARENTS
In my last post, we talked about how God's original parent training program was that one generation teach the next how to parent God's way. It's our job as parents to not only learn how to parent God's way and to do it effectively but also to teach our children how to be a parent while we are parenting them.
This sounds more daunting then it actually is. In reality, parenting while teaching to parent is the easiest and most effective way of parenting.
When we send our children to school, they go knowing that they need to go through the learning process and do well so that one day they'll graduate. They know because we tell them. From there we encourage them by telling them that great marks lead to better post secondary education options and those options can lead to better career opportunities etc. We keep them going by helping them to understand and to take on the goals as their own.
If our children think the only goal of parenting is for them to try and have fun and for us to try and stop them, they don't see the reward in the process and our task will be difficult. However, if we talk to them not only about the benefits to their life for doing things the right way, but also about how cooperating with the parenting process and learning how it works will help make them great parents, then they'll be able to see a bigger purpose and a greater reward. Read more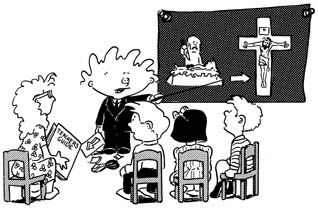 For those of you who read my blogs or my books, you know that I'm passionate about encouraging parents to apply themselves to learning how to parent. Parenting is not merely intuitive and it's not only bad parents who need parenting books and courses, it's all parents.
If you asked me to determine if a certain couple were great parents or not, I wouldn't look first at the results but at the efforts they were making to learn and grow in the art of parenting. If you know how to get the right information and effectively and humbly apply it, the results will eventually follow. If you think you're getting by but you're not learning, then you'll eventually come up against a problem that you don't know how to solve properly and that will mess up your results.
I advocate parenting books, classes and courses but actually those resources should be mere booster shots that come along and support God's original parent training program. When God spoke to Abraham and called him to teach his children after him to follow the Lord, in context (Genesis 18:18, 19), he wasn't talking about just Abraham's immediate children but generations of children. When God had Moses tell the Israelites to make sure that they taught their children to follow the Lord (Deuteronomy 6), again the context was that each generation pass it on to the next.
As an example of how to pass something from generation to generation, let's look at farming. For centuries, farmers have passed the farm down to their children. How does that happen successfully? What if one generation farmed and got the kids to help from time to time and then one day they just handed them the keys to everything and moved to Florida. Either the farm would be sold or it would probably go under. In order for the farm to be passed on successfully, the parents must not only farm well but also teach their children everything they know about farming as they grow up, gradually preparing them for the task. God's original parent training program is simply this, parents need to do everything they can to bring their children up well AND they need to all the while be teaching their children how to parent properly themselves.
That's why I say that parenting books and courses should be booster shots. It's our job as parents to teach our children how to do one of the most important tasks they'll ever undertake, raising children. Yes, we train by example but that's not enough. We need to understand what we teach our children and why we're teaching it to them. We need to understand the discipline, instruction and training process and explain it to our children as we go. For those of you who are feeling that this sounds daunting it's not, it actually makes the job easier. I'll explain how in my next blog.
For more practical and Biblical Christian Parenting ideas we recommend the Christian resource, "The Seven Mistakes Parents of Toddlers Make"
-
-
-
-
(RICK OSBORNE / Christian Author, Speaker & Dad – your source for Christian Parenting advice)
Throughout the Bible, children are considered to be a gift from God and a blessing to the parents who receive them.
Sons are a heritage from the LORD, children a reward from him. (Psalm 127:3)
Scripture contains many prayers and songs thanking God for the blessing of children, including those of Sarah, Hannah, and Mary. Mary had heard the stories of Sarah and Hannah and had learned that children are an awesome gift and a blessing.
Mary said: "My soul glorifies the Lord and my spirit rejoices in God my Savior." (Luke 1:46-47)

If you're waiting for the other shoe to drop, here it comes. Sometimes parenting can seem downright overwhelming. Children need constant care, training, and discipline, and none of us is perfectly up to the task. So at times we feel tempted to consider the gift of children as anything but a blessing. I once heard a mother say to her young teenager (in jest of course), "Watch it, buster! I brought you into this world and I can take you back out again!" That about sums up the way we sometimes feel, doesn't it?
I apologize for the video. Let me be clear, I am not endorsing the product and I think the whole idea behind the video is appalling. However, the fact that this commercial was made and that people find it funny or appropriate, perfectly illustrates the point of my next few posts. Many people today believe that kids are generally horrible, that parenting is a huge thankless burden, and that having kids should be avoided. According to many statistical reports that I've viewed, the percentage of couples who are choosing not to have kids is increasing significantly ever year. So did God tell us to be fruitful and multiply so we could spend 20 years being miserable? Not! God meant parenting to be a joy not a burden.
"Dad, why did God make me?"
"Dad, why can't we go to heaven to see what it's like, then come back home?"
"Dad, if God wants us to get to know Him, why doesn't He let us see Him?"
All of the above are questions that my children have asked me. Why do I remember those out of all the questions they have ever asked? Well, because trying to answer those three questions is not something you easily forget.
Over the years, I've discovered that as difficult as some of my children's questions are, taking the time to answer them is the most time-effective way to teach them. When children ask a question, all of their learning receptors are turned up to full. They're curious. They're thinking about it. They're truly listening. They want to hear what you have to say. Taking a few moments to answer their questions can be more effective than hour-long sermons or lectures.
"That wasn't a polite thing to say." "Say 'please.' " "Don't forget your thank you's!" "And what do you say?" "We don't do that at the table!"
There are points in our parenting career when it seems like every second or third sentence gets invested in the quest for mannerly children. We've all been embarrassed (and we have the stories!) by our children while they were learning manners. We've also all been proud when they got it right and some stranger has commented on what polite children we have. Have you ever had the tables, or the table manners, turned on you? I have.
When my children were younger, I spent time teaching them that kindness in intent and tone should be the rule that governs all of our speech. To remind them when their speech to one of their siblings strayed from the kindness rule, I would gently but pointedly add a storybook quote to the end of their speech. After they fired off, I'd instantly say, "-she [or he] said in a kind and gentle voice."