As you know when God calls us to do a work, he trains us for that work and often takes us through things that prepare us for the task. Real life is a really great teacher. I do not believe that God authors all of our difficulties. For example James tells us that God does not tempt us with evil. (James 1:13)
However God will teach us and strengthen us while he guides us through whatever comes our way and he will work everything out when we are walking with him. (Romans 8:28)
Having said that, I believe that God has wonderfully (and by his grace) taken me through some big and small storms and through it all he has prepared me to help and encourage and equip other parents and families. Here is the brief story.
I was raised in a religious home without knowing Jesus as my savior.
My parents separated when I was six. My Mom (a single mother on social assistance) raised my three siblings and me.
I stopped listening to anyone at the age of thirteen and became a rebellious worldly teenager.
My mother married my stepfather when I was thirteen.
My father had remarried earlier and I have two half brothers and a half sister.
My mother committed her life to Christ when I was about 17 and started praying for her family.
I gave my life to Christ and my life was changed forever just before my 19th birthday.
Shortly after this I married my high school girlfriend when I was 20.
We had three children.
When the kids were still quite young, my wife left. (This was the most difficult time of my life.)
Although the children's mother saw them, they lived with me full time and I experience what it's like to be a single parent.
Even though I was free to remarry, I told God that I was willing to stay single and devote more time to my children and helping other parents.
God had another plan.
A friend of mine who also was friends with the owner of eHarmony was insistent that I should give eHarmony a try. Even though I ignored him, he kept it up.
When others started telling me the same thing I started to wonder. Then when the owner of eHarmony emailed me personally (in response to a request from our mutual friend) and invited me to join, I felt that God was in it.
Through a wonderful series of Godincidences I met Luba and five months after our first date we were married.
Although in the beginning I promised myself that my family would never break apart, I now have a second wife and my children have a stepmother.
These are the personal family details in a nutshell. I have shared this with you to show that I am just a normal guy walking through a bumpy life trusting God. All the while doing my best to parent God's way, allowing him to strengthen, teach and guide me through all life's ups and downs.
And through it all, I believe one of the reasons he has taught me (and that I have gone through some of what I have gone through) is so that I could with grace, turn and help, strengthen, encourage and equip others who are facing the same and similar bumps.
My oldest daughter is now married to my awesome son-in-law and my first grandchild is providing me with more life experience to pass on. My second daughter is attending college and my teenage son (my inspiration for my books for boys) is still at home.
WHAT MARY & JOSEPH KNEW ABOUT PARENTING
God doesn't waste his words. Everything in the Bible is there for a reason and every phrase is potentially life changing. Every time the Bible tells us about parents and children right there in the story is a Holy Spirit inspired lesson to be learned. I was amazed at how every important lesson that a Christian parent needs to know in order to do their job well is contained in God's Word. Have you ever wondered which parenting approach is correct; which of the latest parenting gurus should be listened to? You can stop wondering and just find out what God's Word prescribes. Buy Now
(Audio CD)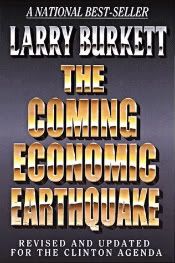 Listening to all the news about economy lately has got me thinking about an old friend. Anyone remember the best-seller, 'The Coming Economic Earthquake'? One Amazon review, written last month, says this about the book, "This book clearly outlines why the recession is here and it was written in 1991 predicting it."
I had the pleasure of knowing Larry Burkett and being able to call him my friend for several years before he left us to be with our Lord. He was a wonderful person, a faithful friend and an awesome man of God. He studied the Bible and understood perhaps better than anyone what God's Word says and teaches about money.
I met Larry shortly after he wrote 'The Coming Economic Earthquake' and although I didn't understand all of what he was saying about where the economy was going, we talked about something that was near to my heart. Him and his son Allen Burkett Jr. wanted to help parents teach their kids Biblical financial principles so that Christians and the Church in the generations to come could stand strong during tough times.
Larry showed me the conclusions of a nation wide survey that tested the financial IQ of high school seniors. The director of the report summed up the results by saying that our kids were graduating financially illiterate. He also shared with me statistics that showed that 85% of young couples who divorce site financial issues as the reason for their marital breakdown. That discussion led to Larry and I co-writing the book 'Financial Parenting.' I also went on to work with both Larry Sr. and Jr. to develop many resources that help parents teach their children financial principles.
The Bible tells us that as parents we are to bring our children up in the instruction of the Lord. The Bible doesn't just teach us about God, love and salvation. Moses, Solomon, Jesus, Paul and others were all used by God's Spirit to teach us about stewardship and proper money management. It's our job as parents to safeguard our children's future by intentionally bringing them up in these truths.
I don't know if the 'Economic Earthquake' as Larry saw it is here yet but I do know that if we want our kids to survive financially, now and in the future, we need to spend some time teaching them what God's Word says about money.
The Coming Economic Earthquake, Financial Parenting and the other resources we developed for kids have been selling well and helping families for years but perhaps they are even more relevant and more important now.
Although Larry Burkett is no longer with us, every book he wrote was based on God's Word and therefore timeless and very relevant today. I highly recommend the following books and any other's with my friend's name on them.
(RICK OSBORNE / Christian Author, Speaker & Dad – your source for Christian Parenting advice)
I'm not a fan of the Simpsons but I had to chuckle when I heard an ad for the show. Homer said, "Why do things that happen to stupid people keep happening to me?"
Very few of us would ever seriously ask that same question but how about if we tweaked it slightly, "Why do things that take place in stupid families keep on happening in mine?"
Isn't that kind of what we're asking when we get frustrated and throw out questions like, "Why must everything be a fight?" "Can't anyone clean up after themselves?" "Would it hurt anyone to help out a bit for a change?" "For once, could you please just get along?"
One day many years ago, a friend and fellow worker very politely pointed out that I had a bad habit of interrupting him pretty much whenever he spoke. I admitted I had the problem, apologized and told him that I was going to do something about it. In the days that followed, he politely reminded me time and time again. I responded the same way each time.
A week or two later my friend reached the end of his patience and said, "Every time I talk about this, you say that you're going to do something about it. Stop putting it off! Make a decision to change and do something about it now."
I stopped and prayed on the spot for God's help and I made a decision. Once the decision was made, I began paying attention and I put some effort into learning the skills I needed like really listening and following up with a question.
Albert Einstein once defined insanity as "doing the same thing over and over again and expecting different results.
I stopped interrupting however the biggest benefit of my friend's rebuke was that I later learned how to apply the change principle in my family. Let me give you a brief example.
Once our family was suffering from chronic tornado kitchen syndrome. At first I whined, I complained and I asked the 'Homer Simpson' style questions.
My wonderful wife pointed out that perhaps we needed to do something different if we wanted change. (Where had I heard that before?) After some prayer and thought, I taped a note to the kitchen counter and had a family meeting and the fun began. If a single thing was out of place after someone left the kitchen they were on kitchen duty until the next time someone was caught. For awhile everyone was catching everyone else and kitchen duty revolved frequently. Within a few weeks everyone was getting the hang of 'the game' and those caught were spending longer periods of time on kitchen duty which made it even more important not to mess up.
What needs to change in your family? Is it the way you communicate with each other, are the kids not helping out, is the sibling rivalry fierce, are you constantly cleaning up after everyone? Here's what you do, pick one thing that you want to change, pray about it and ask for wisdom. Now go looking for wisdom, search this site or other Christian parenting sites, Google the problem, read a parenting book, anything you need to do to find an idea or solution.
Proverbs 9 says that wisdom has prepared a huge banquet and she's yelling, "Come and get it." Finding the wisdom is very seldom difficult once you've decided on change. Now have a family meeting and get started.
What I found out was that small efforts at change can yield big results. A simple fun game in the kitchen led to everyone learning skills that began to spread to the rest of the house. My simple decision to stop interrupting people led me to better communication skills and therefore to better and stronger relationships.
The things that happen to stupid people happen to Homer Simpson and us not because we're stupid but because we keep doing the same things over and over again and that's stupid. And if we expect any change without changing, according to Einstein, that's insane. Start today and fight stupidity and insanity with a little change.
For more quick and easy parenting tips for bringing change to your family, we recommend the e-Book "The Seven Mistakes Parents of Toddlers Make"
-
-
-
-
(RICK OSBORNE / Christian Author, Speaker & Dad – your source for Christian Parenting advice)
In the very beginning of creation God announced that it wasn't good for man to be alone. That announcement led to the first marriage, the first family, the first friends and the first community.
God created us to function in and be blessed by relationships. Not only in relationships with others but also in a relationship with him.
Jesus stated that the two greatest commandments were to love God and also to love others. Since God is love and therefore void of selfishness, his two greatest commandments should carry with them the greatest secrets of an awesome life and they do. Having a wonderful growing relationship with God and wonderful growing relationships with others is truly the biggest key to an awesome life. Loving and being loved. Read more
Throughout the Bible, children are considered to be a gift from God and a blessing to the parents who receive them.
Sons are a heritage from the LORD, children a reward from him. (Psalm 127:3)
Scripture contains many prayers and songs thanking God for the blessing of children, including those of Sarah, Hannah, and Mary. Mary had heard the stories of Sarah and Hannah and had learned that children are an awesome gift and a blessing.
Mary said: "My soul glorifies the Lord and my spirit rejoices in God my Savior." (Luke 1:46-47)

If you're waiting for the other shoe to drop, here it comes. Sometimes parenting can seem downright overwhelming. Children need constant care, training, and discipline, and none of us is perfectly up to the task. So at times we feel tempted to consider the gift of children as anything but a blessing. I once heard a mother say to her young teenager (in jest of course), "Watch it, buster! I brought you into this world and I can take you back out again!" That about sums up the way we sometimes feel, doesn't it?
"Dad, why did God make me?"
"Dad, why can't we go to heaven to see what it's like, then come back home?"
"Dad, if God wants us to get to know Him, why doesn't He let us see Him?"
All of the above are questions that my children have asked me. Why do I remember those out of all the questions they have ever asked? Well, because trying to answer those three questions is not something you easily forget.
Over the years, I've discovered that as difficult as some of my children's questions are, taking the time to answer them is the most time-effective way to teach them. When children ask a question, all of their learning receptors are turned up to full. They're curious. They're thinking about it. They're truly listening. They want to hear what you have to say. Taking a few moments to answer their questions can be more effective than hour-long sermons or lectures.
This is part 2 of the video of Richard Dawkins, an avowed atheist speaking about why he thinks children should not be indoctrinated in religion. I would love to read your comments on the videos and blogs.
The atheists accuse Christians of keeping their children cloistered away from other views and indoctrinating these young and impressionable minds as opposed to presenting them with a range of choices. Which they say is unfair to the children.
According to dictionary.com, the word 'indoctrination' means to instruct in a doctrine, principle, ideology etc. especially to imbue with a specific partisan or biased belief or point of view. It goes on to say that indoctrination involves teaching someone to accept doctrine uncritically and that a synonym for the word is brainwashing.
This is the seventh and final post in the series: "What does the Bible say about sibling rivalry and how can I get my kids to get along?"
We started out this sibling rivalry series by establishing that what the world says is normal in family relationships, is not what God wants for Christian families.
The world says that sibling rivalry, rebellious teenagers, kids and parents not getting along and family fighting are all part of normal family life.
However, Jesus himself said that the two greatest commands were to love God and to love others and that all of God's law is summed up in these two commands. Christian love is a foundation of our Faith and teaching it, is a core Christian parenting skill.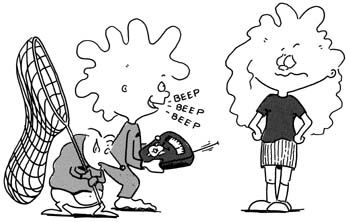 In my last blog we talked about the benefits of getting up and going to the current household hotspot as soon as the sibling rivalry starts to heat up. This gives us the opportunity to do some effective in-the-middle-of-life Christian parenting which will take us closer to the home sweet home we desire.
If you've had the family meeting (we covered that in part two of this series) and you've decided to overcome the temptation to follow the armchair fling parenting style, then you're ready to get moving.
Okay, the squabbling has started and you're up and going. You have a few seconds of travel time to do two things, first remember the Third Parent and pray for parenting wisdom and help. Next (really valuable parenting tip) slow down and make sure you arrive on the scene calm.