To say that I had a lot of stuff on the go would have been a massive understatement. I was doing a major renovation on the home that I had just bought, I was trying to sub-divide part of the property and resell it, I was building my ministry/business for which I had several large publishing projects underway, I was the associate pastor of a new church that was growing like a weed and I had just become a new dad. You could say that I was starting to feel like I had perhaps bitten off more than I could chew. Over and above those pressures, I was also getting to know my banker quite well since I was dealing with a mortgage, a second mortgage for renovations and a small business loan and in order for everything to work out financially, I needed to meet my business and renovation deadlines and sell part of my property.
Now I had sincerely and thoroughly prayed about each item on the above list before moving forward and I thought I was trusting God to get me to the other side of my mini Red Sea adventure before the walls of water came crashing back down. However, without really noticing it, I had slipped into worry mode.
I was walking from one thing to the next and my mind was racing, worrying, and trying to figure out how all this could possibly work out when something happened that I had never experienced before or since. I heard God call my name, loudly. I can't tell you if I heard it outside of me or inside or both, but I do know the voice was stern but loving and I somehow knew beyond any doubt that it was God.
The call was so sudden and loud that all of my thoughts and my legs stopped abruptly at the same time. I was still and God had my complete attention. Here's what flashed through my mind in the next few seconds. "Did you give your whole life to God and entrust Him with it?" Of course the answer was, "Yes Lord". Then these words followed, "So are you saying (by my worrying and fretting) that God is not a good steward over the things He's been given charge of?"
Standing there stone still on the sidewalk of a semi busy street I did not literally go to my knees but I did in my heart. I instantly realized how much worrying and doubting that I was doing and I asked God to please forgive me and to help me keep my mind focused on Him, His promises, His love for me and His amazing ability. When I could get my feet moving again, I carried on calmly and from that moment on whenever I started to slip back into worry mode, I stopped in my tracks and reconnected with God.
Remember the Sunday morning chorus, "Be Still and Know That I Am God?" I loved the song and the verse (Psalms 46:10) but for years I (sadly) looked at in in a very poetic way; you know, as a beautiful thought without much practical application except for in a worship service. I was so wrong. When we start to worry and fret, our minds are anything but still and our trust in God is anything but active. When God stopped me, He made me still and He got me thinking about who He was, what he'd promised and what He was capable of doing. In other words, "Stop, still your mind, stop worrying and know that He is GOD, with all that, that means; He is capable, powerful, faithful, loving, all knowing, trustworthy, with you, for you, willing to help, your Father in Heaven."
In a nutshell, stop worrying about what could go wrong and start focusing on what God will do.
In preparation for this blog, I looked up the words 'be still' in the Bible and found it there seven times and each one shows us something wonderful about the practice of being still.
The first time the two word phrase is mentioned in the Bible Moses and the Israelites were caught between the Egyptian army and the Red Sea.
As Pharaoh approached, the Israelites looked up, and there were the Egyptians, marching after them. They were terrified and cried out to the Lord. They said to Moses, "Was it because there were no graves in Egypt that you brought us to the desert to die? What have you done to us by bringing us out of Egypt? Didn't we say to you in Egypt, 'Leave us alone; let us serve the Egyptians'? It would have been better for us to serve the Egyptians than to die in the desert!"
Moses answered the people, "Do not be afraid. Stand firm and you will see the deliverance the LORD will bring you today. The Egyptians you see today you will never see again. The LORD will fight for you; you need only to be still."
Then the LORD said to Moses, "Why are you crying out to me? Tell the Israelites to move on. Raise your staff and stretch out your hand over the sea to divide the water so that the Israelites can go through the sea on dry ground. (Exodus 14:10 – 16)
The Israelites were freaking out and Moses told them to be still and showed them who God was and what He was capable of. Are you between a rock and a hard place right now? Stop and be still, focus on God and His ability to help you instead of the problem's ability to harm you. God is greater than the problem.
The second time the phrase occurs was when Nehemiah and Ezra were reacquainting God's people with His law.
Then Nehemiah the governor, Ezra the priest and scribe, and the Levites who were instructing the people said to them all, "This day is sacred to the LORD your God. Do not mourn or weep." For all the people had been weeping as they listened to the words of the Law. Nehemiah said, "Go and enjoy choice food and sweet drinks, and send some to those who have nothing prepared. This day is sacred to our Lord. Do not grieve, for the joy of the LORD is your strength." The Levites calmed all the people, saying, "Be still, for this is a sacred day. Do not grieve." (Nehemiah 8:9 – 11)
Why were they weeping and mourning? Because they and their ancestors had not measured up to God's law and they were probably not sure that they could. Are you fretting because you feel like you haven't measured up to God's expectations and/or you feel like you can't. Be still and rejoice because the joy of the Lord is your strength. In other words, don't focus on your inability, focus on the fact that Jesus died for you because you couldn't do it on your own. He's promised to work His righteousness in you. It's the joy of knowing that the Lord died for you and will work in you and help you that is your strength.
The third mention is as wonderful.
Trust in the LORD and do good; dwell in the land and enjoy safe pasture.
Delight yourself in the LORD and he will give you the desires of your heart.
Commit your way to the Lord; trust in him and he will do this:
He will make your righteousness shine like the dawn, the justice of your cause like the noonday sun.
Be still before the LORD and wait patiently for him; do not fret when men succeed in their ways, when they carry out their wicked schemes. (Psalms 37:3 – 7)
When we are faithfully following and trusting God, He takes care of us, keeps us safe, gives us things to enjoy, gives us our heart's desires, guides us and works His righteousness in us. However, sometimes we lose hope because we don't see it happening the way we expected it to and we see others who don't do things God's way doing well and we see wickedness succeeding. The Word says be still, get your eyes on God and what He can do and wants to do in your life, and then wait patiently. His timing is perfect.
The fourth time 'be still' appears it carries a timely message.
Nations are in uproar, kingdoms fall; he lifts his voice, the earth melts.
The LORD Almighty is with us; the God of Jacob is our fortress. "Selah"
Come and see the works of the Lord, the desolations he has brought on the earth.
He makes wars cease to the ends of the earth; he breaks the bow and shatters the spear, he burns the shields with fire.
"Be still, and know that I am God; I will be exalted among the nations, I will be exalted in the earth."
The LORD Almighty is with us; the God of Jacob is our fortress. "Selah" (Psalms 46:6 – 11)
It's easy to get unsettled when looking at what's going on in the world, war, genocide, famine, natural disasters and global recession. However, God reminds us here that we should be still and know that He's in control. His plan for the nations is on track and He is Almighty and well able to care for us His children during tough times. Are you fretting because of what you're seeing in the news or because of the economy? Be still and know He is The Lord Almighty.
The next Biblical appearance reminds us of why we can be still.
For the day has come to destroy all the Philistines and to cut off all survivors who could help Tyre and Sidon. The LORD is about to destroy the Philistines, the remnant from the coasts of Caphtor.
Gaza will shave her head in mourning; Ashkelon will be silenced. O remnant on the plain, how long will you cut yourselves?
" 'Ah, sword of the Lord,' [ you cry,] 'how long till you rest? Return to your scabbard; cease and be still.'
But how can it rest when the LORD has commanded it, when he has ordered it to attack Ashkelon and the coast?" (Jeremiah 47:4 – 7)
We can be still because the sword of the Lord (His Word, His promise) is not. The Philistines in our lives (whatever plagues us and comes against us) are being pursued and taken care of by our Father in Heaven who cares for us. We can be still and know that He is God and He's at work!
Are you fretting because the world seems to be going to hell (literally) in a hand basket.
"Shout and be glad, O Daughter of Zion. For I am coming, and I will live among you," declares the Lord.
"Many nations will be joined with the LORD in that day and will become my people. I will live among you and you will know that the LORD Almighty has sent me to you.
The LORD will inherit Judah as his portion in the holy land and will again choose Jerusalem.
Be still before the Lord, all mankind, because he has roused himself from his holy dwelling." (Zechariah 2:10 – 12)
God's salvation plan is on track. HE IS GOD! Instead of worrying and complaining about the direction we see the world around us going in, we can be still and know that He's in control and with that confidence, get up and start doing our part to further His Kingdom.
Jesus knew the Old Testament back to front when he was here on earth. So although he doesn't say so, when he used the words 'be still' he knew the context. Here's the seventh and final Biblical use of these two wonderful words:
Jesus was in the stern, sleeping on a cushion. The disciples woke him and said to him, "Teacher, don't you care if we drown?" He got up, rebuked the wind and said to the waves, "Quiet! Be still!" Then the wind died down and it was completely calm. He said to his disciples, "Why are you so afraid? Do you still have no faith?" They were terrified and asked each other, "Who is this? Even the wind and the waves obey him!" (Mark 4:38 – 41)
The disciples found themselves in the middle of a storm and they were freaking out because they thought that they were going to die. They woke Jesus up and He told the wind and the waves to be still. Then he basically asked them why they had not been still. I find it interesting that the disciples were left asking, "Who is this?" Was Jesus saying to his disciples, "Be still and know that I am God"?
When we're not calm, the storm can overwhelm us. But when we're still and know that He is God, He overcomes the storm.
We can BE STILL (stop worrying and fretting) in the midst of the storm when personal troubles abound, when a global recession hits, when we don't think we can measure up or make it through, when we see the world around us taking the wrong course, because HE IS GOD! He is able, He is in control, His plan is on track and He loves us. As we trust Him, His promises and His efforts on our behalf, are never still.
The story I opened with happened long ago but I learned a valuable lesson that I've never forgotten. The basement suite was finished on time and the renters moved in and the publishing projects were all completed on time. Through a wonderful set of God arranged circumstances, the property was sub-divided and sold faster than I had imagined possible, the church kept growing and I was able to spend valuable time each day with my wonderful new daughter. Everything worked out perfectly and after my sidewalk encounter, I started to enjoy the process because I wasn't frantic with fretting.
As an added bonus, years later when I sold that house, I did the math and was amazed at Gods goodness. I added up every expense including mortgage payments, property taxes, renovation costs, maintenance etc. Then I added up the money in rent, the money from selling part of the property, the net proceeds of the sale etc. and it turned out that I not only lived in that home for free for six years, but I also made a large profit beyond that.
More importantly I learned that "be still and know that I am God" isn't just a wonderful poetic line from Psalms, but a life changing habit and constant reminder that Jesus is in my boat. Whenever I start to slip back into worry, I return to that still moment on the sidewalk, reconnect with God and move forward in peace knowing that He is God.
What are you fretting about right now? Use this moment to start develop the Bible's diagnosed habit for arresting worry, be still and know that He is God.
For help with teaching your children about their Faith, check out The Singing Bible.
-
-
-
-
-
(RICK OSBORNE / Christian Author, Speaker & Dad)
There are many sports writers who write about Faith when a top athlete is both a contender and a Christian. So I thought that I, a Faith writer, should return the favor and write about sports for the same reason. Especially since I'm an avid football fan and I'll be watching the Super Bowl.
The outspoken Christian athlete that's getting all of the sports writers attention is the Arizona Cardinal's QB Kurt Warner who will be leading his team against the Pittsburgh Steelers in Super Bowl 43. When the Cardinals won the NFC playoff game, pretty much the first thing Kurt said in his interview was, "I want to thank my Lord and Savior Jesus Christ." Kurt Warner is quite vocal about his Faith. Once, when he appeared on Oprah, he was told that he had about three sentences. So he decided to use the second sentence to talk about Jesus, figuring that it would be harder for them to cut it out. They cut it out, anyway.
However, before talking about Mr. Warner any further, I would like to look at some other ways that we, the Body of Christ, have tried and are trying to use the Super Bowl (and other sporting events) to spread the Word. More specifically, I'd like to start a discussion about their effectiveness and what the Bible says about our efforts. Let me say in advance, I'm filing this post under 'Rick's rants' so be ready for it, and if you disagree, jump on in, your comments are welcome. : )
First let me address something that frankly doesn't make any sense to me at all, the John 3:16 signs. I've supplied a link to a video explaining how these signs became part of our pop culture. Briefly, a man named Rollen Stewart, aka 'The Rainbow Man' (because he wore a large multicolored wig) was the one who made the now famous sporting event sign famous. Rollen started out trying to make a name for himself by appearing on camera at sporting events dancing with his wig on. He preplanned his position and watch the game on a small portable TV so he'd know when to dance. He got a lot of press.
One night in a hotel room, he watched a televangelist and gave his life to Christ. Shortly after that, he started showing up with the John 3:16 sign with the same wig and strategy, but this time, his motivation was to promote the gospel with his few seconds of camera time. He appeared everywhere and again got a ton of exposure and the John 3:16 sign became an expected sight at sporting events.
Unfortunately, Rollen got banned from sporting events for his antics, and his gospel publicity stunt ideas started to get weird. His last one involved a gun and a kidnapping. He's currently serving three life sentences behind bars. Something that seemed like a good thing did not end well.
Something is happening at this year's Super Bowl that reminds me of Rollen's sign. This year's festivities are in Florida and one group of Christians have hired an aerial ad company to fly over the Super Bowl towing this message, 'The Super Bowl champion is Jesus'.
The Bible says, "How, then, can they call on the one they have not believed in? And how can they believe in the one of whom they have not heard? And how can they hear without someone preaching to them?" and, "Consequently, faith comes from hearing the message, and the message is heard through the word of Christ." (Romans 10:14, 17)
There was a time in our culture when there was prayer and Bible reading in schools and tent meetings on every corner. Maybe then, a scripture reference or short sign, might have reminded people of what they already knew and caused them to respond. However, we now live in a society where very few of the people who need the Gospel, know this scripture reference. Those who do, have no idea what it means and more specifically, what it should mean to them.
The gospel isn't a Bible verse or a slogan. It's the most incredible story ever told, and the message of God's grace and salvation. God meant for us to 'go' explain it and share it with our neighbors, not flash them a sign. I'm not saying that God can't use these signs in some way. However, expecting someone who needs to hear the Gospel to get saved, by seeing one of these signs, is kind of like trusting that you can get your teenager to pass his grade ten math exam, just by showing him the cover of the text book.
If you must flash a sign, then how about one that communicates part of God's message to everyone like 'Jesus loves you.' Also, what does 'The Super Bowl champion is Jesus' mean? If you must use a football metaphor in the message, how about 'You are Jesus' #1 draft choice'. Corny, but at least it communicates a small part of the Gospel message.
I probably have a few of you ready to comment already, but stick with me for a bit. Let's talk about players who feel that 'giving God the glory', for a win or a great play, is their responsibility and somehow makes a difference. Players will either use their words or their index fingers to point to heaven in order to fulfill this obligation.
There are many Bible verses in the New Testament that talk about giving God the glory. I'll list some of the key ones below so that you can do a study on your own. For now though, let me give you a brief summary of the concept. In John 9:24, the Pharisees confront a man who was born blind, yet healed by Jesus, and they tell him to 'Give God the Glory'. According to Easton's Bible Dictionary, at the time this phrase was an idiom that meant 'Confess your sins'. Or in other words, credit should be given to God for whatever is accomplished in you or through you because you're nothing but a sinner.
Essentially that sums up the New Testaments position on giving God the glory. We are saved by faith in His grace and we cannot boast because nothing we do or have done puts us in God's good books. It's what Jesus did and is doing through the Holy Spirit in us. So as we trust God to not only initially save us, but also to work in us and change us into the image of Christ, we give God the glory (credit) for initiating and completing the work. When we bear fruit as Christians, God gets the glory because others see what kind of people we have become and marvel at the change, and we point towards heaven to assign credit. (John 15:8, 2 Corinthians 3:18, 4:15, Philippians 1:11, Hebrews 13:21) Also, when we go through trouble and let God help us and guide us through it, that also brings glory to God. When we trust him to use the gifts he's given us to administer his grace, (which is ministering to others), then again he gets the credit for what is accomplished through us. (1 Peter 1:7, 4:10, 11) All of which, I'm sorry to say, have nothing to do with playing football.
Many years ago, I went to watch my younger brother play hockey. He was always good at sports. As he headed for the ice, I told him that I'd pray for him to do well. He turned on me and sternly said. "Don't! I want to do it, I want to try hard, work hard and get good." Wow! He set me on my heels. What he had understood was that if I prayed, God would do it for him, or through him. The Bible tells us "The glory of young men is their strength". ( Prov 20:29 ) God allows us the dignity and reward that comes from working hard at something and doing well at it. What I wanted to pray was that God would help my brother do his best, give him wisdom to learn more about hockey, that sort of thing. Christian NFL players don't make a great play because God did it. If that was the case, every play they executed would be great and only the Christian players would get the great plays. Also, God doing it for a player would be cheating, and God doesn't cheat.
These players are good, and even great, at what they do because they've worked hard, practiced hard and studied hard. They deserve credit for that. Do we tell our kids when they use their manners well, get an 'A' on an exam, or do well at a recital, "Give the Glory to God Junior"? I wonder what message our kids are getting when they see and hear players do that; perhaps 'You don't need to work hard, just believe', or 'You'll always be successful if you're a Christian.'
Now I know when some players point to the sky, it could just be a brief call out to say that God is good, but that's not what comes across to those who don't believe. It's alright to just say, "I had a good game, I'm on a good team and God is good!"
It seems to me that much of what we've already talked about doesn't help promote the Gospel. Often it hurts us because outsiders get the idea that we're religious nuts who don't know how to just be normal and enjoy a football game.
Having said that, here are some things I think do help. When players get seriously injured and you see other players go to one knee and sincerely start to pray for their fellow player, that sends a message of God's love. Have you noticed that the camera operators and production teams don't avoid these shots like they do the signs? Why? Because even the unbelievers see it as an act of caring and compassion, and not as a sound bite or camera shot meant to steel attention and promote a cause.
How about events like this year's 10th Annual Super Bowl Gospel Celebration? I've never been to one, but I think it would be great. The event clearly states what it's about and it's not only a chance for the Christian players to fellowship together, but a chance for them to say (by attending) what they believe.
Finally, I want to talk about what I believe is the most Biblical and powerful way that the Gospel is spread at the Super Bowl, and for that I come back to Kurt Warner as promised. If Kurt was like so many other professional sports players who just point at the sky or thank God after a win, his Faith would not be getting so much press.
It's who Kurt Warner is, and how he lives out his Faith, that is getting attention. Remember what the Bible says about God getting the glory. Here's a Christian man who puts family first, loves his wife and kids, attends church faithfully, has his own charity that helps disabled children (see video), he gives back and volunteers, uses his money to further the gospel and help others. When he struggles, he looks to Jesus for strength and help, and credits him for that strength. He isn't getting attention by what he says, he's getting attention because he's trusting God to make him into Christ's image, and people are marveling at who he is. So when he says his life is about Jesus, glory really does go to God.
How you play on the field (or how you do in any profession) may get you a podium, but it's how you behave and live your life in Christ that will give you the right to speak from that podium.
No matter what you think of the above methods, it seems to me that the most effective way to spread the Gospel in sports events such as the Super Bowl, is the same way it's done in every other area of life: by having Christians get involved and let their light shine through their work ethic, character, humility and generosity.
Enjoy, the Super Bowl, I know I'm going to. Go Kurt! Win or lose, you've already won!
For help with teaching your children about their Faith, check out The Singing Bible.
-
-
-
-
-
(RICK OSBORNE / Christian Author, Speaker & Dad)
I love reading about Elijah and Elisha, two prophets whom God used to accomplish some marvelous miracles: calling fire down from heaven, conquering enemy armies with the assistance of angelic armies, proclaiming the start and end of famines, outrunning chariots, and much more. In the midst of these mind-boggling acts of God that altered kingdoms, these two prophets also dealt with and talked to God about three mothers.
While that land writhed in a severe drought (which Elijah had announced ahead of time), God told the prophet to visit a widow whom God had commanded to feed him. He found her and asked for food. She replied that she was about to use the last of her oil and flour to make one final meal for her and her son. Elijah had the audacity to ask her to feed him first, but promised that when she did, a miracle would happen. And it did: the flour and oil never ran out – no matter how much she used – until the drought ended. Later, when this same widow's son died, she took the boy to Elijah, and the prophet prayed and delivered the son alive back to his mother (1 Kings 17).
Fast-forward to Elisha's time and another widow; she came to Elisha, explaining that she had no way to meet her commitments and that creditors were coming to take her two boys as slaves. Elisha told her to borrow as many big, empty jars as she could and to pour into them the oil she kept in a little jar. When she did this, the oil didn't stop flowing until she and her sons ran out of borrowed jars. Then she sold the oil and had enough money to pay her creditors, plus extra to live off of (2 Kings 4).
The third woman was neither a widow nor in need of provision. This married woman of means prepared a private room in her home for Elisha so that he had a place to stay when he traveled. Elisha wanted to reward her kindness and tried to find out what she wanted or needed. Elisha's servant reminded him that she was childless, so Elisha told her that she'd have a son in about a year from that time. She got pregnant, had a son, and one day while he was still young, he died. The distraught woman put her boy on the prophet's bed without telling anyone what had happened and traveled to see the prophet. He came to her home and raised him back to life (2 Kings 4).
While Jesus ministered in his own hometown, he mentioned one of these widows to help explain why he didn't perform any great miracle there, where everyone knew him as Joseph's son.
Jesus said to them, "Surely you will quote this proverb to me: Physician, heal yourself! Do here in your hometown what we have heard that you did in Capernaum.' "I tell you the truth," he continued, "no prophet is accepted in his hometown. I assure you that there were many widows in Israel in Elijah's time, when the sky was shut for three and a half years and there was a severe famine throughout the land. Yet Elijah was not sent to any of them, but to a widow in Zarephath in the region of Sidon." (Luke 4:23-26)
Many things get in the way of our faith. Neither the widow whom Jesus mentioned here nor the man he spoke of in his next example was an Israelite. This made the crowd so angry that they drove Jesus out of town and tried to throw him off a cliff (Luke 4:28-30). Sometimes we get so comfortable in our Christian faith and in the way we live, that we forget God is a supernatural God who can provide for us and answer our prayers in a way far beyond our wildest expectation.
The first widow made food for Elijah before she served herself and her son, even though a few minutes earlier she had enough food only for one last meal for her own starving family. God rewarded her demonstration of faith and provided for her during the drought. She continued to feed and house Elijah, and when her son got sick and died – even though she couldn't conceive of such a thing – her son was returned to her from the dead.
The second widow came to the prophet Elisha seeking God's intervention. When she heard his instructions, she followed them to the letter; demonstrating her faith; and her sons not only escaped the clutches of her creditors, but she found her family abundantly provided for.
The third woman approached Elisha without need, but with a desire to help him in doing God's work. Her service demonstrated her faith in God, and the Lord rewarded her with a son. When the son died, she lay his body on the prophet's bed and left to tell the prophet, showing that she knew God could and would take care of her dire situation.
Did you notice that, in each of these cases, the children involved were provided for, cared for, and kept safe? In fact, each instance dealt with the concerns of a mother and her children. The children would have seen their mother's faith and obedience at work, bringing God's grace, power, and help into their homes.
God sent his power through these mighty men of God to change the political map, steer nations, and bring his people back to himself; but he also sent them to establish faith in and help needy families.
So where do we find a mighty prophet of God? Jesus is God's Son, and he lives in us by his Spirit. God is our Father, and as Christians we no longer need a prophet to stand in the gap; we can go directly to him and "receive mercy and find grace to help us in our time of need" (Hebrews 4:16).
Many years ago, when things got quite tight financially for our family, we opened our home to another family going through an even tighter time. The few groceries we had got divided carefully before each meal. One day we had enough hot dogs for each child to have one apiece. We prayed together and asked God to make the food we had to be enough. At the end of the meal, two hot dogs remained on the plate. One child asked for another. Her face fell when we carefully explained that we had enough for only one each. Of course, we thought her look showed disappointment, until she explained that she already had eaten two. In order to find out who went without, we rounded up all the kids and took a count. They had eaten more hot dogs than we started with – and yet two still remained on the plate!
This was no earth-shattering, life-changing kind of miracle, but my children have never forgotten it. The incident inspired both their faith and their prayer life.
The author of Hebrews wrote:
And without faith it is impossible to please God, because anyone who comes to him must believe that he exists and he rewards those who earnesty seek him. (Hebrews 11:6)
I love that verse. God not only insists that we believe in him, but he also requires us to believe that he rewards us when we seek him! It's impossible to please God without faith; it's therefore impossible for us to raise children who please God without demonstrating to them faith in action.
There are some tough times ahead with the way the economy is going but if you look to God for help and trust him, one way or another, he'll come through and your families Faith will be strengthened. It's a time for miracles.
Oh, and don't worry about having enough faith to make all this work – taking the first step, just like the three mothers in the previous stories, demonstrates your faith; God will take you from there. A simple prayer over some hot dogs can get the ball rolling.
For help with teaching your children about their Faith, check out Teaching Your Child to Pray.
-
-
-
(RICK OSBORNE / Christian Author, Speaker & Dad)
Every Christmas, most of us get together with family and celebrate the birth of our Lord and Savior. Therefore, it's at this time of year when we're thinking of both family and Jesus at the same time. We can't help but think and pray about those in our families who do not know Jesus. Do you have members of your immediate or extended family that need to know Jesus? I was eighteen when I became a Christian. I celebrated Christmas for the first time shortly after that at nineteen. I was raised in a church that did not allow Christmas. My mother was led to the truth and accepted Jesus as her savior shortly after I had left home at eighteen.
When she started attending a Christian church every Sunday, her husband (my step dad), her six children (ranging from toddler to adult), many of her extended family, and the majority of her social circle were still attending the church she just left. A church that not only didn't celebrate Christmas but also didn't believe in the doctrine of salvation. A church that would tell its members to not have anything to do with anyone who left the church. She was understandably worried about how her new Faith would be viewed and if everyone would reject it and her.
One evening, not too long after her decision to live her life for Christ, no matter what the cost, she attended a Gospel banquet. The speaker prayed for her and while he was praying (even though he did not know her or her situation) said, "Don't worry, today salvation has come to your house."
How many times have you heard a sermon framed around Jesus' comments about the harvest? The ones I've heard usually come around to making the point that we should be involved in the harvest, tell everybody around us, all the time, about Jesus.
I'd like to ask you to read on as I look at this section of scripture more closely because I believe that it not only generally applies to all times, but it specifically applies to today as our world goes through a difficult financial time.
Matthew, Luke and John all record Jesus' words about the Lord of the Harvest, but they all put them in a slightly different context. It's likely that Jesus talked to his disciples about this more than once. I'd like to start with Matthew's account.
Jesus went through all the towns and villages, teaching in their synagogues, preaching the good news of the kingdom and healing every disease and sickness.
When he saw the crowds, he had compassion on them, because they were harassed and helpless, like sheep without a shepherd.
Then he said to his disciples, "The harvest is plentiful but the workers are few. Ask the Lord of the harvest, therefore, to send out workers into his harvest field." (Matthew 9:35 – 38)
Notice that before Jesus said that the harvest (of people) was plentiful, the scripture gives us a glimpse of what he was thinking and why he said what he did. He saw the crowds and their situation, that they were harassed and helpless, and he had compassion on them. Jesus said the harvest was plentiful because of the state that the people of his time were in.
Let's take a look at what the people who Jesus was looking at were going through. I'm not a historian but it doesn't take much research to come up with a general picture. Not only were the people of Palestine under the heel of the Roman Empire, they were also suffering financially for it. First of all, the reason why tax collectors were hated was because the Roman empire was taxing the people beyond their means to pay. Add on top of that the taxes that Herod was inflicting on the people and the burden was unbearable.
Next, let's look at loans and interest. The Jewish law limited interest by outlining when it could and could not be charged and how much could be charged. However, the Romans had no such laws and many of the Jewish people had left God's laws behind in favor of greater profits. Some accounts say that interest rates were as high as 50%.
Here's what was happening. The Romans demanded that their taxes be paid with money. Many of those who lived in this agrarian society didn't have money, so they had to borrow it. The only way they could borrow money was to take out a mortgage on their property. Between rising taxes and rising interest rates, the property owners would end up in foreclosure and lose their land. As the rich got more and more land through economies of scale and the use of slaves to work their vast farms, they prospered and sent more and more families off their lands. Because those foreclosed on had no trade and slave labor was so cheap, many became destitute.
The system made the rich, richer – and the poor, poorer. The poorer you got, the more you needed loans and the higher the rate of interest you were charged. So financial devastation started due to ill-advised loans at high interest rates resulting in foreclosures in a system that favored the rich. Sound familiar?
Jesus saw that many of the people who flocked to him were sick, oppressed, financially devastated and in bad need of God's love and intervention. That's when he concluded that the fields were ready for harvest. Remember, it's God's goodness that leads us to repentance. Jesus knew (as he outlined in the story of the prodigal son) that many people don't look up until they come to the end of their rope. When they do, God is there ready to show them his love (Jesus had compassion on them) and meet them where they are.
I believe that we are now in a time where again, the fields are getting white and ready for harvest. Although financial difficulties aren't pleasant, we as Christians know that if we trust God, he'll meet our needs. So should we be spending our time complaining about the times, or should we be praying that the Lord of the harvest send workers into the harvest?
In John 4, we find Jesus also talking about the harvest. He's just finished talking to the woman at the well and is waiting for her return. He probably knows that she's about to lead the whole village out to see him. The disciples offer him something to eat and he refuses saying, "My nourishment comes from doing the will of God, who sent me, and from finishing his work." Then he went on to talk about the harvest.
Was Jesus saying that when we're doing God's will, we don't need to eat? No, I believe that he was contrasting a physical harvest to a spiritual one and telling us that the spiritual one is of far greater importance. If we have to tighten our belts and learn to rely on God a little more for the sake of a spiritual harvest, it's well worth it.
I know I've blogged on for a bit, but stick with me a little further. If we are in, or going into a time of harvest as I believe, what do we need to do besides pray? Let me return to those sermons we hear so often on Jesus' words about the harvest.
It's pointed out to us that Jesus said 'pray for more workers', then he immediately sent the ones he was talking to out to work. The sermon's conclusion, when you pray, be willing to be sent. However, let's go a little deeper. Why would Jesus tell them to pray and then instruct them to go? Why not just send them? They probably didn't even have time to pray before he sent them.
I think Jesus did this as a reminder to them and to us that we are not in charge of the harvest. He is the Lord of the harvest and he is in charge of the times. He is the one who prepares the harvest and directs the workers. We are to pray that THE LORD SENDS workers into HIS harvest. That's the emphasis.
We of course can gear up to help the poor and reach out to the hurting. We've been given those basic tasks. But more importantly, we need to pray and ask the Lord to send the workers that he needs to send, to do what he knows needs to be done, to reach those he knows are ready, in this time. Then like the disciples, we need to wait on our instructions and see what he wants us to do. Don't worry about how you'll get by, he'll meet your needs. Don't worry about how you'll get it done, he empowered his disciples and sent them out with nothing, and don't worry about how he'll direct you. If you're open to his direction and praying about the harvest, he'll find a way to show you what to do. You may even already know.
And remember, as you go, the Gospel isn't about populating our churches. It's about God reaching out in love, wanting to adopt the lost and care for those who are hurting. We bring them to church so that they're close enough to receive God's love and help through us.
When he saw the crowds, he had compassion on them, because they were harassed and helpless, like sheep without a shepherd.
For help with teaching your children about their Faith, check out Teaching Your Child to Pray.
-
-
-
(RICK OSBORNE / Christian Author, Speaker & Dad)
TEACHING YOUR CHILD HOW TO PRAY
What other Christian Leaders have said about this Christian classic says it all.
Teaching Your Child How to Pray is must reading for all parents who are concerned and burdened about the spiritual development of their children (Dr. Tony Evans)
Rick writes and teaches what he lives. I heartily recommend Rick's resources to every parent. Rick is one of God's gifts to parents. (Josh D. McDowell)
In a step by step approach, Rick Osborne lays out a plan for working with children that meets their needs from the beginning of their lives, but the plan is just as effective for someone starting the learning process with older children. (Dr. D. James Kennedy)
I'm happy to recommend this book by Rick Osborne, who is able to communicate this message to parents and guide them in teaching their children to pray. (Larry Burkett)
This is not just another boring 'how to' book. In Teaching Your Child How to Pray, Rick Osborne makes this important venture challenging and exciting for both parents and their children. (Tim Wildmon)
Rick Osborne has done a masterful job of bringing together important principles and outstanding guidelines in Teaching Your Child How to Pray. Combined with the reader's prayers, I believe the Lord will greatly use this book to revolutionize and strengthen the spiritual lives of their children, providing them a solid foundation from which, the Lord promises in His Word, they "will not depart". (Vonette Bright)
This book is not just recommended. According to many it is essential reading for every Christian parent.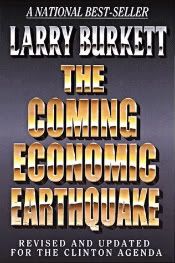 Listening to all the news about economy lately has got me thinking about an old friend. Anyone remember the best-seller, 'The Coming Economic Earthquake'? One Amazon review, written last month, says this about the book, "This book clearly outlines why the recession is here and it was written in 1991 predicting it."
I had the pleasure of knowing Larry Burkett and being able to call him my friend for several years before he left us to be with our Lord. He was a wonderful person, a faithful friend and an awesome man of God. He studied the Bible and understood perhaps better than anyone what God's Word says and teaches about money.
I met Larry shortly after he wrote 'The Coming Economic Earthquake' and although I didn't understand all of what he was saying about where the economy was going, we talked about something that was near to my heart. Him and his son Allen Burkett Jr. wanted to help parents teach their kids Biblical financial principles so that Christians and the Church in the generations to come could stand strong during tough times.
Larry showed me the conclusions of a nation wide survey that tested the financial IQ of high school seniors. The director of the report summed up the results by saying that our kids were graduating financially illiterate. He also shared with me statistics that showed that 85% of young couples who divorce site financial issues as the reason for their marital breakdown. That discussion led to Larry and I co-writing the book 'Financial Parenting.' I also went on to work with both Larry Sr. and Jr. to develop many resources that help parents teach their children financial principles.
The Bible tells us that as parents we are to bring our children up in the instruction of the Lord. The Bible doesn't just teach us about God, love and salvation. Moses, Solomon, Jesus, Paul and others were all used by God's Spirit to teach us about stewardship and proper money management. It's our job as parents to safeguard our children's future by intentionally bringing them up in these truths.
I don't know if the 'Economic Earthquake' as Larry saw it is here yet but I do know that if we want our kids to survive financially, now and in the future, we need to spend some time teaching them what God's Word says about money.
The Coming Economic Earthquake, Financial Parenting and the other resources we developed for kids have been selling well and helping families for years but perhaps they are even more relevant and more important now.
Although Larry Burkett is no longer with us, every book he wrote was based on God's Word and therefore timeless and very relevant today. I highly recommend the following books and any other's with my friend's name on them.
(RICK OSBORNE / Christian Author, Speaker & Dad – your source for Christian Parenting advice)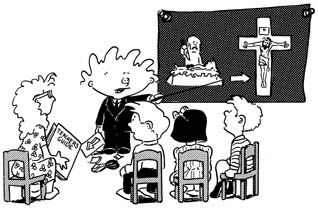 For those of you who read my blogs or my books, you know that I'm passionate about encouraging parents to apply themselves to learning how to parent. Parenting is not merely intuitive and it's not only bad parents who need parenting books and courses, it's all parents.
If you asked me to determine if a certain couple were great parents or not, I wouldn't look first at the results but at the efforts they were making to learn and grow in the art of parenting. If you know how to get the right information and effectively and humbly apply it, the results will eventually follow. If you think you're getting by but you're not learning, then you'll eventually come up against a problem that you don't know how to solve properly and that will mess up your results.
I advocate parenting books, classes and courses but actually those resources should be mere booster shots that come along and support God's original parent training program. When God spoke to Abraham and called him to teach his children after him to follow the Lord, in context (Genesis 18:18, 19), he wasn't talking about just Abraham's immediate children but generations of children. When God had Moses tell the Israelites to make sure that they taught their children to follow the Lord (Deuteronomy 6), again the context was that each generation pass it on to the next.
As an example of how to pass something from generation to generation, let's look at farming. For centuries, farmers have passed the farm down to their children. How does that happen successfully? What if one generation farmed and got the kids to help from time to time and then one day they just handed them the keys to everything and moved to Florida. Either the farm would be sold or it would probably go under. In order for the farm to be passed on successfully, the parents must not only farm well but also teach their children everything they know about farming as they grow up, gradually preparing them for the task. God's original parent training program is simply this, parents need to do everything they can to bring their children up well AND they need to all the while be teaching their children how to parent properly themselves.
That's why I say that parenting books and courses should be booster shots. It's our job as parents to teach our children how to do one of the most important tasks they'll ever undertake, raising children. Yes, we train by example but that's not enough. We need to understand what we teach our children and why we're teaching it to them. We need to understand the discipline, instruction and training process and explain it to our children as we go. For those of you who are feeling that this sounds daunting it's not, it actually makes the job easier. I'll explain how in my next blog.
For more practical and Biblical Christian Parenting ideas we recommend the Christian resource, "The Seven Mistakes Parents of Toddlers Make"
-
-
-
-
(RICK OSBORNE / Christian Author, Speaker & Dad – your source for Christian Parenting advice)
Throughout the Bible, children are considered to be a gift from God and a blessing to the parents who receive them.
Sons are a heritage from the LORD, children a reward from him. (Psalm 127:3)
Scripture contains many prayers and songs thanking God for the blessing of children, including those of Sarah, Hannah, and Mary. Mary had heard the stories of Sarah and Hannah and had learned that children are an awesome gift and a blessing.
Mary said: "My soul glorifies the Lord and my spirit rejoices in God my Savior." (Luke 1:46-47)

If you're waiting for the other shoe to drop, here it comes. Sometimes parenting can seem downright overwhelming. Children need constant care, training, and discipline, and none of us is perfectly up to the task. So at times we feel tempted to consider the gift of children as anything but a blessing. I once heard a mother say to her young teenager (in jest of course), "Watch it, buster! I brought you into this world and I can take you back out again!" That about sums up the way we sometimes feel, doesn't it?
We've all seen supermarket tantrums. If God intended children to be a blessing, why does it seem that for so many, they are not?
Let's look specifically at one Bible couple to see if we can find the answer. I believe that God told Abraham and Sarah to name their son Isaac, which means "laughter," in order to confirm this pair's conviction that Isaac truly was a gift and a blessing from God. Let me explain.
When both Abraham and Sarah heard the Lord say that they would have a son, they responded with laughter. Yes, they laughed in part because they had long before left behind their childbearing years; and Sarah at least laughed somewhat because of doubt. But another emotion also bubbled under the surface. If someone told you that he was going to give you an all-expenses-paid, month-long vacation anywhere in the world, how would you respond? You might well respond with laughter that said, "Wow! That's just way too great to be true!" Abraham and Sarah felt so overjoyed by the possibility of having a child that they could hardly believe it to be true.