As you know when God calls us to do a work, he trains us for that work and often takes us through things that prepare us for the task. Real life is a really great teacher. I do not believe that God authors all of our difficulties. For example James tells us that God does not tempt us with evil. (James 1:13)
However God will teach us and strengthen us while he guides us through whatever comes our way and he will work everything out when we are walking with him. (Romans 8:28)
Having said that, I believe that God has wonderfully (and by his grace) taken me through some big and small storms and through it all he has prepared me to help and encourage and equip other parents and families. Here is the brief story.
I was raised in a religious home without knowing Jesus as my savior.
My parents separated when I was six. My Mom (a single mother on social assistance) raised my three siblings and me.
I stopped listening to anyone at the age of thirteen and became a rebellious worldly teenager.
My mother married my stepfather when I was thirteen.
My father had remarried earlier and I have two half brothers and a half sister.
My mother committed her life to Christ when I was about 17 and started praying for her family.
I gave my life to Christ and my life was changed forever just before my 19th birthday.
Shortly after this I married my high school girlfriend when I was 20.
We had three children.
When the kids were still quite young, my wife left. (This was the most difficult time of my life.)
Although the children's mother saw them, they lived with me full time and I experience what it's like to be a single parent.
Even though I was free to remarry, I told God that I was willing to stay single and devote more time to my children and helping other parents.
God had another plan.
A friend of mine who also was friends with the owner of eHarmony was insistent that I should give eHarmony a try. Even though I ignored him, he kept it up.
When others started telling me the same thing I started to wonder. Then when the owner of eHarmony emailed me personally (in response to a request from our mutual friend) and invited me to join, I felt that God was in it.
Through a wonderful series of Godincidences I met Luba and five months after our first date we were married.
Although in the beginning I promised myself that my family would never break apart, I now have a second wife and my children have a stepmother.
These are the personal family details in a nutshell. I have shared this with you to show that I am just a normal guy walking through a bumpy life trusting God. All the while doing my best to parent God's way, allowing him to strengthen, teach and guide me through all life's ups and downs.
And through it all, I believe one of the reasons he has taught me (and that I have gone through some of what I have gone through) is so that I could with grace, turn and help, strengthen, encourage and equip others who are facing the same and similar bumps.
My oldest daughter is now married to my awesome son-in-law and my first grandchild is providing me with more life experience to pass on. My second daughter is attending college and my teenage son (my inspiration for my books for boys) is still at home.
801 QUESTIONS CHLDREN ASK ABOUT GOD
The best time to teach anyone anything is when he or she asks a question. Why? Because that is the time when the questioner has a desire to learn. Unfortunately, when our children ask us questions about God, Heaven, the Bible etc. we are often not prepared with the answers and the moment passes. Or worse yet we do our best to answer without really knowing for sure what the Bible says.
This book is a compilation of the original 8 books in the '101 Questions Kids Ask' series. It was put together to provide parents with a handy reference for help answering their children's questions when they arise.
The big difference between this compilation and the original books is that only a small amount of the over 800 illustrations have been included and the ones that are included are very small. This is ideal if you want the handy reference but if you are looking for a family devotional for your young children (ages 4 – 8 ) or a personal devotional for your older children (ages 7 – 12) it is best to use the original individual titles. The illustrations draw the children in and keep them wanting more.
Ideal as a ready reference for families with children of all ages.  Buy Now
AMAZING QUESTIONS SERIES
The best time to teach anyone anything is when they ask a question. Why? Because that is the time when the questioner has a desire to learn. Unfortunately, when our children ask us questions about God, Heaven, the Bible etc. we are often not prepared with the answers and the moment passes. Or worse yet we do our best to answer without really knowing for sure what the Bible says. This series of books was created to help with this need and help parents give their children great answers when they are the most curious. In order to really make the book authentic every question we used was actually asked by a real kid. Millions of families have not only used these books for a handy reference but also as family and children's devotionals to inspire more curiosity. Can be read with 4 – 8 year olds and is also ideal for use as a personal devotional for 7 – 12 year olds to use on their own.
PARENTING AT THE SPEED OF LIFE
Most of us struggle to find blocks of time to spend with our children. Time that we feel will help us strengthen our bond and relationship with them. However the truth is that it's what we do with the many everyday moments we have with our children that more powerfully effect our relationships. I wrote this book to give parents easy to read, simple to implement ways of using those small reoccurring moments to build their relationships and make their homes a more peaceful place to be. Readers have expressed their amazement about how doing such simple things consistently can make such big changes in their families!
I was flying into Chicago on United Airlines shortly after they had completed their new terminal. The captain welcomed us to Chicago and "The New Terminal of Tomorrow." He went on to explain that everyone who's tried to catch a connecting flight out of there understands why it's really called "The Terminal of Tomorrow" – because you might not get on your connecting flight till tomorrow!
I've often waited in the Chicago airport.  It's a very busy place and reminds me of my home: children's parties, sleepovers, friends coming and going, neighbors calling, extended family dropping by. And there are the departures. The car just doesn't stop. There are youth groups, lessons of all sorts, sports, school, church, errands to run, and children's friends to pick up or drive home. Sound familiar?  In the middle of all the flights in and out, once in a while I find a wonderful parenting moment with one of my fellow travelers.
The first time it happened, everyone had flown in and back out of "Osborne O'Hare," and only my son and I were left. During the next few hours he had his agenda, and I had mine. However, in the middle of that time the two of us needed to sit down and eat a meal. What followed started with me pointing out that it was cool that it was just the two of us guys.
Then we decided to have some guy food and talked about guy things, and we even used some guy table manners (intentional oxymoron). We laughed a lot and afterwards headed back to our own tasks. The meal needed to be prepared anyway, but the time we had was memorable. I now watch for "home alone" moments. My son and I have our "guy time" every time the Osborne Terminal clears out, and I have special dad-and-daughter meals whenever I find myself alone with one of them.

(RICK OSBORNE / Christian Author, Speaker & Dad – your source for Christian Parenting advice)
MEALTIME MOMENTS
The idea behind this resource was to provide mealtime conversation starters for those parents who feel that the conversation around the dinner table could be used more constructively and possibly as a family devotion time. (It is a nice alternative to those long prayers that let the food get cold.)
I would recommend it for families with children between the ages of five and early teen. It is ideal for those that would like to capture this time and spur on conversation about our Faith on a daily bases. But it is also beneficial for diving into from time to time and finding the topic that is your family's current hot potato and use it to get the discussion rolling.  Buy Now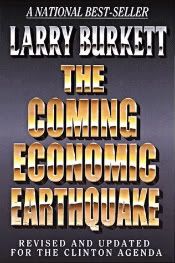 Listening to all the news about economy lately has got me thinking about an old friend. Anyone remember the best-seller, 'The Coming Economic Earthquake'? One Amazon review, written last month, says this about the book, "This book clearly outlines why the recession is here and it was written in 1991 predicting it."
I had the pleasure of knowing Larry Burkett and being able to call him my friend for several years before he left us to be with our Lord. He was a wonderful person, a faithful friend and an awesome man of God. He studied the Bible and understood perhaps better than anyone what God's Word says and teaches about money.
I met Larry shortly after he wrote 'The Coming Economic Earthquake' and although I didn't understand all of what he was saying about where the economy was going, we talked about something that was near to my heart. Him and his son Allen Burkett Jr. wanted to help parents teach their kids Biblical financial principles so that Christians and the Church in the generations to come could stand strong during tough times.
Larry showed me the conclusions of a nation wide survey that tested the financial IQ of high school seniors. The director of the report summed up the results by saying that our kids were graduating financially illiterate. He also shared with me statistics that showed that 85% of young couples who divorce site financial issues as the reason for their marital breakdown. That discussion led to Larry and I co-writing the book 'Financial Parenting.' I also went on to work with both Larry Sr. and Jr. to develop many resources that help parents teach their children financial principles.
The Bible tells us that as parents we are to bring our children up in the instruction of the Lord. The Bible doesn't just teach us about God, love and salvation. Moses, Solomon, Jesus, Paul and others were all used by God's Spirit to teach us about stewardship and proper money management. It's our job as parents to safeguard our children's future by intentionally bringing them up in these truths.
I don't know if the 'Economic Earthquake' as Larry saw it is here yet but I do know that if we want our kids to survive financially, now and in the future, we need to spend some time teaching them what God's Word says about money.
The Coming Economic Earthquake, Financial Parenting and the other resources we developed for kids have been selling well and helping families for years but perhaps they are even more relevant and more important now.
Although Larry Burkett is no longer with us, every book he wrote was based on God's Word and therefore timeless and very relevant today. I highly recommend the following books and any other's with my friend's name on them.
(RICK OSBORNE / Christian Author, Speaker & Dad – your source for Christian Parenting advice)
During the worship service in church we sang a song from Psalms 84. When I sang David's words, "better is one day in your courts than a thousand elsewhere," it struck me that David romanced God. He sang to him, he danced before him, he yearned to be in his presence, he wrote many psalms pouring out his heart and feelings towards him and he showed him his love with extravagant displays of adventurous obedience.
After having that thought, my mind jumped immediately to the same question that yours just did, "Can someone romance God? Isn't romance reserved as a wonderful dance between a man and a woman?" So I looked up the word romance. While it is true that the word romance has, for the most part, come to refer to the expression of love between lovers, its origin and breath of meaning reveals other possibilities of use for this powerful word. Read more
Throughout the Bible, children are considered to be a gift from God and a blessing to the parents who receive them.
Sons are a heritage from the LORD, children a reward from him. (Psalm 127:3)
Scripture contains many prayers and songs thanking God for the blessing of children, including those of Sarah, Hannah, and Mary. Mary had heard the stories of Sarah and Hannah and had learned that children are an awesome gift and a blessing.
Mary said: "My soul glorifies the Lord and my spirit rejoices in God my Savior." (Luke 1:46-47)

If you're waiting for the other shoe to drop, here it comes. Sometimes parenting can seem downright overwhelming. Children need constant care, training, and discipline, and none of us is perfectly up to the task. So at times we feel tempted to consider the gift of children as anything but a blessing. I once heard a mother say to her young teenager (in jest of course), "Watch it, buster! I brought you into this world and I can take you back out again!" That about sums up the way we sometimes feel, doesn't it?
A much quoted marriage and family therapist said, "For human beings, you need two hugs a day to survive, four hugs for maintenance, six hugs to grow." All kinds of research have been done on human touch and hugging, and the overwhelming data screams at us, "Go hug somebody!"
I have to give credit to my oldest daughter for bringing the application of "moment" parenting to our family.  She had heard the above quote, or a similar one, and set her personal daily hug-giving minimum at seven.  She also kept track of her daily-high hug score, which has, at times, reached unbelievable numbers. As a result, it's very difficult to come near her without feeling sincerely cared for.
Because of her wonderful obsession, I made a habit out of hugging all of my children every time I passed them in the house, or whenever they came into hugging range. Don't get me wrong; I hugged my children before, but basically only when it was called for. But now, whenever any of my children enter my personal space or my hug zone, they get hugged.