How should a Christian vote? It seems to me that, with very few exceptions, there are Christians backing each and every political party and asking others to do so along side them. There are Christians who align themselves with an issue or issues instead of a party. They believe that these issues are important to their Faith and therefore more important then their allegiance to a certain politician or political group. The problem here is that Christians seem to differ greatly in their opinions about which issues should be seen as paramount and also on what the stand on these issues should be. To top it all off there are Christians who believe that we shouldn't get involved in politics at all. In short, Christians are all over the place regarding politics and how we should vote and in many cases are even opposing one another.
Please allow me to humbly throw my hat into the proverbial ring. However, instead of siding with any party or issue I would like to take a look at what God's Word says about our vote. There are no scriptures that deal directly with government as we know it, democracy, voting etc. but there are teachings about our response to and responsibilities towards governments that can be applied to our vote today.
Let's take a look at one of the primary New Testament portions of scripture that deals with church and government, 1 Timothy 2:1 – 4.
I urge, then, first of all, that requests, prayers, intercession and thanksgiving be made for everyone–for kings and all those in authority, that we may live peaceful and quiet lives in all godliness and holiness. This is good, and pleases God our Savior, who wants all men to be saved and to come to a knowledge of the truth. (1 Timothy 2:1 – 4)
I don't know about you but for years every time I read these verses or heard them preached the words "that we might live peaceful and quiet lives" always bothered me. Didn't Jesus tell us that we are not to put the things of this life first but to put God's Kingdom first? Didn't he tell us that one of the first things we are to pray about is for his Kingdom and also that his will would be done on Earth? Isn't it true that pretty much all of the New Testament writers and Jesus himself have called us to be witnesses for the Gospel and to endure persecution for doing so? Didn't Paul, who wrote the above words to Timothy (and us) teach that we are to FIGHT the good fight, run the race to win the heavenly prize, to boldly share our Faith and also to expect persecution?
Perhaps I was misunderstanding the intent of Paul's words to Timothy because the Bible does not contradict itself. The problem was that I wasn't trying to understand Paul's words in their context.
Please allow me to take the liberty of adding some commentary to Paul's word's so that I can get right to my point. Here's what I now believe Paul to be saying in these verses, my words in parenthesis:
I urge, then, first of all, that requests, prayers, intercession and thanksgiving be made for everyone (all people everywhere)–(Also) for kings and all those in authority, that we may live peaceful and quiet lives in all godliness and holiness (So that we can get on with growing in Christ, sharing the Gospel with everyone, and expanding God's Kingdom everywhere, as unimpeded by Kings and governments as possible.) This is good, and pleases God our Savior, who wants all men to be saved and to come to a knowledge of the truth. (And praying for authorities will help us accomplish this.)
When Paul penned these words the church was being persecuted everywhere. Nero was governing Rome and not too long after these words were written Nero put Paul to death. Paul was letting Timothy and the Church, then and now, know that we should pray for the gospel to be spread to everyone everywhere and that we should pray for the governments everywhere because doing so can help us get the job done. The Christians of that day easily understood Paul's words because they were attempting to follow the Gospel's mandates and they were being persecuted and stalled at every turn.
Our focus is to be on the spreading of the Gospel not a quiet and peaceful life. We need the governments to not oppose us and perhaps even cooperate with us so that we can use the resulting peace and quiet to get on with our calling.
So how does this relate to politics, democracies and our votes as Christians today? Well in my estimation understanding Paul's intent in these verses makes it simple. We are to stick with our Kingdom first purpose and pray for governments to not hinder us and perhaps even help us. Since in a democracy we have a say or a vote, our vote should mirror our purpose and prayer. Simply put we should vote for the person, party government etc who (after prayer and consideration) we believe is most likely to not hinder but to promote our God given purpose, to grow as Christians, to spread the Gospel and to expand God's Kingdom.
Any vote for any other purpose by a Christian, say for the economy, more tax breaks, more money in our pockets is a misguided vote for a peaceful and quiet life for the sake of personal comfort.
It's recorded six times in the Gospels that Jesus said that those who deny their lives for the sake of the Gospel will find their lives, but that those who put their lives first will lose them. Let your vote count, vote for those who will be more likely to support God's agenda for this planet.
I appreciate and welcome your comments.
For help with teaching your children about their Faith, check out The Singing Bible.
-
-
-
-
-
(RICK OSBORNE / Christian Author, Speaker & Dad)
In part one we talked about how God wants to have salvation and his blessing come to our families. In part two I would like to talk about God's calling on Christian families and how God wants to work through them.
Let's go back and take a closer look at the verses about why God called Abraham.
Abraham will surely become a great and powerful nation, and all nations on earth will be blessed through him. For I have chosen him, so that he will direct his children and his household after him to keep the way of the Lord by doing what is right and just, so that the Lord will bring about for Abraham what he has promised him." (Genesis 18:18, 19)
Let's look at all three parts of what the Lord said here. First he outlines his promise, Abraham is to become a great and powerful nation and (also) all the nations on the earth are to be blessed through him.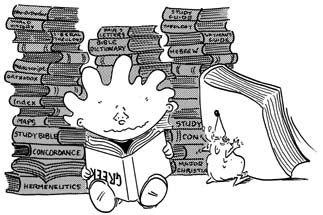 I probably get asked this question and ones like it more often than any other question.
When I first started developing Bibles for children it was in response to the frustration I experienced over the years when trying to find Bibles that I could use with my own children.
At first the publishers I went to with my ideas responded by telling me the market was already glutted with Bible Storybooks.
They were shocked to hear me tell them that unfortunately many of them are useless when it comes to teaching children the Bible.
Let me pass on to you what we should be looking for in a Bible for our kids and why.
I think the first thing we need to ask is what is God's purpose for the Bible. In a nutshell, the Bible reveals God's story and plan for humankind, it focuses on God's salvation plan and brings us to Jesus and it teaches us how to live as Christians.
How can I disciple my children when my own faith is a little shaky and when I don't know enough about the Faith to disciple anyone? (Part 1)
When I first dove into the Bible for help on parenting and teaching my children about God I came across a period in Israel's history that at first didn't make any sense.
The generation of Israelites that God called rebellious and stiff-necked (the ones who died in the wilderness because they were not allowed in the Promised Land) brought up a generation of children who served God and conquered Canaan.
Then that wonderful generation of God serving Israelites brought up a generation that turned their back on God and started serving idols.