Every Christmas, most of us get together with family and celebrate the birth of our Lord and Savior. Therefore, it's at this time of year when we're thinking of both family and Jesus at the same time. We can't help but think and pray about those in our families who do not know Jesus. Do you have members of your immediate or extended family that need to know Jesus? I was eighteen when I became a Christian. I celebrated Christmas for the first time shortly after that at nineteen. I was raised in a church that did not allow Christmas. My mother was led to the truth and accepted Jesus as her savior shortly after I had left home at eighteen.
When she started attending a Christian church every Sunday, her husband (my step dad), her six children (ranging from toddler to adult), many of her extended family, and the majority of her social circle were still attending the church she just left. A church that not only didn't celebrate Christmas but also didn't believe in the doctrine of salvation. A church that would tell its members to not have anything to do with anyone who left the church. She was understandably worried about how her new Faith would be viewed and if everyone would reject it and her.
One evening, not too long after her decision to live her life for Christ, no matter what the cost, she attended a Gospel banquet. The speaker prayed for her and while he was praying (even though he did not know her or her situation) said, "Don't worry, today salvation has come to your house."
This little family road trip question has become so iconic, that it's become common fodder for comic routines and movie scripts. I would imagine that this travel question has been around as long as families have been traveling. It's probably a good thing that all of Noah's sons were full-grown, or Mr. and Mrs. Noah may have ended up sinking the boat.
Think about the Israelite's trek through the wilderness. After crossing the Red Sea, they got to the edge of the Promised Land quite quickly, but because they didn't trust God and refused to go in, God sent them on a forty-year road trip. The idea was that all of the adults who refused to believe, were to die before their children would be allowed in. Can you imagine the conversation, "Are we there yet? Am I dead yet?"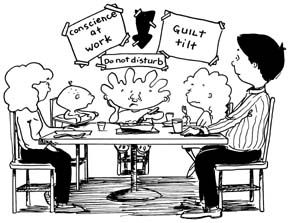 When my mother gave her life to Christ and started attending church every Sunday she had a husband, (my step dad) six children (ranging from toddler to adult) and a large extended family. She was understandably worried about how her new Faith would be viewed and if everyone would embrace it as well or reject it and her. She even started taking the youngest of my siblings to Sunday School on her own.
One evening not too long after her decision to live her life for Christ, no matter what the cost, she attended a Gospel dinner with a special Christian speaker. That speaker prayed for her and while he was praying, even though he did not know her or her situation, he said, "Don't worry, today salvation has come to your house."