In part one we talked about how God wants to have salvation and his blessing come to our families. In part two I would like to talk about God's calling on Christian families and how God wants to work through them.
Let's go back and take a closer look at the verses about why God called Abraham.
Abraham will surely become a great and powerful nation, and all nations on earth will be blessed through him. For I have chosen him, so that he will direct his children and his household after him to keep the way of the Lord by doing what is right and just, so that the Lord will bring about for Abraham what he has promised him." (Genesis 18:18, 19)
Let's look at all three parts of what the Lord said here. First he outlines his promise, Abraham is to become a great and powerful nation and (also) all the nations on the earth are to be blessed through him.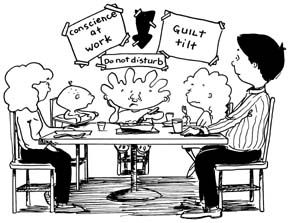 When my mother gave her life to Christ and started attending church every Sunday she had a husband, (my step dad) six children (ranging from toddler to adult) and a large extended family. She was understandably worried about how her new Faith would be viewed and if everyone would embrace it as well or reject it and her. She even started taking the youngest of my siblings to Sunday School on her own.
One evening not too long after her decision to live her life for Christ, no matter what the cost, she attended a Gospel dinner with a special Christian speaker. That speaker prayed for her and while he was praying, even though he did not know her or her situation, he said, "Don't worry, today salvation has come to your house."
How can I disciple my children when my own faith is a little shaky and when I don't know enough about the Faith to disciple anyone? (Part 1)
When I first dove into the Bible for help on parenting and teaching my children about God I came across a period in Israel's history that at first didn't make any sense.
The generation of Israelites that God called rebellious and stiff-necked (the ones who died in the wilderness because they were not allowed in the Promised Land) brought up a generation of children who served God and conquered Canaan.
Then that wonderful generation of God serving Israelites brought up a generation that turned their back on God and started serving idols.