This is part 2 of the video of Richard Dawkins, an avowed atheist speaking about why he thinks children should not be indoctrinated in religion. I would love to read your comments on the videos and blogs.
The atheists accuse Christians of keeping their children cloistered away from other views and indoctrinating these young and impressionable minds as opposed to presenting them with a range of choices. Which they say is unfair to the children.
According to dictionary.com, the word 'indoctrination' means to instruct in a doctrine, principle, ideology etc. especially to imbue with a specific partisan or biased belief or point of view. It goes on to say that indoctrination involves teaching someone to accept doctrine uncritically and that a synonym for the word is brainwashing.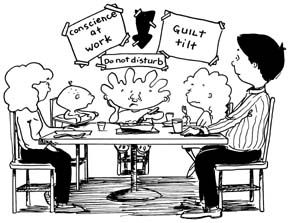 When my mother gave her life to Christ and started attending church every Sunday she had a husband, (my step dad) six children (ranging from toddler to adult) and a large extended family. She was understandably worried about how her new Faith would be viewed and if everyone would embrace it as well or reject it and her. She even started taking the youngest of my siblings to Sunday School on her own.
One evening not too long after her decision to live her life for Christ, no matter what the cost, she attended a Gospel dinner with a special Christian speaker. That speaker prayed for her and while he was praying, even though he did not know her or her situation, he said, "Don't worry, today salvation has come to your house."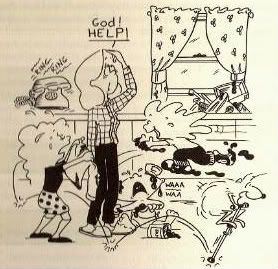 How can I disciple my children when my own faith is a little shaky and when I don't know enough about the Faith to disciple anyone? (Part 3)
Please bear with me. This entry will be a little longer than most however I sincerely believe that the scriptural principle that you are about to read about is probably the most essential for Christian parents to understand!
Working hard to please God
When I first became a Christian I was so excited. I wanted to know everything, do everything right and experience God in everyway that was possible. I went to every church service and prayer meeting I could get to. I read every Christian book I could find and spent as much of my day every day that I could reading my Bible and on my knees praying. Every minute of the day I was a church service waiting to happen.
How can I disciple my children when my own faith is a little shaky and when I don't know enough about the Faith to disciple anyone? (Part 1)
When I first dove into the Bible for help on parenting and teaching my children about God I came across a period in Israel's history that at first didn't make any sense.
The generation of Israelites that God called rebellious and stiff-necked (the ones who died in the wilderness because they were not allowed in the Promised Land) brought up a generation of children who served God and conquered Canaan.
Then that wonderful generation of God serving Israelites brought up a generation that turned their back on God and started serving idols.
How would you answer this question? If you're like I was, and probably most Christian parents, you would answer this question by saying, "It's taking them to church, praying with them, getting them to read their Bible and hopefully seeing them give their hearts to Jesus; stuff like that."
Let's look at how God's Word defines Christian parenting by examining Paul's main comment on the topic.
Ephesians 6: 4 "Fathers, do not exasperate your children; instead, bring them up in the training and instruction of the Lord." (NIV)
According to this section of scripture Christian parenting involves at least two main elements; the way we parent and also the purpose and content of our parenting.
The first element is straightforward and outlined in the first line of this verse; I like how the Message paraphrases it, "Fathers, don't exasperate your children by coming down hard on them." An essential part of Christian parenting is that we are to act in a Christ like way in front of our children and especially towards our children.