This is the seventh and final post in the series: "What does the Bible say about sibling rivalry and how can I get my kids to get along?"
We started out this sibling rivalry series by establishing that what the world says is normal in family relationships, is not what God wants for Christian families.
The world says that sibling rivalry, rebellious teenagers, kids and parents not getting along and family fighting are all part of normal family life.
However, Jesus himself said that the two greatest commands were to love God and to love others and that all of God's law is summed up in these two commands. Christian love is a foundation of our Faith and teaching it, is a core Christian parenting skill.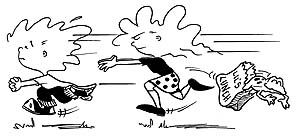 Can you imagine your home truly being a 'home sweet home'? What if everyone in our families always spoke gently and kindly to one another? What if everyone got along famously, loved and respected one another and enjoyed each other's company?
No sibling rivalry, no fighting, no arguing, no yelling, no unkind words, no whining, no complaining or blaming, can you imagine what that would be like?
Well, that family does not just exist in your imagination or in a Sunday school picture. Having your Christian home look and feel like that is not only possible, it is Biblical.