As you know when God calls us to do a work, he trains us for that work and often takes us through things that prepare us for the task. Real life is a really great teacher. I do not believe that God authors all of our difficulties. For example James tells us that God does not tempt us with evil. (James 1:13)
However God will teach us and strengthen us while he guides us through whatever comes our way and he will work everything out when we are walking with him. (Romans 8:28)
Having said that, I believe that God has wonderfully (and by his grace) taken me through some big and small storms and through it all he has prepared me to help and encourage and equip other parents and families. Here is the brief story.
I was raised in a religious home without knowing Jesus as my savior.
My parents separated when I was six. My Mom (a single mother on social assistance) raised my three siblings and me.
I stopped listening to anyone at the age of thirteen and became a rebellious worldly teenager.
My mother married my stepfather when I was thirteen.
My father had remarried earlier and I have two half brothers and a half sister.
My mother committed her life to Christ when I was about 17 and started praying for her family.
I gave my life to Christ and my life was changed forever just before my 19th birthday.
Shortly after this I married my high school girlfriend when I was 20.
We had three children.
When the kids were still quite young, my wife left. (This was the most difficult time of my life.)
Although the children's mother saw them, they lived with me full time and I experience what it's like to be a single parent.
Even though I was free to remarry, I told God that I was willing to stay single and devote more time to my children and helping other parents.
God had another plan.
A friend of mine who also was friends with the owner of eHarmony was insistent that I should give eHarmony a try. Even though I ignored him, he kept it up.
When others started telling me the same thing I started to wonder. Then when the owner of eHarmony emailed me personally (in response to a request from our mutual friend) and invited me to join, I felt that God was in it.
Through a wonderful series of Godincidences I met Luba and five months after our first date we were married.
Although in the beginning I promised myself that my family would never break apart, I now have a second wife and my children have a stepmother.
These are the personal family details in a nutshell. I have shared this with you to show that I am just a normal guy walking through a bumpy life trusting God. All the while doing my best to parent God's way, allowing him to strengthen, teach and guide me through all life's ups and downs.
And through it all, I believe one of the reasons he has taught me (and that I have gone through some of what I have gone through) is so that I could with grace, turn and help, strengthen, encourage and equip others who are facing the same and similar bumps.
My oldest daughter is now married to my awesome son-in-law and my first grandchild is providing me with more life experience to pass on. My second daughter is attending college and my teenage son (my inspiration for my books for boys) is still at home.
Throughout the Bible, children are considered to be a gift from God and a blessing to the parents who receive them.
Sons are a heritage from the LORD, children a reward from him. (Psalm 127:3)
Scripture contains many prayers and songs thanking God for the blessing of children, including those of Sarah, Hannah, and Mary. Mary had heard the stories of Sarah and Hannah and had learned that children are an awesome gift and a blessing.
Mary said: "My soul glorifies the Lord and my spirit rejoices in God my Savior." (Luke 1:46-47)

If you're waiting for the other shoe to drop, here it comes. Sometimes parenting can seem downright overwhelming. Children need constant care, training, and discipline, and none of us is perfectly up to the task. So at times we feel tempted to consider the gift of children as anything but a blessing. I once heard a mother say to her young teenager (in jest of course), "Watch it, buster! I brought you into this world and I can take you back out again!" That about sums up the way we sometimes feel, doesn't it?
"That wasn't a polite thing to say." "Say 'please.' " "Don't forget your thank you's!" "And what do you say?" "We don't do that at the table!"
There are points in our parenting career when it seems like every second or third sentence gets invested in the quest for mannerly children. We've all been embarrassed (and we have the stories!) by our children while they were learning manners. We've also all been proud when they got it right and some stranger has commented on what polite children we have. Have you ever had the tables, or the table manners, turned on you? I have.
When my children were younger, I spent time teaching them that kindness in intent and tone should be the rule that governs all of our speech. To remind them when their speech to one of their siblings strayed from the kindness rule, I would gently but pointedly add a storybook quote to the end of their speech. After they fired off, I'd instantly say, "-she [or he] said in a kind and gentle voice."
This is the seventh and final post in the series: "What does the Bible say about sibling rivalry and how can I get my kids to get along?"
We started out this sibling rivalry series by establishing that what the world says is normal in family relationships, is not what God wants for Christian families.
The world says that sibling rivalry, rebellious teenagers, kids and parents not getting along and family fighting are all part of normal family life.
However, Jesus himself said that the two greatest commands were to love God and to love others and that all of God's law is summed up in these two commands. Christian love is a foundation of our Faith and teaching it, is a core Christian parenting skill.
I wanted to write something for Father's Day that would encourage Dad's and cause all of us to reflect more thankfully on the efforts of our own fathers. I started by looking for a wonderful 'Hallmark-type' quote that would set the tone. In the process I found that many of the things I wanted to say have already been said, and said well. Which is easy to understand since the first Father's Day celebration reportedly happened ninety-eight years ago on July 5,1908.
The story goes that in West Virginia only two months prior to this event the first Mother's Day had been celebrated. In the previous December a nearby mine explosion had taken the lives of 361 men, many of them fathers.  A lady named Grace Golden Clayton inspired by either or both of these events, suggested that a special service should be held to honor fathers.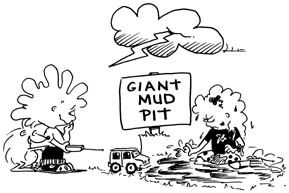 This blog contains a key Christian Parenting principle that I guarantee (if employed) will go a long way to ending sibling rivalry and establishing your home sweet home.
What would you say are two things that are most often at the core of a sibling battle? Let me give you a few whining and complaining hints, "Dad, he won't share," Mom, she's wearing my clothes again." And next, "She hit me" and "He won't leave me alone."
There are many answers to the question I posed but most of us would agree that fighting over things and unwanted physical contact are huge aggravators in sibling relationships.
Jesus taught what has now become known as the Golden Rule, treat others the way that you would like to be treated. (Matt 7:12)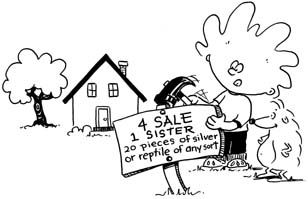 If anyone says, "I love God," yet hates his brother, he is a liar. For anyone who does not love his brother, whom he has seen, cannot love God, whom he has not seen. (1 John 4: 20)
Years ago while I was reading through the Bible book of 1 John, I suddenly saw how this verse was relevant for parenting and my family life.
The Apostle John states that if you do not love your Christian brother you do not love God. Why? Simple, it's easier to love someone that you can see than it is to love God who you cannot see.
The principle involved is that we all must walk before we run, the simple before the difficult.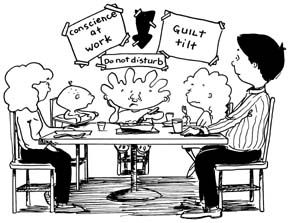 When my mother gave her life to Christ and started attending church every Sunday she had a husband, (my step dad) six children (ranging from toddler to adult) and a large extended family. She was understandably worried about how her new Faith would be viewed and if everyone would embrace it as well or reject it and her. She even started taking the youngest of my siblings to Sunday School on her own.
One evening not too long after her decision to live her life for Christ, no matter what the cost, she attended a Gospel dinner with a special Christian speaker. That speaker prayed for her and while he was praying, even though he did not know her or her situation, he said, "Don't worry, today salvation has come to your house."