How should a Christian vote? It seems to me that, with very few exceptions, there are Christians backing each and every political party and asking others to do so along side them. There are Christians who align themselves with an issue or issues instead of a party. They believe that these issues are important to their Faith and therefore more important then their allegiance to a certain politician or political group. The problem here is that Christians seem to differ greatly in their opinions about which issues should be seen as paramount and also on what the stand on these issues should be. To top it all off there are Christians who believe that we shouldn't get involved in politics at all. In short, Christians are all over the place regarding politics and how we should vote and in many cases are even opposing one another.
Please allow me to humbly throw my hat into the proverbial ring. However, instead of siding with any party or issue I would like to take a look at what God's Word says about our vote. There are no scriptures that deal directly with government as we know it, democracy, voting etc. but there are teachings about our response to and responsibilities towards governments that can be applied to our vote today.
Let's take a look at one of the primary New Testament portions of scripture that deals with church and government, 1 Timothy 2:1 – 4.
I urge, then, first of all, that requests, prayers, intercession and thanksgiving be made for everyone–for kings and all those in authority, that we may live peaceful and quiet lives in all godliness and holiness. This is good, and pleases God our Savior, who wants all men to be saved and to come to a knowledge of the truth. (1 Timothy 2:1 – 4)
I don't know about you but for years every time I read these verses or heard them preached the words "that we might live peaceful and quiet lives" always bothered me. Didn't Jesus tell us that we are not to put the things of this life first but to put God's Kingdom first? Didn't he tell us that one of the first things we are to pray about is for his Kingdom and also that his will would be done on Earth? Isn't it true that pretty much all of the New Testament writers and Jesus himself have called us to be witnesses for the Gospel and to endure persecution for doing so? Didn't Paul, who wrote the above words to Timothy (and us) teach that we are to FIGHT the good fight, run the race to win the heavenly prize, to boldly share our Faith and also to expect persecution?
Perhaps I was misunderstanding the intent of Paul's words to Timothy because the Bible does not contradict itself. The problem was that I wasn't trying to understand Paul's words in their context.
Please allow me to take the liberty of adding some commentary to Paul's word's so that I can get right to my point. Here's what I now believe Paul to be saying in these verses, my words in parenthesis:
I urge, then, first of all, that requests, prayers, intercession and thanksgiving be made for everyone (all people everywhere)–(Also) for kings and all those in authority, that we may live peaceful and quiet lives in all godliness and holiness (So that we can get on with growing in Christ, sharing the Gospel with everyone, and expanding God's Kingdom everywhere, as unimpeded by Kings and governments as possible.) This is good, and pleases God our Savior, who wants all men to be saved and to come to a knowledge of the truth. (And praying for authorities will help us accomplish this.)
When Paul penned these words the church was being persecuted everywhere. Nero was governing Rome and not too long after these words were written Nero put Paul to death. Paul was letting Timothy and the Church, then and now, know that we should pray for the gospel to be spread to everyone everywhere and that we should pray for the governments everywhere because doing so can help us get the job done. The Christians of that day easily understood Paul's words because they were attempting to follow the Gospel's mandates and they were being persecuted and stalled at every turn.
Our focus is to be on the spreading of the Gospel not a quiet and peaceful life. We need the governments to not oppose us and perhaps even cooperate with us so that we can use the resulting peace and quiet to get on with our calling.
So how does this relate to politics, democracies and our votes as Christians today? Well in my estimation understanding Paul's intent in these verses makes it simple. We are to stick with our Kingdom first purpose and pray for governments to not hinder us and perhaps even help us. Since in a democracy we have a say or a vote, our vote should mirror our purpose and prayer. Simply put we should vote for the person, party government etc who (after prayer and consideration) we believe is most likely to not hinder but to promote our God given purpose, to grow as Christians, to spread the Gospel and to expand God's Kingdom.
Any vote for any other purpose by a Christian, say for the economy, more tax breaks, more money in our pockets is a misguided vote for a peaceful and quiet life for the sake of personal comfort.
It's recorded six times in the Gospels that Jesus said that those who deny their lives for the sake of the Gospel will find their lives, but that those who put their lives first will lose them. Let your vote count, vote for those who will be more likely to support God's agenda for this planet.
I appreciate and welcome your comments.
For help with teaching your children about their Faith, check out The Singing Bible.
-
-
-
-
-
(RICK OSBORNE / Christian Author, Speaker & Dad)
Throughout the Bible, children are considered to be a gift from God and a blessing to the parents who receive them.
Sons are a heritage from the LORD, children a reward from him. (Psalm 127:3)
Scripture contains many prayers and songs thanking God for the blessing of children, including those of Sarah, Hannah, and Mary. Mary had heard the stories of Sarah and Hannah and had learned that children are an awesome gift and a blessing.
Mary said: "My soul glorifies the Lord and my spirit rejoices in God my Savior." (Luke 1:46-47)

If you're waiting for the other shoe to drop, here it comes. Sometimes parenting can seem downright overwhelming. Children need constant care, training, and discipline, and none of us is perfectly up to the task. So at times we feel tempted to consider the gift of children as anything but a blessing. I once heard a mother say to her young teenager (in jest of course), "Watch it, buster! I brought you into this world and I can take you back out again!" That about sums up the way we sometimes feel, doesn't it?
I apologize for the video. Let me be clear, I am not endorsing the product and I think the whole idea behind the video is appalling. However, the fact that this commercial was made and that people find it funny or appropriate, perfectly illustrates the point of my next few posts. Many people today believe that kids are generally horrible, that parenting is a huge thankless burden, and that having kids should be avoided. According to many statistical reports that I've viewed, the percentage of couples who are choosing not to have kids is increasing significantly ever year. So did God tell us to be fruitful and multiply so we could spend 20 years being miserable? Not! God meant parenting to be a joy not a burden.
The attached video is of Richard Dawkins, an avowed atheist speaking about why he thinks children should not be indoctrinated in religion. I would love to read your comments on the videos and blogs. Part two will be attached to my next blog.
Recently, there has been a rash of books written by atheists vilifying religion and blaming it for the woes of this world. One best-selling book generated a wave of controversy because it suggested that efforts be made to eradicate religion. The author also takes aim at parents who teach their children religion, calling it a form of child abuse.
Here's the logic (as far as I can see it); there is no God, humankind invented God and created religion. Religion is destructive in that it polarizes people and therefore causes wars and all sorts of atrocities. The reason religion continues to thrive is that religious parents indoctrinate their children. Therefore, stop allowing the indoctrination of children and the world will become atheistic and wonderfully peaceful.
I recently started a FaceBook group called 1,000,000 'Christian Parents Raising Disciples For Christ.'
I was pleasantly surprised when young pre-parent people started to join the group. A few have joined because they wanted to voice their objection to being raised as a Christian. Needless to say, this has livened up the discussion area. One of the well-meaning, sincere questions posted, asked if raising our children as Christians is a type of brainwashing. My below blog is what I posted in reply to this question.
I agree with you that no one should 'force' his or her ideas or opinions on another person. Having said that, I have to ask you, did your parents force you to brush your teeth, go to bed at a certain time, go to school or eat your dinner?
A parent/child relationship is different than a friendship. Here's Wikipedia's summary definition of parenting; "Parenting is the process of raising and educating a child from birth, or before, until adulthood." The article goes on to break down the responsibilities of parents into categories. Here's what it states under the heading, 'Providing intellectual development.'
One of the criticisms leveled at bloggers, in the earlier days of weblogs, was that it seemed that bloggers blogged a lot about blogging.
I must admit that I've read many blogs about blogging but I think this is completely understandable. Carpenters love their tools and artists love their brushes. When people in the same discipline gather together, they tend to talk as much or more about their tools and techniques as they do about their latest project.
Blogging is relatively new and those embracing it are excited about learning from each other and getting better at it.
So to support my fellow bloggers and show my enthusiasm for this new and wonderful craft, this is my one blog about blogging.
Dr. Mark Holder, a psychology professor at The University of British Columbia, led a study to determine what factors have the greatest influence on a child's happiness. He and his team surveyed more than 300 children ages 9 to 12. The researchers also asked the parents and teachers of the children to rate their happiness.
The result? In Dr. Holder's own words, "The more spiritual the children were, the happier they were."
Perhaps you're thinking, "That's great. We take our children to church and read Bible stories to them". Yes, that is helpful but it's not what the survey was focused on. In fact, the Doctor said that religious activities such as going to church didn't seem to make a difference in a child's happiness level.
This little family road trip question has become so iconic, that it's become common fodder for comic routines and movie scripts. I would imagine that this travel question has been around as long as families have been traveling. It's probably a good thing that all of Noah's sons were full-grown, or Mr. and Mrs. Noah may have ended up sinking the boat.
Think about the Israelite's trek through the wilderness. After crossing the Red Sea, they got to the edge of the Promised Land quite quickly, but because they didn't trust God and refused to go in, God sent them on a forty-year road trip. The idea was that all of the adults who refused to believe, were to die before their children would be allowed in. Can you imagine the conversation, "Are we there yet? Am I dead yet?"
Can you figure out which Biblical relationship principle you can discuss with your children by watching this video together?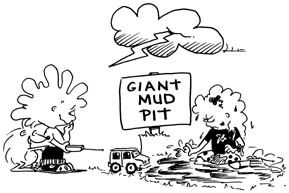 This blog contains a key Christian Parenting principle that I guarantee (if employed) will go a long way to ending sibling rivalry and establishing your home sweet home.
What would you say are two things that are most often at the core of a sibling battle? Let me give you a few whining and complaining hints, "Dad, he won't share," Mom, she's wearing my clothes again." And next, "She hit me" and "He won't leave me alone."
There are many answers to the question I posed but most of us would agree that fighting over things and unwanted physical contact are huge aggravators in sibling relationships.
Jesus taught what has now become known as the Golden Rule, treat others the way that you would like to be treated. (Matt 7:12)