THE (LUKE 2:52) BOY'S BIBLE
This immensely popular Bible was designed uniquely for boys ages 8 – 12.
First the features of this Bible will draw your boy in like a magnet. For example the 'Gross' feature highlights Bible facts that keep boys coming back for more.
More importantly though all of the features were written to help your guys grow from boys to men, physically, mentally, socially and spiritually. They will see what a man of God is and learn how to get there.
This is also an ideal Bible to use when transitioning your boys from a Bible Storybook to a whole text Bible. When used with the devotional books for boys in this same series (Bible Heroes and Bad Guys and others) you have a powerful combination to help them stay interested and make the transition.
PARENT'S GUIDE TO THE SPIRITUAL GROWTH OF CHILDREN
Helping your child develop a personal Faith
Gary Smalley (Author, speaker and founder of Smalley Relationship Center) says, "This book gives parents easy-to-use plans and ideas to help them pass on their Faith; this couldn't come at a better time for our children and culture."
Put together by Dr. John Trent, Rick Osborne and Kurt Bruner, this best-selling Guide from Focus On The Family is packed with information that will help you navigate your children spiritually from preplanning for parenthood right through to the early teens.
Highly recommended for parents who like to understand the process and develop an individual step-by-step plan that will work best for their family.  Buy Now
In addition to writing his weekly blogs at Christian Parenting Daily, Rick has also begun work on his next full length book 'Putting The "Sweet" Back In Home Sweet Home.' This book will focus on family strife issues like sibling rivalry, teenage rebellion, blended families and parental strife. It will walk families through the seven practical and Biblical steps for creating and maintaining a peaceful, loving home and strong growing relationships. Rick's books have sold close to ten million copies worldwide. The felt need for this book is great and we're looking forward to the positive impact that it will have on families. If you'd like to be put on our list to be notified when the book is made available, please email us and enter 'Book List Request' in the subject line.
Finally, Rick is continuing work on the first ever Sunday School program that will unite church and home in a Biblical partnership for the progressive and intentional spiritual and moral development of children. Stay tuned to this site for more news on the Partnering With Parents program.
TEACHING YOUR CHILD HOW TO PRAY
What other Christian Leaders have said about this Christian classic says it all.
Teaching Your Child How to Pray is must reading for all parents who are concerned and burdened about the spiritual development of their children (Dr. Tony Evans)
Rick writes and teaches what he lives. I heartily recommend Rick's resources to every parent. Rick is one of God's gifts to parents. (Josh D. McDowell)
In a step by step approach, Rick Osborne lays out a plan for working with children that meets their needs from the beginning of their lives, but the plan is just as effective for someone starting the learning process with older children. (Dr. D. James Kennedy)
I'm happy to recommend this book by Rick Osborne, who is able to communicate this message to parents and guide them in teaching their children to pray. (Larry Burkett)
This is not just another boring 'how to' book. In Teaching Your Child How to Pray, Rick Osborne makes this important venture challenging and exciting for both parents and their children. (Tim Wildmon)
Rick Osborne has done a masterful job of bringing together important principles and outstanding guidelines in Teaching Your Child How to Pray. Combined with the reader's prayers, I believe the Lord will greatly use this book to revolutionize and strengthen the spiritual lives of their children, providing them a solid foundation from which, the Lord promises in His Word, they "will not depart". (Vonette Bright)
This book is not just recommended. According to many it is essential reading for every Christian parent.
TEACHING KIDS ABOUT GOD
This book is a reprint of one of the most important sections of the 'Parent's Guide To The Spiritual Development of Children. 'Teaching your kids about God' is recommended for parents who want to understand the different stages that their children grow through and how they learn and what they should be learning about their Faith in each stage (birth to early teen). It wonderfully shows you what to focus on at each different age and then shows you how to practically help your child learn those essentials.
TALKING TO YOUR CHILDREN ABOUT GOD
A parent's practical guide to God, Bible stories, children and church, bedtime prayers, virtues, and other spiritual stuff.
This book answers over thirty how-to questions commonly asked by parents about everything Christian.
Questions like, "How can I show my children that the Bible is trustworthy?" and, "What can I tell my kids about Heaven?"
The text does not just stop with the answers but moves beyond and supplies easy tools for getting the job done.
This book is recommended for parents who want practical hands on help with the basics.
A great gift idea for new parents, for relatively new Christians with kids, or for those who are contemplating reconnecting with their Christian heritage now that they have kids.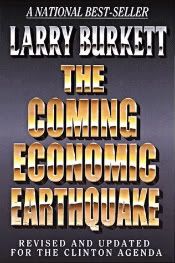 Listening to all the news about economy lately has got me thinking about an old friend. Anyone remember the best-seller, 'The Coming Economic Earthquake'? One Amazon review, written last month, says this about the book, "This book clearly outlines why the recession is here and it was written in 1991 predicting it."
I had the pleasure of knowing Larry Burkett and being able to call him my friend for several years before he left us to be with our Lord. He was a wonderful person, a faithful friend and an awesome man of God. He studied the Bible and understood perhaps better than anyone what God's Word says and teaches about money.
I met Larry shortly after he wrote 'The Coming Economic Earthquake' and although I didn't understand all of what he was saying about where the economy was going, we talked about something that was near to my heart. Him and his son Allen Burkett Jr. wanted to help parents teach their kids Biblical financial principles so that Christians and the Church in the generations to come could stand strong during tough times.
Larry showed me the conclusions of a nation wide survey that tested the financial IQ of high school seniors. The director of the report summed up the results by saying that our kids were graduating financially illiterate. He also shared with me statistics that showed that 85% of young couples who divorce site financial issues as the reason for their marital breakdown. That discussion led to Larry and I co-writing the book 'Financial Parenting.' I also went on to work with both Larry Sr. and Jr. to develop many resources that help parents teach their children financial principles.
The Bible tells us that as parents we are to bring our children up in the instruction of the Lord. The Bible doesn't just teach us about God, love and salvation. Moses, Solomon, Jesus, Paul and others were all used by God's Spirit to teach us about stewardship and proper money management. It's our job as parents to safeguard our children's future by intentionally bringing them up in these truths.
I don't know if the 'Economic Earthquake' as Larry saw it is here yet but I do know that if we want our kids to survive financially, now and in the future, we need to spend some time teaching them what God's Word says about money.
The Coming Economic Earthquake, Financial Parenting and the other resources we developed for kids have been selling well and helping families for years but perhaps they are even more relevant and more important now.
Although Larry Burkett is no longer with us, every book he wrote was based on God's Word and therefore timeless and very relevant today. I highly recommend the following books and any other's with my friend's name on them.
(RICK OSBORNE / Christian Author, Speaker & Dad – your source for Christian Parenting advice)
HOW TO RAISE GREAT PARENTS
In my last post, we talked about how God's original parent training program was that one generation teach the next how to parent God's way. It's our job as parents to not only learn how to parent God's way and to do it effectively but also to teach our children how to be a parent while we are parenting them.
This sounds more daunting then it actually is. In reality, parenting while teaching to parent is the easiest and most effective way of parenting.
When we send our children to school, they go knowing that they need to go through the learning process and do well so that one day they'll graduate. They know because we tell them. From there we encourage them by telling them that great marks lead to better post secondary education options and those options can lead to better career opportunities etc. We keep them going by helping them to understand and to take on the goals as their own.
If our children think the only goal of parenting is for them to try and have fun and for us to try and stop them, they don't see the reward in the process and our task will be difficult. However, if we talk to them not only about the benefits to their life for doing things the right way, but also about how cooperating with the parenting process and learning how it works will help make them great parents, then they'll be able to see a bigger purpose and a greater reward. Read more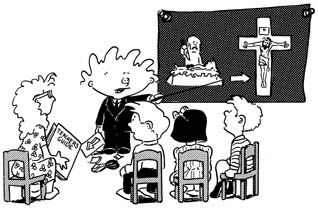 For those of you who read my blogs or my books, you know that I'm passionate about encouraging parents to apply themselves to learning how to parent. Parenting is not merely intuitive and it's not only bad parents who need parenting books and courses, it's all parents.
If you asked me to determine if a certain couple were great parents or not, I wouldn't look first at the results but at the efforts they were making to learn and grow in the art of parenting. If you know how to get the right information and effectively and humbly apply it, the results will eventually follow. If you think you're getting by but you're not learning, then you'll eventually come up against a problem that you don't know how to solve properly and that will mess up your results.
I advocate parenting books, classes and courses but actually those resources should be mere booster shots that come along and support God's original parent training program. When God spoke to Abraham and called him to teach his children after him to follow the Lord, in context (Genesis 18:18, 19), he wasn't talking about just Abraham's immediate children but generations of children. When God had Moses tell the Israelites to make sure that they taught their children to follow the Lord (Deuteronomy 6), again the context was that each generation pass it on to the next.
As an example of how to pass something from generation to generation, let's look at farming. For centuries, farmers have passed the farm down to their children. How does that happen successfully? What if one generation farmed and got the kids to help from time to time and then one day they just handed them the keys to everything and moved to Florida. Either the farm would be sold or it would probably go under. In order for the farm to be passed on successfully, the parents must not only farm well but also teach their children everything they know about farming as they grow up, gradually preparing them for the task. God's original parent training program is simply this, parents need to do everything they can to bring their children up well AND they need to all the while be teaching their children how to parent properly themselves.
That's why I say that parenting books and courses should be booster shots. It's our job as parents to teach our children how to do one of the most important tasks they'll ever undertake, raising children. Yes, we train by example but that's not enough. We need to understand what we teach our children and why we're teaching it to them. We need to understand the discipline, instruction and training process and explain it to our children as we go. For those of you who are feeling that this sounds daunting it's not, it actually makes the job easier. I'll explain how in my next blog.
For more practical and Biblical Christian Parenting ideas we recommend the Christian resource, "The Seven Mistakes Parents of Toddlers Make"
-
-
-
-
(RICK OSBORNE / Christian Author, Speaker & Dad – your source for Christian Parenting advice)
Throughout the Bible, children are considered to be a gift from God and a blessing to the parents who receive them.
Sons are a heritage from the LORD, children a reward from him. (Psalm 127:3)
Scripture contains many prayers and songs thanking God for the blessing of children, including those of Sarah, Hannah, and Mary. Mary had heard the stories of Sarah and Hannah and had learned that children are an awesome gift and a blessing.
Mary said: "My soul glorifies the Lord and my spirit rejoices in God my Savior." (Luke 1:46-47)

If you're waiting for the other shoe to drop, here it comes. Sometimes parenting can seem downright overwhelming. Children need constant care, training, and discipline, and none of us is perfectly up to the task. So at times we feel tempted to consider the gift of children as anything but a blessing. I once heard a mother say to her young teenager (in jest of course), "Watch it, buster! I brought you into this world and I can take you back out again!" That about sums up the way we sometimes feel, doesn't it?