HOW TO RAISE GREAT PARENTS
In my last post, we talked about how God's original parent training program was that one generation teach the next how to parent God's way. It's our job as parents to not only learn how to parent God's way and to do it effectively but also to teach our children how to be a parent while we are parenting them.
This sounds more daunting then it actually is. In reality, parenting while teaching to parent is the easiest and most effective way of parenting.
When we send our children to school, they go knowing that they need to go through the learning process and do well so that one day they'll graduate. They know because we tell them. From there we encourage them by telling them that great marks lead to better post secondary education options and those options can lead to better career opportunities etc. We keep them going by helping them to understand and to take on the goals as their own.
If our children think the only goal of parenting is for them to try and have fun and for us to try and stop them, they don't see the reward in the process and our task will be difficult. However, if we talk to them not only about the benefits to their life for doing things the right way, but also about how cooperating with the parenting process and learning how it works will help make them great parents, then they'll be able to see a bigger purpose and a greater reward. Read more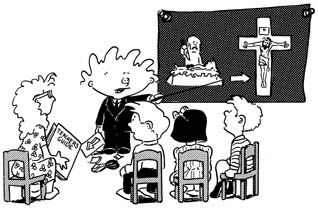 For those of you who read my blogs or my books, you know that I'm passionate about encouraging parents to apply themselves to learning how to parent. Parenting is not merely intuitive and it's not only bad parents who need parenting books and courses, it's all parents.
If you asked me to determine if a certain couple were great parents or not, I wouldn't look first at the results but at the efforts they were making to learn and grow in the art of parenting. If you know how to get the right information and effectively and humbly apply it, the results will eventually follow. If you think you're getting by but you're not learning, then you'll eventually come up against a problem that you don't know how to solve properly and that will mess up your results.
I advocate parenting books, classes and courses but actually those resources should be mere booster shots that come along and support God's original parent training program. When God spoke to Abraham and called him to teach his children after him to follow the Lord, in context (Genesis 18:18, 19), he wasn't talking about just Abraham's immediate children but generations of children. When God had Moses tell the Israelites to make sure that they taught their children to follow the Lord (Deuteronomy 6), again the context was that each generation pass it on to the next.
As an example of how to pass something from generation to generation, let's look at farming. For centuries, farmers have passed the farm down to their children. How does that happen successfully? What if one generation farmed and got the kids to help from time to time and then one day they just handed them the keys to everything and moved to Florida. Either the farm would be sold or it would probably go under. In order for the farm to be passed on successfully, the parents must not only farm well but also teach their children everything they know about farming as they grow up, gradually preparing them for the task. God's original parent training program is simply this, parents need to do everything they can to bring their children up well AND they need to all the while be teaching their children how to parent properly themselves.
That's why I say that parenting books and courses should be booster shots. It's our job as parents to teach our children how to do one of the most important tasks they'll ever undertake, raising children. Yes, we train by example but that's not enough. We need to understand what we teach our children and why we're teaching it to them. We need to understand the discipline, instruction and training process and explain it to our children as we go. For those of you who are feeling that this sounds daunting it's not, it actually makes the job easier. I'll explain how in my next blog.
For more practical and Biblical Christian Parenting ideas we recommend the Christian resource, "The Seven Mistakes Parents of Toddlers Make"
-
-
-
-
(RICK OSBORNE / Christian Author, Speaker & Dad – your source for Christian Parenting advice)
This is part 2 of the video of Richard Dawkins, an avowed atheist speaking about why he thinks children should not be indoctrinated in religion. I would love to read your comments on the videos and blogs.
The atheists accuse Christians of keeping their children cloistered away from other views and indoctrinating these young and impressionable minds as opposed to presenting them with a range of choices. Which they say is unfair to the children.
According to dictionary.com, the word 'indoctrination' means to instruct in a doctrine, principle, ideology etc. especially to imbue with a specific partisan or biased belief or point of view. It goes on to say that indoctrination involves teaching someone to accept doctrine uncritically and that a synonym for the word is brainwashing.
The attached video is of Richard Dawkins, an avowed atheist speaking about why he thinks children should not be indoctrinated in religion. I would love to read your comments on the videos and blogs. Part two will be attached to my next blog.
Recently, there has been a rash of books written by atheists vilifying religion and blaming it for the woes of this world. One best-selling book generated a wave of controversy because it suggested that efforts be made to eradicate religion. The author also takes aim at parents who teach their children religion, calling it a form of child abuse.
Here's the logic (as far as I can see it); there is no God, humankind invented God and created religion. Religion is destructive in that it polarizes people and therefore causes wars and all sorts of atrocities. The reason religion continues to thrive is that religious parents indoctrinate their children. Therefore, stop allowing the indoctrination of children and the world will become atheistic and wonderfully peaceful.
I recently started a FaceBook group called 1,000,000 'Christian Parents Raising Disciples For Christ.'
I was pleasantly surprised when young pre-parent people started to join the group. A few have joined because they wanted to voice their objection to being raised as a Christian. Needless to say, this has livened up the discussion area. One of the well-meaning, sincere questions posted, asked if raising our children as Christians is a type of brainwashing. My below blog is what I posted in reply to this question.
I agree with you that no one should 'force' his or her ideas or opinions on another person. Having said that, I have to ask you, did your parents force you to brush your teeth, go to bed at a certain time, go to school or eat your dinner?
A parent/child relationship is different than a friendship. Here's Wikipedia's summary definition of parenting; "Parenting is the process of raising and educating a child from birth, or before, until adulthood." The article goes on to break down the responsibilities of parents into categories. Here's what it states under the heading, 'Providing intellectual development.'
This is the seventh and final post in the series: "What does the Bible say about sibling rivalry and how can I get my kids to get along?"
We started out this sibling rivalry series by establishing that what the world says is normal in family relationships, is not what God wants for Christian families.
The world says that sibling rivalry, rebellious teenagers, kids and parents not getting along and family fighting are all part of normal family life.
However, Jesus himself said that the two greatest commands were to love God and to love others and that all of God's law is summed up in these two commands. Christian love is a foundation of our Faith and teaching it, is a core Christian parenting skill.
So how exactly can God use our Christian families (Christian parents and Christian children) to impact the world and bring God's blessing to the nations?
I believe he wants us to raise a generation of Christian kids that will do major damage to the gates of hell. Let me explain.
If Israel could become great and powerful by teaching their children to walk with God and keep the Old Covenant how much more can the Body of Christ grow and powerfully impact the nations, according to God's promise, if we were to teach our children to walk in the power and grace of the New Covenant.
Can you imagine if instead of losing our kids to the world we kept them all in the church. I'm not talking about just having more bodies to warm the pews. I'm talking about a generation that grows up learning God's Word, walking in relationship with God and growing in his grace. A generation that is excited about being used by God and about taking ground for the Kingdom of God. Like the generation of Israelites that took the Promised Land only each one of these would be under the New Covenant and filled with God's Spirit.
In part one we talked about how God wants to have salvation and his blessing come to our families. In part two I would like to talk about God's calling on Christian families and how God wants to work through them.
Let's go back and take a closer look at the verses about why God called Abraham.
Abraham will surely become a great and powerful nation, and all nations on earth will be blessed through him. For I have chosen him, so that he will direct his children and his household after him to keep the way of the Lord by doing what is right and just, so that the Lord will bring about for Abraham what he has promised him." (Genesis 18:18, 19)
Let's look at all three parts of what the Lord said here. First he outlines his promise, Abraham is to become a great and powerful nation and (also) all the nations on the earth are to be blessed through him.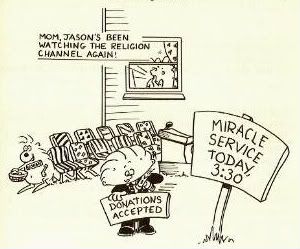 How can I disciple my children when my own faith is a little shaky and when I don't know enough about the Faith to disciple anyone? (Part 4)
We have set some great foundations in this category. We have established what Christian Parenting is. We have established that no matter where we are at personally we can get started and parent God's way because growing with our children is the way that works. We have seen that we can be confident in our calling to parent because God is the third parent. He loves our kids more than we can imagine and He is ready to do His part. He will not only do His part, but He has put his Spirit in us and He has promised to work inside us, change us, teach us and cause us to do our part. WOW!
As if that were not enough to get us excited, encouraged and ready to go, we have got one more essential part of the foundation to set in place.