As you know when God calls us to do a work, he trains us for that work and often takes us through things that prepare us for the task. Real life is a really great teacher. I do not believe that God authors all of our difficulties. For example James tells us that God does not tempt us with evil. (James 1:13)
However God will teach us and strengthen us while he guides us through whatever comes our way and he will work everything out when we are walking with him. (Romans 8:28)
Having said that, I believe that God has wonderfully (and by his grace) taken me through some big and small storms and through it all he has prepared me to help and encourage and equip other parents and families. Here is the brief story.
I was raised in a religious home without knowing Jesus as my savior.
My parents separated when I was six. My Mom (a single mother on social assistance) raised my three siblings and me.
I stopped listening to anyone at the age of thirteen and became a rebellious worldly teenager.
My mother married my stepfather when I was thirteen.
My father had remarried earlier and I have two half brothers and a half sister.
My mother committed her life to Christ when I was about 17 and started praying for her family.
I gave my life to Christ and my life was changed forever just before my 19th birthday.
Shortly after this I married my high school girlfriend when I was 20.
We had three children.
When the kids were still quite young, my wife left. (This was the most difficult time of my life.)
Although the children's mother saw them, they lived with me full time and I experience what it's like to be a single parent.
Even though I was free to remarry, I told God that I was willing to stay single and devote more time to my children and helping other parents.
God had another plan.
A friend of mine who also was friends with the owner of eHarmony was insistent that I should give eHarmony a try. Even though I ignored him, he kept it up.
When others started telling me the same thing I started to wonder. Then when the owner of eHarmony emailed me personally (in response to a request from our mutual friend) and invited me to join, I felt that God was in it.
Through a wonderful series of Godincidences I met Luba and five months after our first date we were married.
Although in the beginning I promised myself that my family would never break apart, I now have a second wife and my children have a stepmother.
These are the personal family details in a nutshell. I have shared this with you to show that I am just a normal guy walking through a bumpy life trusting God. All the while doing my best to parent God's way, allowing him to strengthen, teach and guide me through all life's ups and downs.
And through it all, I believe one of the reasons he has taught me (and that I have gone through some of what I have gone through) is so that I could with grace, turn and help, strengthen, encourage and equip others who are facing the same and similar bumps.
My oldest daughter is now married to my awesome son-in-law and my first grandchild is providing me with more life experience to pass on. My second daughter is attending college and my teenage son (my inspiration for my books for boys) is still at home.
How should a Christian vote? It seems to me that, with very few exceptions, there are Christians backing each and every political party and asking others to do so along side them. There are Christians who align themselves with an issue or issues instead of a party. They believe that these issues are important to their Faith and therefore more important then their allegiance to a certain politician or political group. The problem here is that Christians seem to differ greatly in their opinions about which issues should be seen as paramount and also on what the stand on these issues should be. To top it all off there are Christians who believe that we shouldn't get involved in politics at all. In short, Christians are all over the place regarding politics and how we should vote and in many cases are even opposing one another.
Please allow me to humbly throw my hat into the proverbial ring. However, instead of siding with any party or issue I would like to take a look at what God's Word says about our vote. There are no scriptures that deal directly with government as we know it, democracy, voting etc. but there are teachings about our response to and responsibilities towards governments that can be applied to our vote today.
Let's take a look at one of the primary New Testament portions of scripture that deals with church and government, 1 Timothy 2:1 – 4.
I urge, then, first of all, that requests, prayers, intercession and thanksgiving be made for everyone–for kings and all those in authority, that we may live peaceful and quiet lives in all godliness and holiness. This is good, and pleases God our Savior, who wants all men to be saved and to come to a knowledge of the truth. (1 Timothy 2:1 – 4)
I don't know about you but for years every time I read these verses or heard them preached the words "that we might live peaceful and quiet lives" always bothered me. Didn't Jesus tell us that we are not to put the things of this life first but to put God's Kingdom first? Didn't he tell us that one of the first things we are to pray about is for his Kingdom and also that his will would be done on Earth? Isn't it true that pretty much all of the New Testament writers and Jesus himself have called us to be witnesses for the Gospel and to endure persecution for doing so? Didn't Paul, who wrote the above words to Timothy (and us) teach that we are to FIGHT the good fight, run the race to win the heavenly prize, to boldly share our Faith and also to expect persecution?
Perhaps I was misunderstanding the intent of Paul's words to Timothy because the Bible does not contradict itself. The problem was that I wasn't trying to understand Paul's words in their context.
Please allow me to take the liberty of adding some commentary to Paul's word's so that I can get right to my point. Here's what I now believe Paul to be saying in these verses, my words in parenthesis:
I urge, then, first of all, that requests, prayers, intercession and thanksgiving be made for everyone (all people everywhere)–(Also) for kings and all those in authority, that we may live peaceful and quiet lives in all godliness and holiness (So that we can get on with growing in Christ, sharing the Gospel with everyone, and expanding God's Kingdom everywhere, as unimpeded by Kings and governments as possible.) This is good, and pleases God our Savior, who wants all men to be saved and to come to a knowledge of the truth. (And praying for authorities will help us accomplish this.)
When Paul penned these words the church was being persecuted everywhere. Nero was governing Rome and not too long after these words were written Nero put Paul to death. Paul was letting Timothy and the Church, then and now, know that we should pray for the gospel to be spread to everyone everywhere and that we should pray for the governments everywhere because doing so can help us get the job done. The Christians of that day easily understood Paul's words because they were attempting to follow the Gospel's mandates and they were being persecuted and stalled at every turn.
Our focus is to be on the spreading of the Gospel not a quiet and peaceful life. We need the governments to not oppose us and perhaps even cooperate with us so that we can use the resulting peace and quiet to get on with our calling.
So how does this relate to politics, democracies and our votes as Christians today? Well in my estimation understanding Paul's intent in these verses makes it simple. We are to stick with our Kingdom first purpose and pray for governments to not hinder us and perhaps even help us. Since in a democracy we have a say or a vote, our vote should mirror our purpose and prayer. Simply put we should vote for the person, party government etc who (after prayer and consideration) we believe is most likely to not hinder but to promote our God given purpose, to grow as Christians, to spread the Gospel and to expand God's Kingdom.
Any vote for any other purpose by a Christian, say for the economy, more tax breaks, more money in our pockets is a misguided vote for a peaceful and quiet life for the sake of personal comfort.
It's recorded six times in the Gospels that Jesus said that those who deny their lives for the sake of the Gospel will find their lives, but that those who put their lives first will lose them. Let your vote count, vote for those who will be more likely to support God's agenda for this planet.
I appreciate and welcome your comments.
For help with teaching your children about their Faith, check out The Singing Bible.
-
-
-
-
-
(RICK OSBORNE / Christian Author, Speaker & Dad)
THE BEDTIME BIBLE
This Bible Storybook was specifically designed to help Christian Parents establish their young children in the habit of regular prayer and Bible reading.
In about 12 minutes you can read the captivating story, ask your child the question supplied to stimulate conversation and pray through your regular nightly prayers along with the one supplied.
This is not just another Bible Storybook. It teaches your child what the Bible is and how we should use it. It tells the whole story of God's Word, focuses on Jesus and their salvation and helps them learn what the Bible says about how we are to live.
Recommended for children under eight years old, best for children ages 3 – 8. Buy Now
801 QUESTIONS CHLDREN ASK ABOUT GOD
The best time to teach anyone anything is when he or she asks a question. Why? Because that is the time when the questioner has a desire to learn. Unfortunately, when our children ask us questions about God, Heaven, the Bible etc. we are often not prepared with the answers and the moment passes. Or worse yet we do our best to answer without really knowing for sure what the Bible says.
This book is a compilation of the original 8 books in the '101 Questions Kids Ask' series. It was put together to provide parents with a handy reference for help answering their children's questions when they arise.
The big difference between this compilation and the original books is that only a small amount of the over 800 illustrations have been included and the ones that are included are very small. This is ideal if you want the handy reference but if you are looking for a family devotional for your young children (ages 4 – 8 ) or a personal devotional for your older children (ages 7 – 12) it is best to use the original individual titles. The illustrations draw the children in and keep them wanting more.
Ideal as a ready reference for families with children of all ages.  Buy Now
AMAZING QUESTIONS SERIES
The best time to teach anyone anything is when they ask a question. Why? Because that is the time when the questioner has a desire to learn. Unfortunately, when our children ask us questions about God, Heaven, the Bible etc. we are often not prepared with the answers and the moment passes. Or worse yet we do our best to answer without really knowing for sure what the Bible says. This series of books was created to help with this need and help parents give their children great answers when they are the most curious. In order to really make the book authentic every question we used was actually asked by a real kid. Millions of families have not only used these books for a handy reference but also as family and children's devotionals to inspire more curiosity. Can be read with 4 – 8 year olds and is also ideal for use as a personal devotional for 7 – 12 year olds to use on their own.
TEACHING YOUR CHILD HOW TO PRAY
What other Christian Leaders have said about this Christian classic says it all.
Teaching Your Child How to Pray is must reading for all parents who are concerned and burdened about the spiritual development of their children (Dr. Tony Evans)
Rick writes and teaches what he lives. I heartily recommend Rick's resources to every parent. Rick is one of God's gifts to parents. (Josh D. McDowell)
In a step by step approach, Rick Osborne lays out a plan for working with children that meets their needs from the beginning of their lives, but the plan is just as effective for someone starting the learning process with older children. (Dr. D. James Kennedy)
I'm happy to recommend this book by Rick Osborne, who is able to communicate this message to parents and guide them in teaching their children to pray. (Larry Burkett)
This is not just another boring 'how to' book. In Teaching Your Child How to Pray, Rick Osborne makes this important venture challenging and exciting for both parents and their children. (Tim Wildmon)
Rick Osborne has done a masterful job of bringing together important principles and outstanding guidelines in Teaching Your Child How to Pray. Combined with the reader's prayers, I believe the Lord will greatly use this book to revolutionize and strengthen the spiritual lives of their children, providing them a solid foundation from which, the Lord promises in His Word, they "will not depart". (Vonette Bright)
This book is not just recommended. According to many it is essential reading for every Christian parent.
TEACHING KIDS ABOUT GOD
This book is a reprint of one of the most important sections of the 'Parent's Guide To The Spiritual Development of Children. 'Teaching your kids about God' is recommended for parents who want to understand the different stages that their children grow through and how they learn and what they should be learning about their Faith in each stage (birth to early teen). It wonderfully shows you what to focus on at each different age and then shows you how to practically help your child learn those essentials.
I was flying into Chicago on United Airlines shortly after they had completed their new terminal. The captain welcomed us to Chicago and "The New Terminal of Tomorrow." He went on to explain that everyone who's tried to catch a connecting flight out of there understands why it's really called "The Terminal of Tomorrow" – because you might not get on your connecting flight till tomorrow!
I've often waited in the Chicago airport.  It's a very busy place and reminds me of my home: children's parties, sleepovers, friends coming and going, neighbors calling, extended family dropping by. And there are the departures. The car just doesn't stop. There are youth groups, lessons of all sorts, sports, school, church, errands to run, and children's friends to pick up or drive home. Sound familiar?  In the middle of all the flights in and out, once in a while I find a wonderful parenting moment with one of my fellow travelers.
The first time it happened, everyone had flown in and back out of "Osborne O'Hare," and only my son and I were left. During the next few hours he had his agenda, and I had mine. However, in the middle of that time the two of us needed to sit down and eat a meal. What followed started with me pointing out that it was cool that it was just the two of us guys.
Then we decided to have some guy food and talked about guy things, and we even used some guy table manners (intentional oxymoron). We laughed a lot and afterwards headed back to our own tasks. The meal needed to be prepared anyway, but the time we had was memorable. I now watch for "home alone" moments. My son and I have our "guy time" every time the Osborne Terminal clears out, and I have special dad-and-daughter meals whenever I find myself alone with one of them.

(RICK OSBORNE / Christian Author, Speaker & Dad – your source for Christian Parenting advice)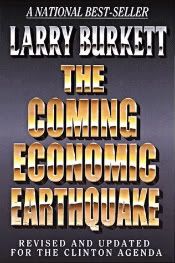 Listening to all the news about economy lately has got me thinking about an old friend. Anyone remember the best-seller, 'The Coming Economic Earthquake'? One Amazon review, written last month, says this about the book, "This book clearly outlines why the recession is here and it was written in 1991 predicting it."
I had the pleasure of knowing Larry Burkett and being able to call him my friend for several years before he left us to be with our Lord. He was a wonderful person, a faithful friend and an awesome man of God. He studied the Bible and understood perhaps better than anyone what God's Word says and teaches about money.
I met Larry shortly after he wrote 'The Coming Economic Earthquake' and although I didn't understand all of what he was saying about where the economy was going, we talked about something that was near to my heart. Him and his son Allen Burkett Jr. wanted to help parents teach their kids Biblical financial principles so that Christians and the Church in the generations to come could stand strong during tough times.
Larry showed me the conclusions of a nation wide survey that tested the financial IQ of high school seniors. The director of the report summed up the results by saying that our kids were graduating financially illiterate. He also shared with me statistics that showed that 85% of young couples who divorce site financial issues as the reason for their marital breakdown. That discussion led to Larry and I co-writing the book 'Financial Parenting.' I also went on to work with both Larry Sr. and Jr. to develop many resources that help parents teach their children financial principles.
The Bible tells us that as parents we are to bring our children up in the instruction of the Lord. The Bible doesn't just teach us about God, love and salvation. Moses, Solomon, Jesus, Paul and others were all used by God's Spirit to teach us about stewardship and proper money management. It's our job as parents to safeguard our children's future by intentionally bringing them up in these truths.
I don't know if the 'Economic Earthquake' as Larry saw it is here yet but I do know that if we want our kids to survive financially, now and in the future, we need to spend some time teaching them what God's Word says about money.
The Coming Economic Earthquake, Financial Parenting and the other resources we developed for kids have been selling well and helping families for years but perhaps they are even more relevant and more important now.
Although Larry Burkett is no longer with us, every book he wrote was based on God's Word and therefore timeless and very relevant today. I highly recommend the following books and any other's with my friend's name on them.
(RICK OSBORNE / Christian Author, Speaker & Dad – your source for Christian Parenting advice)
During the worship service in church we sang a song from Psalms 84. When I sang David's words, "better is one day in your courts than a thousand elsewhere," it struck me that David romanced God. He sang to him, he danced before him, he yearned to be in his presence, he wrote many psalms pouring out his heart and feelings towards him and he showed him his love with extravagant displays of adventurous obedience.
After having that thought, my mind jumped immediately to the same question that yours just did, "Can someone romance God? Isn't romance reserved as a wonderful dance between a man and a woman?" So I looked up the word romance. While it is true that the word romance has, for the most part, come to refer to the expression of love between lovers, its origin and breath of meaning reveals other possibilities of use for this powerful word. Read more