How should a Christian vote? It seems to me that, with very few exceptions, there are Christians backing each and every political party and asking others to do so along side them. There are Christians who align themselves with an issue or issues instead of a party. They believe that these issues are important to their Faith and therefore more important then their allegiance to a certain politician or political group. The problem here is that Christians seem to differ greatly in their opinions about which issues should be seen as paramount and also on what the stand on these issues should be. To top it all off there are Christians who believe that we shouldn't get involved in politics at all. In short, Christians are all over the place regarding politics and how we should vote and in many cases are even opposing one another.
Please allow me to humbly throw my hat into the proverbial ring. However, instead of siding with any party or issue I would like to take a look at what God's Word says about our vote. There are no scriptures that deal directly with government as we know it, democracy, voting etc. but there are teachings about our response to and responsibilities towards governments that can be applied to our vote today.
Let's take a look at one of the primary New Testament portions of scripture that deals with church and government, 1 Timothy 2:1 – 4.
I urge, then, first of all, that requests, prayers, intercession and thanksgiving be made for everyone–for kings and all those in authority, that we may live peaceful and quiet lives in all godliness and holiness. This is good, and pleases God our Savior, who wants all men to be saved and to come to a knowledge of the truth. (1 Timothy 2:1 – 4)
I don't know about you but for years every time I read these verses or heard them preached the words "that we might live peaceful and quiet lives" always bothered me. Didn't Jesus tell us that we are not to put the things of this life first but to put God's Kingdom first? Didn't he tell us that one of the first things we are to pray about is for his Kingdom and also that his will would be done on Earth? Isn't it true that pretty much all of the New Testament writers and Jesus himself have called us to be witnesses for the Gospel and to endure persecution for doing so? Didn't Paul, who wrote the above words to Timothy (and us) teach that we are to FIGHT the good fight, run the race to win the heavenly prize, to boldly share our Faith and also to expect persecution?
Perhaps I was misunderstanding the intent of Paul's words to Timothy because the Bible does not contradict itself. The problem was that I wasn't trying to understand Paul's words in their context.
Please allow me to take the liberty of adding some commentary to Paul's word's so that I can get right to my point. Here's what I now believe Paul to be saying in these verses, my words in parenthesis:
I urge, then, first of all, that requests, prayers, intercession and thanksgiving be made for everyone (all people everywhere)–(Also) for kings and all those in authority, that we may live peaceful and quiet lives in all godliness and holiness (So that we can get on with growing in Christ, sharing the Gospel with everyone, and expanding God's Kingdom everywhere, as unimpeded by Kings and governments as possible.) This is good, and pleases God our Savior, who wants all men to be saved and to come to a knowledge of the truth. (And praying for authorities will help us accomplish this.)
When Paul penned these words the church was being persecuted everywhere. Nero was governing Rome and not too long after these words were written Nero put Paul to death. Paul was letting Timothy and the Church, then and now, know that we should pray for the gospel to be spread to everyone everywhere and that we should pray for the governments everywhere because doing so can help us get the job done. The Christians of that day easily understood Paul's words because they were attempting to follow the Gospel's mandates and they were being persecuted and stalled at every turn.
Our focus is to be on the spreading of the Gospel not a quiet and peaceful life. We need the governments to not oppose us and perhaps even cooperate with us so that we can use the resulting peace and quiet to get on with our calling.
So how does this relate to politics, democracies and our votes as Christians today? Well in my estimation understanding Paul's intent in these verses makes it simple. We are to stick with our Kingdom first purpose and pray for governments to not hinder us and perhaps even help us. Since in a democracy we have a say or a vote, our vote should mirror our purpose and prayer. Simply put we should vote for the person, party government etc who (after prayer and consideration) we believe is most likely to not hinder but to promote our God given purpose, to grow as Christians, to spread the Gospel and to expand God's Kingdom.
Any vote for any other purpose by a Christian, say for the economy, more tax breaks, more money in our pockets is a misguided vote for a peaceful and quiet life for the sake of personal comfort.
It's recorded six times in the Gospels that Jesus said that those who deny their lives for the sake of the Gospel will find their lives, but that those who put their lives first will lose them. Let your vote count, vote for those who will be more likely to support God's agenda for this planet.
I appreciate and welcome your comments.
For help with teaching your children about their Faith, check out The Singing Bible.
-
-
-
-
-
(RICK OSBORNE / Christian Author, Speaker & Dad)
TEACHING YOUR CHILD HOW TO PRAY
What other Christian Leaders have said about this Christian classic says it all.
Teaching Your Child How to Pray is must reading for all parents who are concerned and burdened about the spiritual development of their children (Dr. Tony Evans)
Rick writes and teaches what he lives. I heartily recommend Rick's resources to every parent. Rick is one of God's gifts to parents. (Josh D. McDowell)
In a step by step approach, Rick Osborne lays out a plan for working with children that meets their needs from the beginning of their lives, but the plan is just as effective for someone starting the learning process with older children. (Dr. D. James Kennedy)
I'm happy to recommend this book by Rick Osborne, who is able to communicate this message to parents and guide them in teaching their children to pray. (Larry Burkett)
This is not just another boring 'how to' book. In Teaching Your Child How to Pray, Rick Osborne makes this important venture challenging and exciting for both parents and their children. (Tim Wildmon)
Rick Osborne has done a masterful job of bringing together important principles and outstanding guidelines in Teaching Your Child How to Pray. Combined with the reader's prayers, I believe the Lord will greatly use this book to revolutionize and strengthen the spiritual lives of their children, providing them a solid foundation from which, the Lord promises in His Word, they "will not depart". (Vonette Bright)
This book is not just recommended. According to many it is essential reading for every Christian parent.
TEACHING KIDS ABOUT GOD
This book is a reprint of one of the most important sections of the 'Parent's Guide To The Spiritual Development of Children. 'Teaching your kids about God' is recommended for parents who want to understand the different stages that their children grow through and how they learn and what they should be learning about their Faith in each stage (birth to early teen). It wonderfully shows you what to focus on at each different age and then shows you how to practically help your child learn those essentials.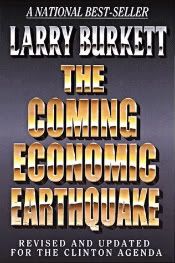 Listening to all the news about economy lately has got me thinking about an old friend. Anyone remember the best-seller, 'The Coming Economic Earthquake'? One Amazon review, written last month, says this about the book, "This book clearly outlines why the recession is here and it was written in 1991 predicting it."
I had the pleasure of knowing Larry Burkett and being able to call him my friend for several years before he left us to be with our Lord. He was a wonderful person, a faithful friend and an awesome man of God. He studied the Bible and understood perhaps better than anyone what God's Word says and teaches about money.
I met Larry shortly after he wrote 'The Coming Economic Earthquake' and although I didn't understand all of what he was saying about where the economy was going, we talked about something that was near to my heart. Him and his son Allen Burkett Jr. wanted to help parents teach their kids Biblical financial principles so that Christians and the Church in the generations to come could stand strong during tough times.
Larry showed me the conclusions of a nation wide survey that tested the financial IQ of high school seniors. The director of the report summed up the results by saying that our kids were graduating financially illiterate. He also shared with me statistics that showed that 85% of young couples who divorce site financial issues as the reason for their marital breakdown. That discussion led to Larry and I co-writing the book 'Financial Parenting.' I also went on to work with both Larry Sr. and Jr. to develop many resources that help parents teach their children financial principles.
The Bible tells us that as parents we are to bring our children up in the instruction of the Lord. The Bible doesn't just teach us about God, love and salvation. Moses, Solomon, Jesus, Paul and others were all used by God's Spirit to teach us about stewardship and proper money management. It's our job as parents to safeguard our children's future by intentionally bringing them up in these truths.
I don't know if the 'Economic Earthquake' as Larry saw it is here yet but I do know that if we want our kids to survive financially, now and in the future, we need to spend some time teaching them what God's Word says about money.
The Coming Economic Earthquake, Financial Parenting and the other resources we developed for kids have been selling well and helping families for years but perhaps they are even more relevant and more important now.
Although Larry Burkett is no longer with us, every book he wrote was based on God's Word and therefore timeless and very relevant today. I highly recommend the following books and any other's with my friend's name on them.
(RICK OSBORNE / Christian Author, Speaker & Dad – your source for Christian Parenting advice)
Do you remember your parents telling you to not air your family's dirty laundry? It's a metaphor which apparently can be traced back to Napolean. The idea being that you shouldn't do laundry in public (eg hang clothes on a line to dry) that would reveal intimate details of your life and you also shouldn't tell others about the troubles and private things that happen in your family.
I remember hearing this saying when I was young and my Granny was still alive. I remember wondering why (if this saying were true as a fact as well as a metaphor) she would hang her unmentionables on our clothes line when she visited. Now I should mention that my Gran was a wonderful lady but she was a very large woman and her private garments would attract attention. However, for some reason she seemed oblivious to this fact.
I'm telling this story because I believe that somehow, somewhere along the way, we've adopted the idea that what happens behind closed family doors is no one's business but our own. Which has again somehow led to the idea that we are free to behave in ways in our homes that we would not act in public. Read more
In the very beginning of creation God announced that it wasn't good for man to be alone. That announcement led to the first marriage, the first family, the first friends and the first community.
God created us to function in and be blessed by relationships. Not only in relationships with others but also in a relationship with him.
Jesus stated that the two greatest commandments were to love God and also to love others. Since God is love and therefore void of selfishness, his two greatest commandments should carry with them the greatest secrets of an awesome life and they do. Having a wonderful growing relationship with God and wonderful growing relationships with others is truly the biggest key to an awesome life. Loving and being loved. Read more
HOW TO RAISE GREAT PARENTS
In my last post, we talked about how God's original parent training program was that one generation teach the next how to parent God's way. It's our job as parents to not only learn how to parent God's way and to do it effectively but also to teach our children how to be a parent while we are parenting them.
This sounds more daunting then it actually is. In reality, parenting while teaching to parent is the easiest and most effective way of parenting.
When we send our children to school, they go knowing that they need to go through the learning process and do well so that one day they'll graduate. They know because we tell them. From there we encourage them by telling them that great marks lead to better post secondary education options and those options can lead to better career opportunities etc. We keep them going by helping them to understand and to take on the goals as their own.
If our children think the only goal of parenting is for them to try and have fun and for us to try and stop them, they don't see the reward in the process and our task will be difficult. However, if we talk to them not only about the benefits to their life for doing things the right way, but also about how cooperating with the parenting process and learning how it works will help make them great parents, then they'll be able to see a bigger purpose and a greater reward. Read more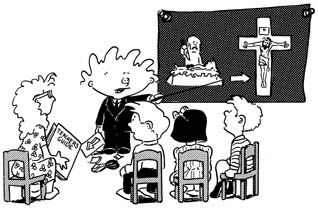 For those of you who read my blogs or my books, you know that I'm passionate about encouraging parents to apply themselves to learning how to parent. Parenting is not merely intuitive and it's not only bad parents who need parenting books and courses, it's all parents.
If you asked me to determine if a certain couple were great parents or not, I wouldn't look first at the results but at the efforts they were making to learn and grow in the art of parenting. If you know how to get the right information and effectively and humbly apply it, the results will eventually follow. If you think you're getting by but you're not learning, then you'll eventually come up against a problem that you don't know how to solve properly and that will mess up your results.
I advocate parenting books, classes and courses but actually those resources should be mere booster shots that come along and support God's original parent training program. When God spoke to Abraham and called him to teach his children after him to follow the Lord, in context (Genesis 18:18, 19), he wasn't talking about just Abraham's immediate children but generations of children. When God had Moses tell the Israelites to make sure that they taught their children to follow the Lord (Deuteronomy 6), again the context was that each generation pass it on to the next.
As an example of how to pass something from generation to generation, let's look at farming. For centuries, farmers have passed the farm down to their children. How does that happen successfully? What if one generation farmed and got the kids to help from time to time and then one day they just handed them the keys to everything and moved to Florida. Either the farm would be sold or it would probably go under. In order for the farm to be passed on successfully, the parents must not only farm well but also teach their children everything they know about farming as they grow up, gradually preparing them for the task. God's original parent training program is simply this, parents need to do everything they can to bring their children up well AND they need to all the while be teaching their children how to parent properly themselves.
That's why I say that parenting books and courses should be booster shots. It's our job as parents to teach our children how to do one of the most important tasks they'll ever undertake, raising children. Yes, we train by example but that's not enough. We need to understand what we teach our children and why we're teaching it to them. We need to understand the discipline, instruction and training process and explain it to our children as we go. For those of you who are feeling that this sounds daunting it's not, it actually makes the job easier. I'll explain how in my next blog.
For more practical and Biblical Christian Parenting ideas we recommend the Christian resource, "The Seven Mistakes Parents of Toddlers Make"
-
-
-
-
(RICK OSBORNE / Christian Author, Speaker & Dad – your source for Christian Parenting advice)
"That wasn't a polite thing to say." "Say 'please.' " "Don't forget your thank you's!" "And what do you say?" "We don't do that at the table!"
There are points in our parenting career when it seems like every second or third sentence gets invested in the quest for mannerly children. We've all been embarrassed (and we have the stories!) by our children while they were learning manners. We've also all been proud when they got it right and some stranger has commented on what polite children we have. Have you ever had the tables, or the table manners, turned on you? I have.
When my children were younger, I spent time teaching them that kindness in intent and tone should be the rule that governs all of our speech. To remind them when their speech to one of their siblings strayed from the kindness rule, I would gently but pointedly add a storybook quote to the end of their speech. After they fired off, I'd instantly say, "-she [or he] said in a kind and gentle voice."