PARENT'S GUIDE TO THE SPIRITUAL GROWTH OF CHILDREN
Helping your child develop a personal Faith
Gary Smalley (Author, speaker and founder of Smalley Relationship Center) says, "This book gives parents easy-to-use plans and ideas to help them pass on their Faith; this couldn't come at a better time for our children and culture."
Put together by Dr. John Trent, Rick Osborne and Kurt Bruner, this best-selling Guide from Focus On The Family is packed with information that will help you navigate your children spiritually from preplanning for parenthood right through to the early teens.
Highly recommended for parents who like to understand the process and develop an individual step-by-step plan that will work best for their family.  Buy Now
HOW TO RAISE GREAT PARENTS
In my last post, we talked about how God's original parent training program was that one generation teach the next how to parent God's way. It's our job as parents to not only learn how to parent God's way and to do it effectively but also to teach our children how to be a parent while we are parenting them.
This sounds more daunting then it actually is. In reality, parenting while teaching to parent is the easiest and most effective way of parenting.
When we send our children to school, they go knowing that they need to go through the learning process and do well so that one day they'll graduate. They know because we tell them. From there we encourage them by telling them that great marks lead to better post secondary education options and those options can lead to better career opportunities etc. We keep them going by helping them to understand and to take on the goals as their own.
If our children think the only goal of parenting is for them to try and have fun and for us to try and stop them, they don't see the reward in the process and our task will be difficult. However, if we talk to them not only about the benefits to their life for doing things the right way, but also about how cooperating with the parenting process and learning how it works will help make them great parents, then they'll be able to see a bigger purpose and a greater reward. Read more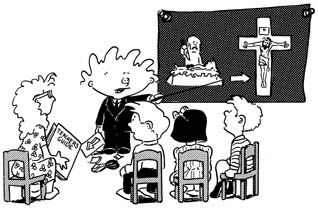 For those of you who read my blogs or my books, you know that I'm passionate about encouraging parents to apply themselves to learning how to parent. Parenting is not merely intuitive and it's not only bad parents who need parenting books and courses, it's all parents.
If you asked me to determine if a certain couple were great parents or not, I wouldn't look first at the results but at the efforts they were making to learn and grow in the art of parenting. If you know how to get the right information and effectively and humbly apply it, the results will eventually follow. If you think you're getting by but you're not learning, then you'll eventually come up against a problem that you don't know how to solve properly and that will mess up your results.
I advocate parenting books, classes and courses but actually those resources should be mere booster shots that come along and support God's original parent training program. When God spoke to Abraham and called him to teach his children after him to follow the Lord, in context (Genesis 18:18, 19), he wasn't talking about just Abraham's immediate children but generations of children. When God had Moses tell the Israelites to make sure that they taught their children to follow the Lord (Deuteronomy 6), again the context was that each generation pass it on to the next.
As an example of how to pass something from generation to generation, let's look at farming. For centuries, farmers have passed the farm down to their children. How does that happen successfully? What if one generation farmed and got the kids to help from time to time and then one day they just handed them the keys to everything and moved to Florida. Either the farm would be sold or it would probably go under. In order for the farm to be passed on successfully, the parents must not only farm well but also teach their children everything they know about farming as they grow up, gradually preparing them for the task. God's original parent training program is simply this, parents need to do everything they can to bring their children up well AND they need to all the while be teaching their children how to parent properly themselves.
That's why I say that parenting books and courses should be booster shots. It's our job as parents to teach our children how to do one of the most important tasks they'll ever undertake, raising children. Yes, we train by example but that's not enough. We need to understand what we teach our children and why we're teaching it to them. We need to understand the discipline, instruction and training process and explain it to our children as we go. For those of you who are feeling that this sounds daunting it's not, it actually makes the job easier. I'll explain how in my next blog.
For more practical and Biblical Christian Parenting ideas we recommend the Christian resource, "The Seven Mistakes Parents of Toddlers Make"
-
-
-
-
(RICK OSBORNE / Christian Author, Speaker & Dad – your source for Christian Parenting advice)