This is the seventh and final post in the series: "What does the Bible say about sibling rivalry and how can I get my kids to get along?"
We started out this sibling rivalry series by establishing that what the world says is normal in family relationships, is not what God wants for Christian families.
The world says that sibling rivalry, rebellious teenagers, kids and parents not getting along and family fighting are all part of normal family life.
However, Jesus himself said that the two greatest commands were to love God and to love others and that all of God's law is summed up in these two commands. Christian love is a foundation of our Faith and teaching it, is a core Christian parenting skill.
So how exactly can God use our Christian families (Christian parents and Christian children) to impact the world and bring God's blessing to the nations?
I believe he wants us to raise a generation of Christian kids that will do major damage to the gates of hell. Let me explain.
If Israel could become great and powerful by teaching their children to walk with God and keep the Old Covenant how much more can the Body of Christ grow and powerfully impact the nations, according to God's promise, if we were to teach our children to walk in the power and grace of the New Covenant.
Can you imagine if instead of losing our kids to the world we kept them all in the church. I'm not talking about just having more bodies to warm the pews. I'm talking about a generation that grows up learning God's Word, walking in relationship with God and growing in his grace. A generation that is excited about being used by God and about taking ground for the Kingdom of God. Like the generation of Israelites that took the Promised Land only each one of these would be under the New Covenant and filled with God's Spirit.
In part one we talked about how God wants to have salvation and his blessing come to our families. In part two I would like to talk about God's calling on Christian families and how God wants to work through them.
Let's go back and take a closer look at the verses about why God called Abraham.
Abraham will surely become a great and powerful nation, and all nations on earth will be blessed through him. For I have chosen him, so that he will direct his children and his household after him to keep the way of the Lord by doing what is right and just, so that the Lord will bring about for Abraham what he has promised him." (Genesis 18:18, 19)
Let's look at all three parts of what the Lord said here. First he outlines his promise, Abraham is to become a great and powerful nation and (also) all the nations on the earth are to be blessed through him.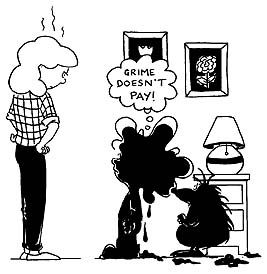 Now that you know that God never intended us to parent without his help, that he is the third parent, that he has promised to work in you and cause you to be the parent He wants you to be, that He is working in your children as you trust Him and that He will even help you trust Him, you should be ready to move forward.
God has given you everything you need to get the job done. Nothing can prevent you from parenting God's way; negative examples, bad experiences, lack of know-how, big mistakes you have made, the mistakes of others involved, NOTHING!
I am not saying that you should pretend that problems and pain do not exist. I am just saying that God is bigger than all of that and none of it can hold you back unless you let it.
Now all you need to do is start moving. Here are my suggestions for starting this obstacle course. First pray and let God know that you are on board for transformation. Ask him to cause you to be all that he has created you to be and more specifically to help you be a great Christian parent. Now do not stop praying that! Every time you run into a problem, fall into a bad habit, make a mistake, or just need help and wisdom for moving forward go to God. Transformation does not happen overnight—it is a lifetime thing.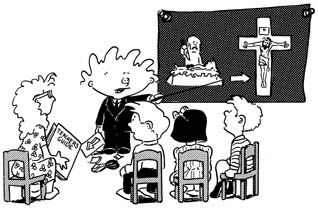 Simply put, NO. There is nowhere in the Bible that says that it is the churches responsibility to disciple our children.
The Bible, starting with what God spoke to Abraham (Genesis 18:19) carrying on through God's instructions to the Israelites (Deut. 6) and moving right up to Paul's directions to Christian parents (Eph. 6:4), unwaveringly gives the task of raising godly children to parents.
If you think about it logically, parents are the ONLY ones positioned to do the job successfully. There are three legs on the stool we call discipleship. Every Christian, in order to grow in their salvation, must grow in three areas. They must grow in their personal relationship with God (daily pray and reliance on God). They need to grow in their knowledge of God (instruction in God's word) and they need to grow in living it out.
The spiritual growth program for children is no different; they must be growing in all three of these areas daily. ("Bring them up in the training and instruction of the Lord." Eph. 6:4)
Here is where we begin to deal with what I call 'side of fries' Christian Parenting.
In the opening comment of part one of this blog I talked about what most parents believe Christian Parenting to be. I sum that up as believing that we are to raise our children like everyone else aiming at them one day being healthy, well adjusted successful adults but with a side of Christianity. Bible stories, Sunday School, bedtime prayers etc. need to be added, so that hopefully, they will know Jesus, attend church and even read their Bible when they grow up.
Let's examine what Paul wrote under the inspiration of the Holy Spirit to see if the 'do you want fries with that?' idea holds up.
Ephesians 6: 4 "Fathers, do not exasperate your children; instead, bring them up in the training and instruction of the Lord." (NIV)
How would you answer this question? If you're like I was, and probably most Christian parents, you would answer this question by saying, "It's taking them to church, praying with them, getting them to read their Bible and hopefully seeing them give their hearts to Jesus; stuff like that."
Let's look at how God's Word defines Christian parenting by examining Paul's main comment on the topic.
Ephesians 6: 4 "Fathers, do not exasperate your children; instead, bring them up in the training and instruction of the Lord." (NIV)
According to this section of scripture Christian parenting involves at least two main elements; the way we parent and also the purpose and content of our parenting.
The first element is straightforward and outlined in the first line of this verse; I like how the Message paraphrases it, "Fathers, don't exasperate your children by coming down hard on them." An essential part of Christian parenting is that we are to act in a Christ like way in front of our children and especially towards our children.