To say that I had a lot of stuff on the go would have been a massive understatement. I was doing a major renovation on the home that I had just bought, I was trying to sub-divide part of the property and resell it, I was building my ministry/business for which I had several large publishing projects underway, I was the associate pastor of a new church that was growing like a weed and I had just become a new dad. You could say that I was starting to feel like I had perhaps bitten off more than I could chew. Over and above those pressures, I was also getting to know my banker quite well since I was dealing with a mortgage, a second mortgage for renovations and a small business loan and in order for everything to work out financially, I needed to meet my business and renovation deadlines and sell part of my property.
Now I had sincerely and thoroughly prayed about each item on the above list before moving forward and I thought I was trusting God to get me to the other side of my mini Red Sea adventure before the walls of water came crashing back down. However, without really noticing it, I had slipped into worry mode.
I was walking from one thing to the next and my mind was racing, worrying, and trying to figure out how all this could possibly work out when something happened that I had never experienced before or since. I heard God call my name, loudly. I can't tell you if I heard it outside of me or inside or both, but I do know the voice was stern but loving and I somehow knew beyond any doubt that it was God.
The call was so sudden and loud that all of my thoughts and my legs stopped abruptly at the same time. I was still and God had my complete attention. Here's what flashed through my mind in the next few seconds. "Did you give your whole life to God and entrust Him with it?" Of course the answer was, "Yes Lord". Then these words followed, "So are you saying (by my worrying and fretting) that God is not a good steward over the things He's been given charge of?"
Standing there stone still on the sidewalk of a semi busy street I did not literally go to my knees but I did in my heart. I instantly realized how much worrying and doubting that I was doing and I asked God to please forgive me and to help me keep my mind focused on Him, His promises, His love for me and His amazing ability. When I could get my feet moving again, I carried on calmly and from that moment on whenever I started to slip back into worry mode, I stopped in my tracks and reconnected with God.
Remember the Sunday morning chorus, "Be Still and Know That I Am God?" I loved the song and the verse (Psalms 46:10) but for years I (sadly) looked at in in a very poetic way; you know, as a beautiful thought without much practical application except for in a worship service. I was so wrong. When we start to worry and fret, our minds are anything but still and our trust in God is anything but active. When God stopped me, He made me still and He got me thinking about who He was, what he'd promised and what He was capable of doing. In other words, "Stop, still your mind, stop worrying and know that He is GOD, with all that, that means; He is capable, powerful, faithful, loving, all knowing, trustworthy, with you, for you, willing to help, your Father in Heaven."
In a nutshell, stop worrying about what could go wrong and start focusing on what God will do.
In preparation for this blog, I looked up the words 'be still' in the Bible and found it there seven times and each one shows us something wonderful about the practice of being still.
The first time the two word phrase is mentioned in the Bible Moses and the Israelites were caught between the Egyptian army and the Red Sea.
As Pharaoh approached, the Israelites looked up, and there were the Egyptians, marching after them. They were terrified and cried out to the Lord. They said to Moses, "Was it because there were no graves in Egypt that you brought us to the desert to die? What have you done to us by bringing us out of Egypt? Didn't we say to you in Egypt, 'Leave us alone; let us serve the Egyptians'? It would have been better for us to serve the Egyptians than to die in the desert!"
Moses answered the people, "Do not be afraid. Stand firm and you will see the deliverance the LORD will bring you today. The Egyptians you see today you will never see again. The LORD will fight for you; you need only to be still."
Then the LORD said to Moses, "Why are you crying out to me? Tell the Israelites to move on. Raise your staff and stretch out your hand over the sea to divide the water so that the Israelites can go through the sea on dry ground. (Exodus 14:10 – 16)
The Israelites were freaking out and Moses told them to be still and showed them who God was and what He was capable of. Are you between a rock and a hard place right now? Stop and be still, focus on God and His ability to help you instead of the problem's ability to harm you. God is greater than the problem.
The second time the phrase occurs was when Nehemiah and Ezra were reacquainting God's people with His law.
Then Nehemiah the governor, Ezra the priest and scribe, and the Levites who were instructing the people said to them all, "This day is sacred to the LORD your God. Do not mourn or weep." For all the people had been weeping as they listened to the words of the Law. Nehemiah said, "Go and enjoy choice food and sweet drinks, and send some to those who have nothing prepared. This day is sacred to our Lord. Do not grieve, for the joy of the LORD is your strength." The Levites calmed all the people, saying, "Be still, for this is a sacred day. Do not grieve." (Nehemiah 8:9 – 11)
Why were they weeping and mourning? Because they and their ancestors had not measured up to God's law and they were probably not sure that they could. Are you fretting because you feel like you haven't measured up to God's expectations and/or you feel like you can't. Be still and rejoice because the joy of the Lord is your strength. In other words, don't focus on your inability, focus on the fact that Jesus died for you because you couldn't do it on your own. He's promised to work His righteousness in you. It's the joy of knowing that the Lord died for you and will work in you and help you that is your strength.
The third mention is as wonderful.
Trust in the LORD and do good; dwell in the land and enjoy safe pasture.
Delight yourself in the LORD and he will give you the desires of your heart.
Commit your way to the Lord; trust in him and he will do this:
He will make your righteousness shine like the dawn, the justice of your cause like the noonday sun.
Be still before the LORD and wait patiently for him; do not fret when men succeed in their ways, when they carry out their wicked schemes. (Psalms 37:3 – 7)
When we are faithfully following and trusting God, He takes care of us, keeps us safe, gives us things to enjoy, gives us our heart's desires, guides us and works His righteousness in us. However, sometimes we lose hope because we don't see it happening the way we expected it to and we see others who don't do things God's way doing well and we see wickedness succeeding. The Word says be still, get your eyes on God and what He can do and wants to do in your life, and then wait patiently. His timing is perfect.
The fourth time 'be still' appears it carries a timely message.
Nations are in uproar, kingdoms fall; he lifts his voice, the earth melts.
The LORD Almighty is with us; the God of Jacob is our fortress. "Selah"
Come and see the works of the Lord, the desolations he has brought on the earth.
He makes wars cease to the ends of the earth; he breaks the bow and shatters the spear, he burns the shields with fire.
"Be still, and know that I am God; I will be exalted among the nations, I will be exalted in the earth."
The LORD Almighty is with us; the God of Jacob is our fortress. "Selah" (Psalms 46:6 – 11)
It's easy to get unsettled when looking at what's going on in the world, war, genocide, famine, natural disasters and global recession. However, God reminds us here that we should be still and know that He's in control. His plan for the nations is on track and He is Almighty and well able to care for us His children during tough times. Are you fretting because of what you're seeing in the news or because of the economy? Be still and know He is The Lord Almighty.
The next Biblical appearance reminds us of why we can be still.
For the day has come to destroy all the Philistines and to cut off all survivors who could help Tyre and Sidon. The LORD is about to destroy the Philistines, the remnant from the coasts of Caphtor.
Gaza will shave her head in mourning; Ashkelon will be silenced. O remnant on the plain, how long will you cut yourselves?
" 'Ah, sword of the Lord,' [ you cry,] 'how long till you rest? Return to your scabbard; cease and be still.'
But how can it rest when the LORD has commanded it, when he has ordered it to attack Ashkelon and the coast?" (Jeremiah 47:4 – 7)
We can be still because the sword of the Lord (His Word, His promise) is not. The Philistines in our lives (whatever plagues us and comes against us) are being pursued and taken care of by our Father in Heaven who cares for us. We can be still and know that He is God and He's at work!
Are you fretting because the world seems to be going to hell (literally) in a hand basket.
"Shout and be glad, O Daughter of Zion. For I am coming, and I will live among you," declares the Lord.
"Many nations will be joined with the LORD in that day and will become my people. I will live among you and you will know that the LORD Almighty has sent me to you.
The LORD will inherit Judah as his portion in the holy land and will again choose Jerusalem.
Be still before the Lord, all mankind, because he has roused himself from his holy dwelling." (Zechariah 2:10 – 12)
God's salvation plan is on track. HE IS GOD! Instead of worrying and complaining about the direction we see the world around us going in, we can be still and know that He's in control and with that confidence, get up and start doing our part to further His Kingdom.
Jesus knew the Old Testament back to front when he was here on earth. So although he doesn't say so, when he used the words 'be still' he knew the context. Here's the seventh and final Biblical use of these two wonderful words:
Jesus was in the stern, sleeping on a cushion. The disciples woke him and said to him, "Teacher, don't you care if we drown?" He got up, rebuked the wind and said to the waves, "Quiet! Be still!" Then the wind died down and it was completely calm. He said to his disciples, "Why are you so afraid? Do you still have no faith?" They were terrified and asked each other, "Who is this? Even the wind and the waves obey him!" (Mark 4:38 – 41)
The disciples found themselves in the middle of a storm and they were freaking out because they thought that they were going to die. They woke Jesus up and He told the wind and the waves to be still. Then he basically asked them why they had not been still. I find it interesting that the disciples were left asking, "Who is this?" Was Jesus saying to his disciples, "Be still and know that I am God"?
When we're not calm, the storm can overwhelm us. But when we're still and know that He is God, He overcomes the storm.
We can BE STILL (stop worrying and fretting) in the midst of the storm when personal troubles abound, when a global recession hits, when we don't think we can measure up or make it through, when we see the world around us taking the wrong course, because HE IS GOD! He is able, He is in control, His plan is on track and He loves us. As we trust Him, His promises and His efforts on our behalf, are never still.
The story I opened with happened long ago but I learned a valuable lesson that I've never forgotten. The basement suite was finished on time and the renters moved in and the publishing projects were all completed on time. Through a wonderful set of God arranged circumstances, the property was sub-divided and sold faster than I had imagined possible, the church kept growing and I was able to spend valuable time each day with my wonderful new daughter. Everything worked out perfectly and after my sidewalk encounter, I started to enjoy the process because I wasn't frantic with fretting.
As an added bonus, years later when I sold that house, I did the math and was amazed at Gods goodness. I added up every expense including mortgage payments, property taxes, renovation costs, maintenance etc. Then I added up the money in rent, the money from selling part of the property, the net proceeds of the sale etc. and it turned out that I not only lived in that home for free for six years, but I also made a large profit beyond that.
More importantly I learned that "be still and know that I am God" isn't just a wonderful poetic line from Psalms, but a life changing habit and constant reminder that Jesus is in my boat. Whenever I start to slip back into worry, I return to that still moment on the sidewalk, reconnect with God and move forward in peace knowing that He is God.
What are you fretting about right now? Use this moment to start develop the Bible's diagnosed habit for arresting worry, be still and know that He is God.
For help with teaching your children about their Faith, check out The Singing Bible.
-
-
-
-
-
(RICK OSBORNE / Christian Author, Speaker & Dad)
As you know when God calls us to do a work, he trains us for that work and often takes us through things that prepare us for the task. Real life is a really great teacher. I do not believe that God authors all of our difficulties. For example James tells us that God does not tempt us with evil. (James 1:13)
However God will teach us and strengthen us while he guides us through whatever comes our way and he will work everything out when we are walking with him. (Romans 8:28)
Having said that, I believe that God has wonderfully (and by his grace) taken me through some big and small storms and through it all he has prepared me to help and encourage and equip other parents and families. Here is the brief story.
I was raised in a religious home without knowing Jesus as my savior.
My parents separated when I was six. My Mom (a single mother on social assistance) raised my three siblings and me.
I stopped listening to anyone at the age of thirteen and became a rebellious worldly teenager.
My mother married my stepfather when I was thirteen.
My father had remarried earlier and I have two half brothers and a half sister.
My mother committed her life to Christ when I was about 17 and started praying for her family.
I gave my life to Christ and my life was changed forever just before my 19th birthday.
Shortly after this I married my high school girlfriend when I was 20.
We had three children.
When the kids were still quite young, my wife left. (This was the most difficult time of my life.)
Although the children's mother saw them, they lived with me full time and I experience what it's like to be a single parent.
Even though I was free to remarry, I told God that I was willing to stay single and devote more time to my children and helping other parents.
God had another plan.
A friend of mine who also was friends with the owner of eHarmony was insistent that I should give eHarmony a try. Even though I ignored him, he kept it up.
When others started telling me the same thing I started to wonder. Then when the owner of eHarmony emailed me personally (in response to a request from our mutual friend) and invited me to join, I felt that God was in it.
Through a wonderful series of Godincidences I met Luba and five months after our first date we were married.
Although in the beginning I promised myself that my family would never break apart, I now have a second wife and my children have a stepmother.
These are the personal family details in a nutshell. I have shared this with you to show that I am just a normal guy walking through a bumpy life trusting God. All the while doing my best to parent God's way, allowing him to strengthen, teach and guide me through all life's ups and downs.
And through it all, I believe one of the reasons he has taught me (and that I have gone through some of what I have gone through) is so that I could with grace, turn and help, strengthen, encourage and equip others who are facing the same and similar bumps.
My oldest daughter is now married to my awesome son-in-law and my first grandchild is providing me with more life experience to pass on. My second daughter is attending college and my teenage son (my inspiration for my books for boys) is still at home.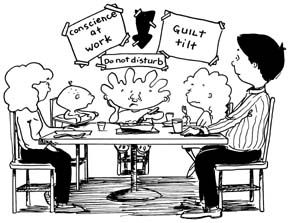 When my mother gave her life to Christ and started attending church every Sunday she had a husband, (my step dad) six children (ranging from toddler to adult) and a large extended family. She was understandably worried about how her new Faith would be viewed and if everyone would embrace it as well or reject it and her. She even started taking the youngest of my siblings to Sunday School on her own.
One evening not too long after her decision to live her life for Christ, no matter what the cost, she attended a Gospel dinner with a special Christian speaker. That speaker prayed for her and while he was praying, even though he did not know her or her situation, he said, "Don't worry, today salvation has come to your house."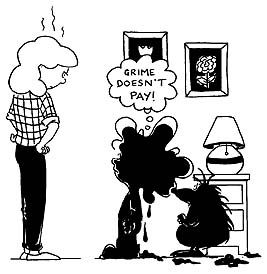 Now that you know that God never intended us to parent without his help, that he is the third parent, that he has promised to work in you and cause you to be the parent He wants you to be, that He is working in your children as you trust Him and that He will even help you trust Him, you should be ready to move forward.
God has given you everything you need to get the job done. Nothing can prevent you from parenting God's way; negative examples, bad experiences, lack of know-how, big mistakes you have made, the mistakes of others involved, NOTHING!
I am not saying that you should pretend that problems and pain do not exist. I am just saying that God is bigger than all of that and none of it can hold you back unless you let it.
Now all you need to do is start moving. Here are my suggestions for starting this obstacle course. First pray and let God know that you are on board for transformation. Ask him to cause you to be all that he has created you to be and more specifically to help you be a great Christian parent. Now do not stop praying that! Every time you run into a problem, fall into a bad habit, make a mistake, or just need help and wisdom for moving forward go to God. Transformation does not happen overnight—it is a lifetime thing.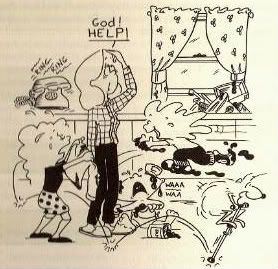 How can I disciple my children when my own faith is a little shaky and when I don't know enough about the Faith to disciple anyone? (Part 3)
Please bear with me. This entry will be a little longer than most however I sincerely believe that the scriptural principle that you are about to read about is probably the most essential for Christian parents to understand!
Working hard to please God
When I first became a Christian I was so excited. I wanted to know everything, do everything right and experience God in everyway that was possible. I went to every church service and prayer meeting I could get to. I read every Christian book I could find and spent as much of my day every day that I could reading my Bible and on my knees praying. Every minute of the day I was a church service waiting to happen.