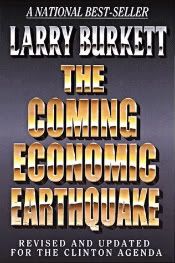 Listening to all the news about economy lately has got me thinking about an old friend. Anyone remember the best-seller, 'The Coming Economic Earthquake'? One Amazon review, written last month, says this about the book, "This book clearly outlines why the recession is here and it was written in 1991 predicting it."
I had the pleasure of knowing Larry Burkett and being able to call him my friend for several years before he left us to be with our Lord. He was a wonderful person, a faithful friend and an awesome man of God. He studied the Bible and understood perhaps better than anyone what God's Word says and teaches about money.
I met Larry shortly after he wrote 'The Coming Economic Earthquake' and although I didn't understand all of what he was saying about where the economy was going, we talked about something that was near to my heart. Him and his son Allen Burkett Jr. wanted to help parents teach their kids Biblical financial principles so that Christians and the Church in the generations to come could stand strong during tough times.
Larry showed me the conclusions of a nation wide survey that tested the financial IQ of high school seniors. The director of the report summed up the results by saying that our kids were graduating financially illiterate. He also shared with me statistics that showed that 85% of young couples who divorce site financial issues as the reason for their marital breakdown. That discussion led to Larry and I co-writing the book 'Financial Parenting.' I also went on to work with both Larry Sr. and Jr. to develop many resources that help parents teach their children financial principles.
The Bible tells us that as parents we are to bring our children up in the instruction of the Lord. The Bible doesn't just teach us about God, love and salvation. Moses, Solomon, Jesus, Paul and others were all used by God's Spirit to teach us about stewardship and proper money management. It's our job as parents to safeguard our children's future by intentionally bringing them up in these truths.
I don't know if the 'Economic Earthquake' as Larry saw it is here yet but I do know that if we want our kids to survive financially, now and in the future, we need to spend some time teaching them what God's Word says about money.
The Coming Economic Earthquake, Financial Parenting and the other resources we developed for kids have been selling well and helping families for years but perhaps they are even more relevant and more important now.
Although Larry Burkett is no longer with us, every book he wrote was based on God's Word and therefore timeless and very relevant today. I highly recommend the following books and any other's with my friend's name on them.
(RICK OSBORNE / Christian Author, Speaker & Dad – your source for Christian Parenting advice)
So how exactly can God use our Christian families (Christian parents and Christian children) to impact the world and bring God's blessing to the nations?
I believe he wants us to raise a generation of Christian kids that will do major damage to the gates of hell. Let me explain.
If Israel could become great and powerful by teaching their children to walk with God and keep the Old Covenant how much more can the Body of Christ grow and powerfully impact the nations, according to God's promise, if we were to teach our children to walk in the power and grace of the New Covenant.
Can you imagine if instead of losing our kids to the world we kept them all in the church. I'm not talking about just having more bodies to warm the pews. I'm talking about a generation that grows up learning God's Word, walking in relationship with God and growing in his grace. A generation that is excited about being used by God and about taking ground for the Kingdom of God. Like the generation of Israelites that took the Promised Land only each one of these would be under the New Covenant and filled with God's Spirit.