WHAT MARY & JOSEPH KNEW ABOUT PARENTING
God doesn't waste his words. Everything in the Bible is there for a reason and every phrase is potentially life changing. Every time the Bible tells us about parents and children right there in the story is a Holy Spirit inspired lesson to be learned. I was amazed at how every important lesson that a Christian parent needs to know in order to do their job well is contained in God's Word. Have you ever wondered which parenting approach is correct; which of the latest parenting gurus should be listened to? You can stop wondering and just find out what God's Word prescribes. Buy Now
(Audio CD)
Throughout the Bible, children are considered to be a gift from God and a blessing to the parents who receive them.
Sons are a heritage from the LORD, children a reward from him. (Psalm 127:3)
Scripture contains many prayers and songs thanking God for the blessing of children, including those of Sarah, Hannah, and Mary. Mary had heard the stories of Sarah and Hannah and had learned that children are an awesome gift and a blessing.
Mary said: "My soul glorifies the Lord and my spirit rejoices in God my Savior." (Luke 1:46-47)

If you're waiting for the other shoe to drop, here it comes. Sometimes parenting can seem downright overwhelming. Children need constant care, training, and discipline, and none of us is perfectly up to the task. So at times we feel tempted to consider the gift of children as anything but a blessing. I once heard a mother say to her young teenager (in jest of course), "Watch it, buster! I brought you into this world and I can take you back out again!" That about sums up the way we sometimes feel, doesn't it?
We've all seen supermarket tantrums. If God intended children to be a blessing, why does it seem that for so many, they are not?
Let's look specifically at one Bible couple to see if we can find the answer. I believe that God told Abraham and Sarah to name their son Isaac, which means "laughter," in order to confirm this pair's conviction that Isaac truly was a gift and a blessing from God. Let me explain.
When both Abraham and Sarah heard the Lord say that they would have a son, they responded with laughter. Yes, they laughed in part because they had long before left behind their childbearing years; and Sarah at least laughed somewhat because of doubt. But another emotion also bubbled under the surface. If someone told you that he was going to give you an all-expenses-paid, month-long vacation anywhere in the world, how would you respond? You might well respond with laughter that said, "Wow! That's just way too great to be true!" Abraham and Sarah felt so overjoyed by the possibility of having a child that they could hardly believe it to be true.
I apologize for the video. Let me be clear, I am not endorsing the product and I think the whole idea behind the video is appalling. However, the fact that this commercial was made and that people find it funny or appropriate, perfectly illustrates the point of my next few posts. Many people today believe that kids are generally horrible, that parenting is a huge thankless burden, and that having kids should be avoided. According to many statistical reports that I've viewed, the percentage of couples who are choosing not to have kids is increasing significantly ever year. So did God tell us to be fruitful and multiply so we could spend 20 years being miserable? Not! God meant parenting to be a joy not a burden.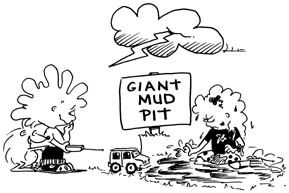 This blog contains a key Christian Parenting principle that I guarantee (if employed) will go a long way to ending sibling rivalry and establishing your home sweet home.
What would you say are two things that are most often at the core of a sibling battle? Let me give you a few whining and complaining hints, "Dad, he won't share," Mom, she's wearing my clothes again." And next, "She hit me" and "He won't leave me alone."
There are many answers to the question I posed but most of us would agree that fighting over things and unwanted physical contact are huge aggravators in sibling relationships.
Jesus taught what has now become known as the Golden Rule, treat others the way that you would like to be treated. (Matt 7:12)
So how exactly can God use our Christian families (Christian parents and Christian children) to impact the world and bring God's blessing to the nations?
I believe he wants us to raise a generation of Christian kids that will do major damage to the gates of hell. Let me explain.
If Israel could become great and powerful by teaching their children to walk with God and keep the Old Covenant how much more can the Body of Christ grow and powerfully impact the nations, according to God's promise, if we were to teach our children to walk in the power and grace of the New Covenant.
Can you imagine if instead of losing our kids to the world we kept them all in the church. I'm not talking about just having more bodies to warm the pews. I'm talking about a generation that grows up learning God's Word, walking in relationship with God and growing in his grace. A generation that is excited about being used by God and about taking ground for the Kingdom of God. Like the generation of Israelites that took the Promised Land only each one of these would be under the New Covenant and filled with God's Spirit.
In part one we talked about how God wants to have salvation and his blessing come to our families. In part two I would like to talk about God's calling on Christian families and how God wants to work through them.
Let's go back and take a closer look at the verses about why God called Abraham.
Abraham will surely become a great and powerful nation, and all nations on earth will be blessed through him. For I have chosen him, so that he will direct his children and his household after him to keep the way of the Lord by doing what is right and just, so that the Lord will bring about for Abraham what he has promised him." (Genesis 18:18, 19)
Let's look at all three parts of what the Lord said here. First he outlines his promise, Abraham is to become a great and powerful nation and (also) all the nations on the earth are to be blessed through him.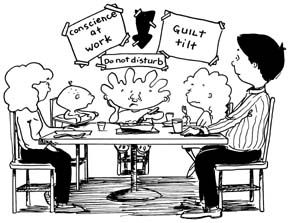 When my mother gave her life to Christ and started attending church every Sunday she had a husband, (my step dad) six children (ranging from toddler to adult) and a large extended family. She was understandably worried about how her new Faith would be viewed and if everyone would embrace it as well or reject it and her. She even started taking the youngest of my siblings to Sunday School on her own.
One evening not too long after her decision to live her life for Christ, no matter what the cost, she attended a Gospel dinner with a special Christian speaker. That speaker prayed for her and while he was praying, even though he did not know her or her situation, he said, "Don't worry, today salvation has come to your house."