This little family road trip question has become so iconic, that it's become common fodder for comic routines and movie scripts. I would imagine that this travel question has been around as long as families have been traveling. It's probably a good thing that all of Noah's sons were full-grown, or Mr. and Mrs. Noah may have ended up sinking the boat.
Think about the Israelite's trek through the wilderness. After crossing the Red Sea, they got to the edge of the Promised Land quite quickly, but because they didn't trust God and refused to go in, God sent them on a forty-year road trip. The idea was that all of the adults who refused to believe, were to die before their children would be allowed in. Can you imagine the conversation, "Are we there yet? Am I dead yet?"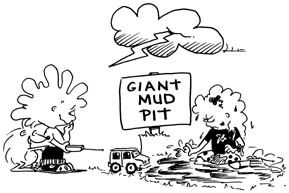 This blog contains a key Christian Parenting principle that I guarantee (if employed) will go a long way to ending sibling rivalry and establishing your home sweet home.
What would you say are two things that are most often at the core of a sibling battle? Let me give you a few whining and complaining hints, "Dad, he won't share," Mom, she's wearing my clothes again." And next, "She hit me" and "He won't leave me alone."
There are many answers to the question I posed but most of us would agree that fighting over things and unwanted physical contact are huge aggravators in sibling relationships.
Jesus taught what has now become known as the Golden Rule, treat others the way that you would like to be treated. (Matt 7:12)